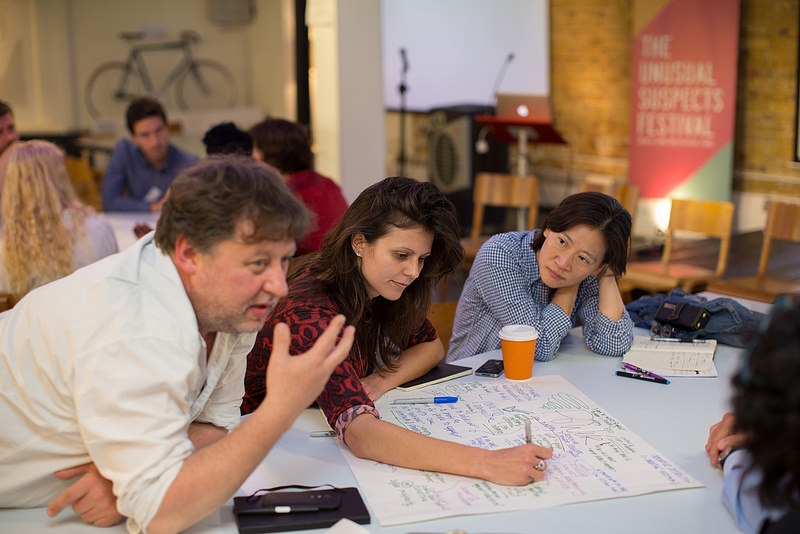 Creating the Conditions for Change
We have a cross-cutting priority which is to create the conditions for change by promoting social innovation, strengthening civil society and working to advance our own and others' philanthropic practice.
Creating the conditions for change is a cross-cutting strand of our work. With each of our specific strands – Transitions in Later Life, Participatory Performing Arts, the Inquiry into the Civic Role of Arts Organisations and Valuing the Ocean –  we are seeking to support different types of change. Be it cultural, organisational, corporate, policy and structural or 'big system' change, our work strives to be for the benefit of individuals, particular communities of interest and society as a whole. Creating the conditions for change is designed to help create an environment conducive to such change. A more detailed explanation of our approach is highlighted in the Our Story of Change section on p. 18 of our strategy booklet (pdf).
Our particular focus for this strand is on social innovation. We continue to support Social Innovation Exchange (SIX) and Collaborate. SIX supports – through a global network  – thousands of individuals and organisations, across sectors and industries, to build the field of social innovation. Collaborate is an independent Community Interest Company (CIC) which seeks to promote collaboration between the business, social and public sectors – and between organisations within these sectors – in order to secure better public service outcomes.
An example of our support in this area includes the Unusual Suspects Festival organised in partnership by SIX, Collaborate and the Foundation. This festival was designed to bring together 'unusual suspects' – individuals and organisations from youth clubs to 'think and do tanks' to multinational corporations, who are making real social change happen by working together in new and different ways.
Under the heading of strengthening civil society, we are co-funding Civil Society Futures with the Baring Foundation, the Paul Hamlyn Foundation, the Barrow Cadbury Trust, the Esmée Fairbairn Foundation, Lankelly Chase, the City Bridges Trust and the Lloyds Bank Foundation. It is investigating how to maximise the positive effects of civic action and provide a guide on how to release its potential to drive positive change.
We are also supporting Inspiring Impact, which is an ambitious ten-year-programme to make high quality impact measurement the norm for charities and social enterprises by 2022. The programme is a collaboration between NPC, NESTA, Association of Chief Executives of Voluntary Organisations (ACEVO), Building Change Trust, Charities Evaluation Services (CES), ESS, National Council for Voluntary Organisations (NCVO), and Substance. Inspiring Impact is developing a number of guidance documents and tools to support better impact practice including the impact code for charities and Measuring Up! 
Under the aim of working to advance our own and others' philanthropic practice, we are supporting the policy and research function at the Association of Charitable Foundations. We are also undertaking work examining the ecology of financing.
Updated on 25 June 2018