Let's Talk About the Future of New Social Movements 
Location
Grand Auditorium
Calouste Gulbenkian Foundation
This conference will have simultaneous translation in Portuguese. Please bring your smartphone and headphones.
Moderated by Miguel Poiares Maduro, president of the Scientific Committee of the Gulbenkian Future Forum, the conference Let's Talk About the Future of New Social Movements has the participation of Donatella della Porta (Scuola Normale Superiore, Florence) e Guya Accornero (ISCTE -University Institute of Lisbon).
The opinion upheld by both authors in this Talk can be seen in the Gulbenkian Idea each of them prepared for this purpose.
This is the sixth conference of the "Let's talk about the future" cycle, held in partnership with RTP3, in which internationally renowned speakers debate key themes of our near future.
---
LIVESTREAM
No results were found for your criteria.
---
VÍDEOS
No results were found for your criteria.
No results were found for your criteria.
---
PUBLICATIONS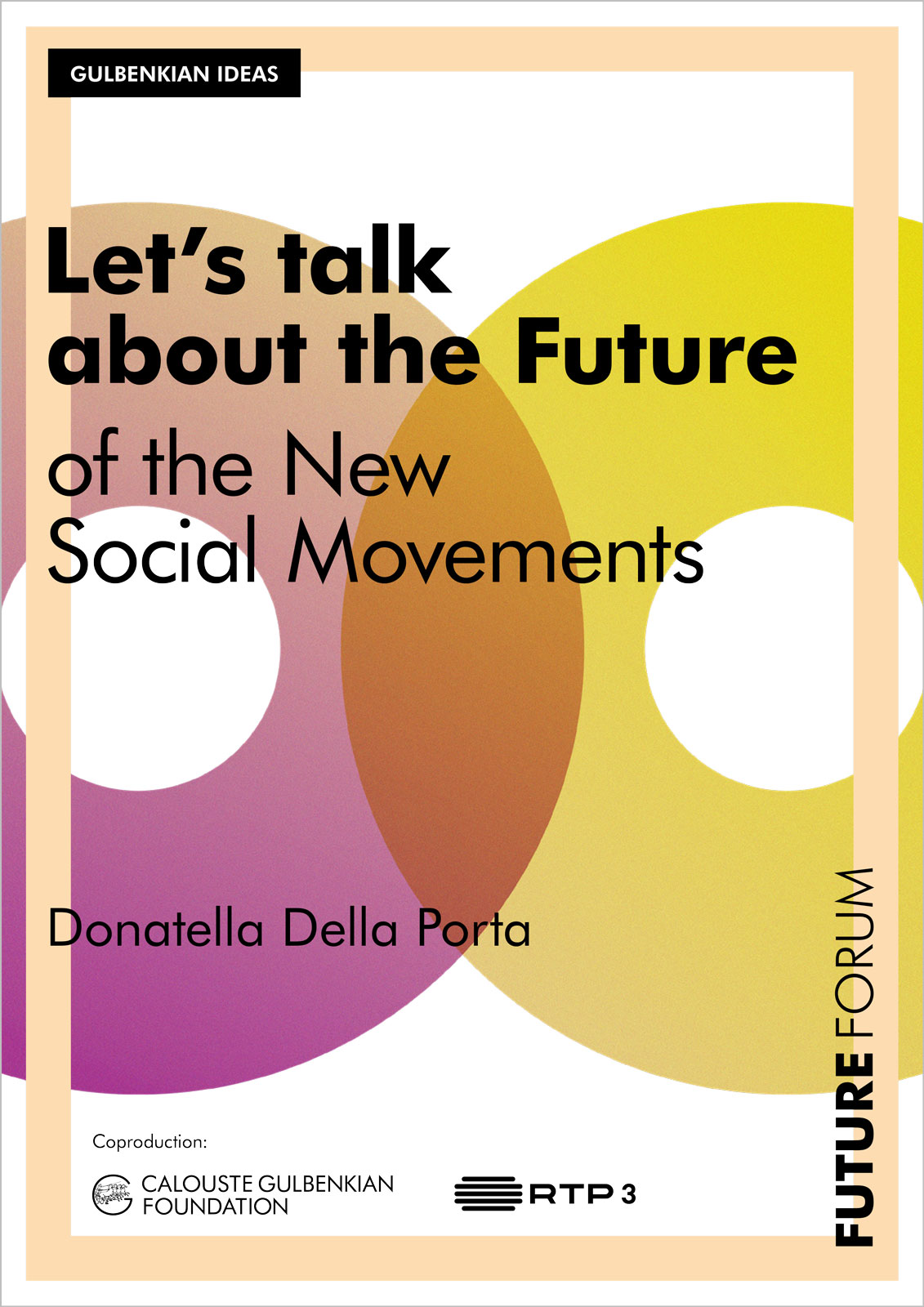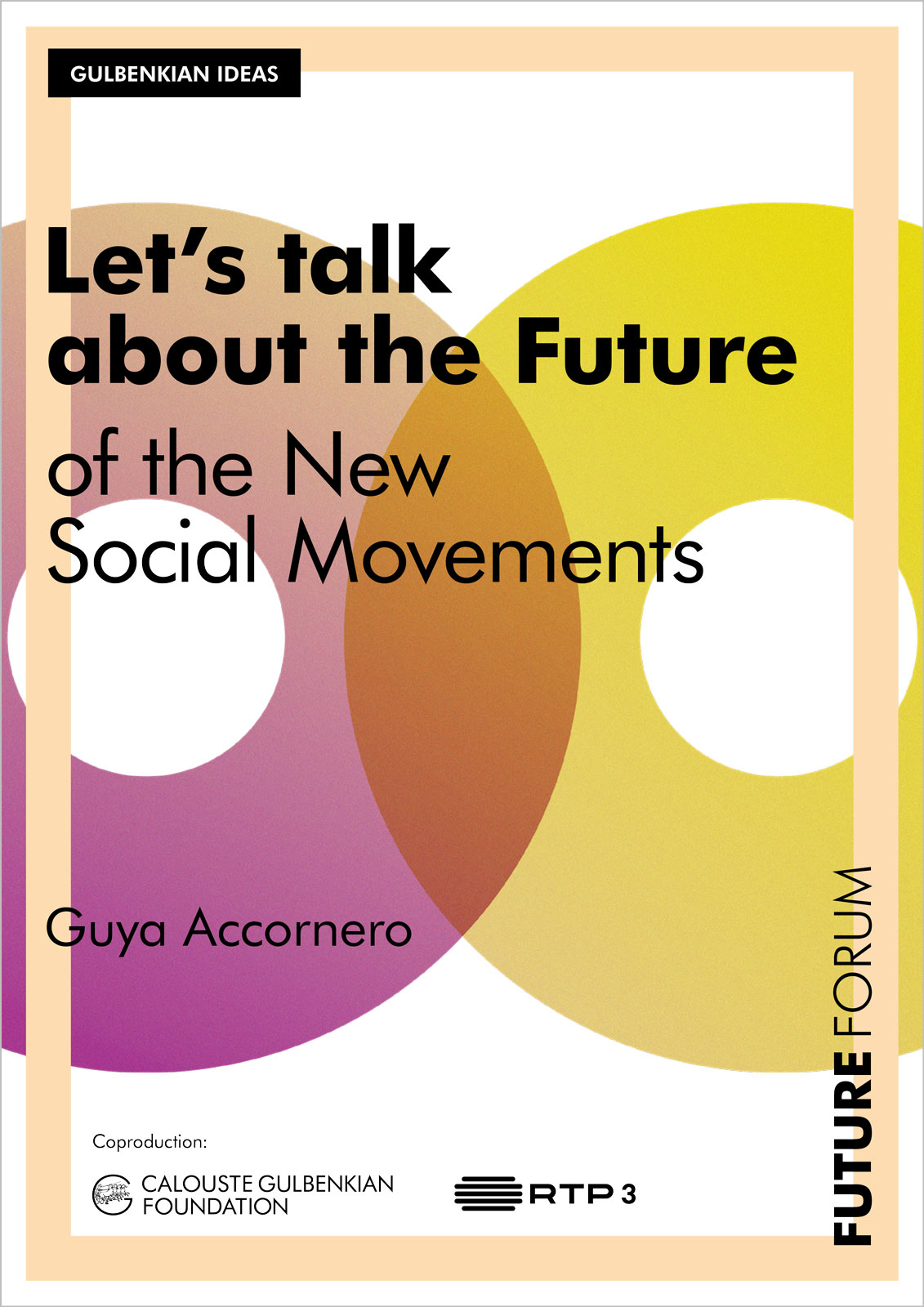 No results were found for your criteria.
---
BIOGRAPHIES
Donatella Della Porta is professor of political science, founding dean of the Faculty  of Political and Social Sciences  and Director of the PhD program in Political Science and Sociology at the Scuola Normale Superiore in Florence, where she also leads the Center on Social Movement Studies (Cosmos). Among the main topics of her research: social movements, political violence, terrorism, corruption, the police and protest policing. She has directed a major ERC project Mobilizing for Democracy, on civil society participation in democratization processes in Europe, the Middle East, Asia and Latin America.  
In 2011, she was awarded the Mattei Dogan Prize for distinguished achievements in the field of political sociology; in 2021, she received the Research Awards of the Alexander von Humboldt Stiftung in recognition of her lifetime's research activities. She is Honorary Doctor of the universities of Lausanne, Bucharest, Goteborg, Jyvaskyla and the University of Peloponnese.  
She is the author or editor of 90 books, 150 journal articles and 150 contributions in edited volumes. Among her very recent publications are: Social Movements: An introduction, 3rd edition (Blackwell, 2020); Can Social Movements Save Democracy? (Polity, 2020); Über das Potenzial sozialer Bewegungen Die schoene neue Demokratie. Ueber das potentiale soziale Bewegungen (Campus  Verlag, 2020), with Lorenzo Cini and Cesar Guzman; Contesting Higher Education (Bristol University Press, 2020), with  Pietro Castelli Gattinara, Andrea Felicetti, Konstantinos Eleftheriadis; Discoursive Turns and Critical Junctures, Oxford University Press, 2020);  Legacies and Memories in Movements (Oxford University Press, 2018); Sessantotto. Passato e presente dell'anno ribelle (Fertrinelli, 2018); Contentious moves (Palgrave 2017); Global Diffusion of Protest (Amsterdam University Press, 2017); Late Neoliberalism and its Discontents (Palgrave, 2017); Movement Parties in Times of Austerity (Polity 2017); Where did the Revolution go? (Cambridge University Press, 2016); Social Movements in Times of Austerity (Polity 2015); Methodological practices in social movement research (Oxford University Press, 2014); Spreading Protest (ECPR Press 2014, with Alice Mattoni); Participatory Democracy in Southern Europe (Rowman and Littlefield, 2014, with Joan Font and Yves Sintomer); Mobilizing for Democracy (Oxford University Press, 2014); Can Democracy be Saved?, Polity Press, 2013; Clandestine Political Violence, Cambridge University Press, 2013 (with D. Snow, B. Klandermans and D. McAdam (eds.); Blackwell Encyclopedia on Social and Political Movements, Blackwell, 2013; Mobilizing on the Extreme Right (with M. Caiani and C. Wagemann), Oxford University Press, 2012; Meeting Democracy (ed. With D. Rucht), Cambridge University Press, 2012; The Hidden Order of Corruption (with A. Vannucci), Ashgate 2012.  
Guya Accornero is an Assistant Professor in Political Science at the Lisbon University Institute (ISCTE-IUL), and an Integrated Researcher at the Centre for Research and Studies in Sociology (CIES-ISCTE), where she is the co-coordinator of the Research Group Politics and Citizenship, the deputy director of the Observatory for Democracy and Representative Democracy and elected member of the Scientific Commission. The FCT funded team project she coordinates – 'HOPES: HOusing PErspectives and Struggles' –  focuses on urban movements for the right to housing and to the city, gentrification and urban change in the city of Lisbon from a comparative perspective. Since 2018, Guya Accornero has been the co-chair of the Council of European Studies' Research Network Social Movements. She has published articles in journals including Partecipazione & Conflitto, Current Sociology, Mobilization, Social Movement Studies, Journal of Contemporary Religion, West European Politics, Estudos Ibero-Americanos, Democratization, Cultures et Conflits, Análise Social, Storia e Problemi Contemporanei, Historein. Her monography 'The Revolution before the Revolution' and the book she co-edited with Olivier Fillieule 'Social Movement Studies in Europe' were both published in 2016 by Berghahn Books. Her main research interested and teaching areas are social movements, citizenship, digital activism, political crisis and mobilization processes, the long-term outcomes of activism, activists' biographies, radicalization.