Let's Talk About the Future of Justice
Location
Grand Auditorium
Calouste Gulbenkian Foundation
Moderated by Miguel Poiares Maduro, president of the Scientific Committee of the Gulbenkian Future Forum, the conference Let's Talk About the Future of Justice has the participation of Marta Cartabia (Minister of Justice of the Italian Government) and Susanne Baer (Judge of the Federal Constitucional Court of Germany).
The opinion upheld by both authors in this Talk can be seen in the Gulbenkian Idea each of them prepared for this purpose.
This is the fourth conference of the "Let's talk about the future" cycle, held in partnership with RTP3, in which internationally renowned speakers debate key themes of our near future.
---
LIVESTREAM
No results were found for your criteria.
---
VÍDEOS
No results were found for your criteria.
No results were found for your criteria.
---
PUBLICATIONS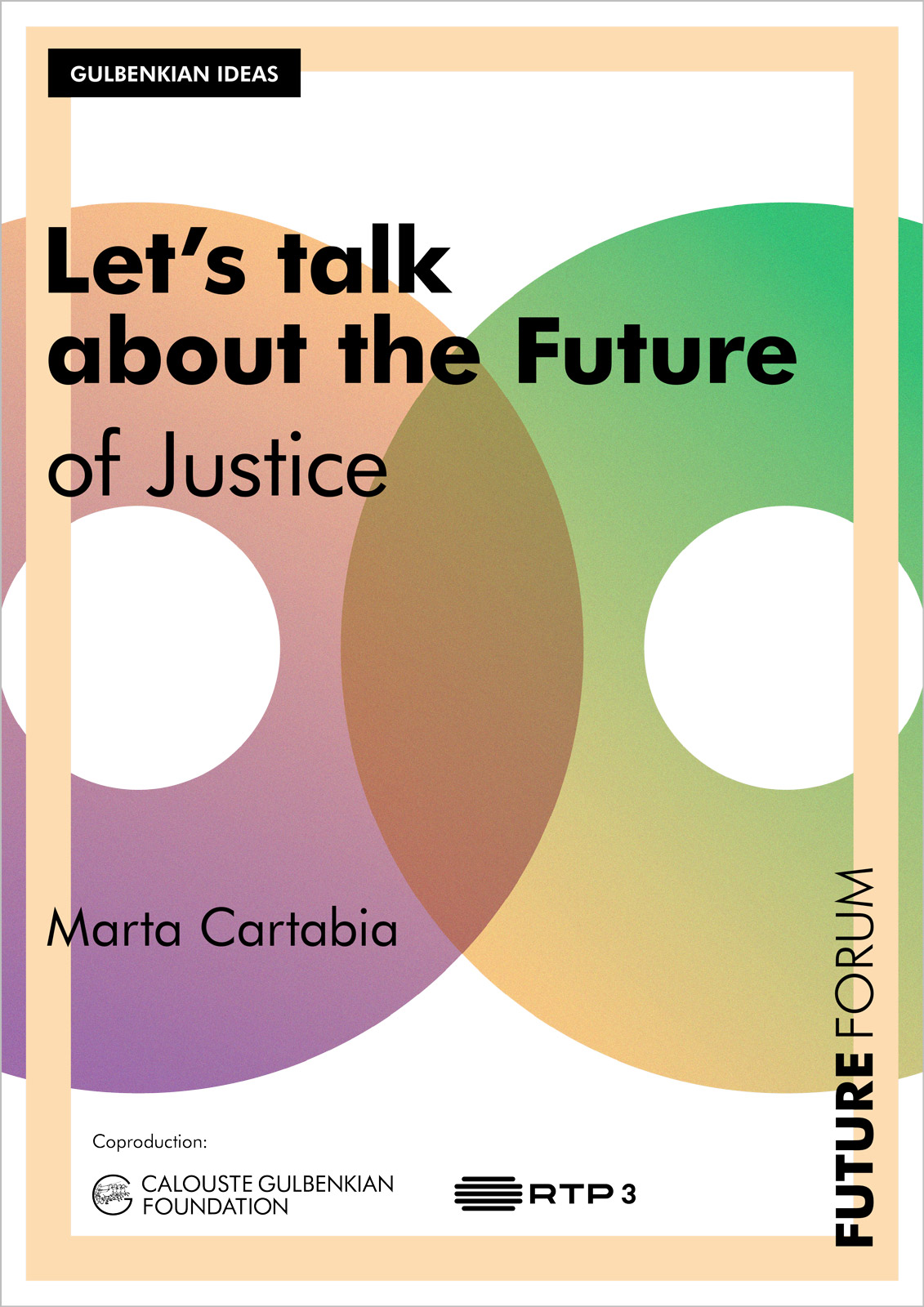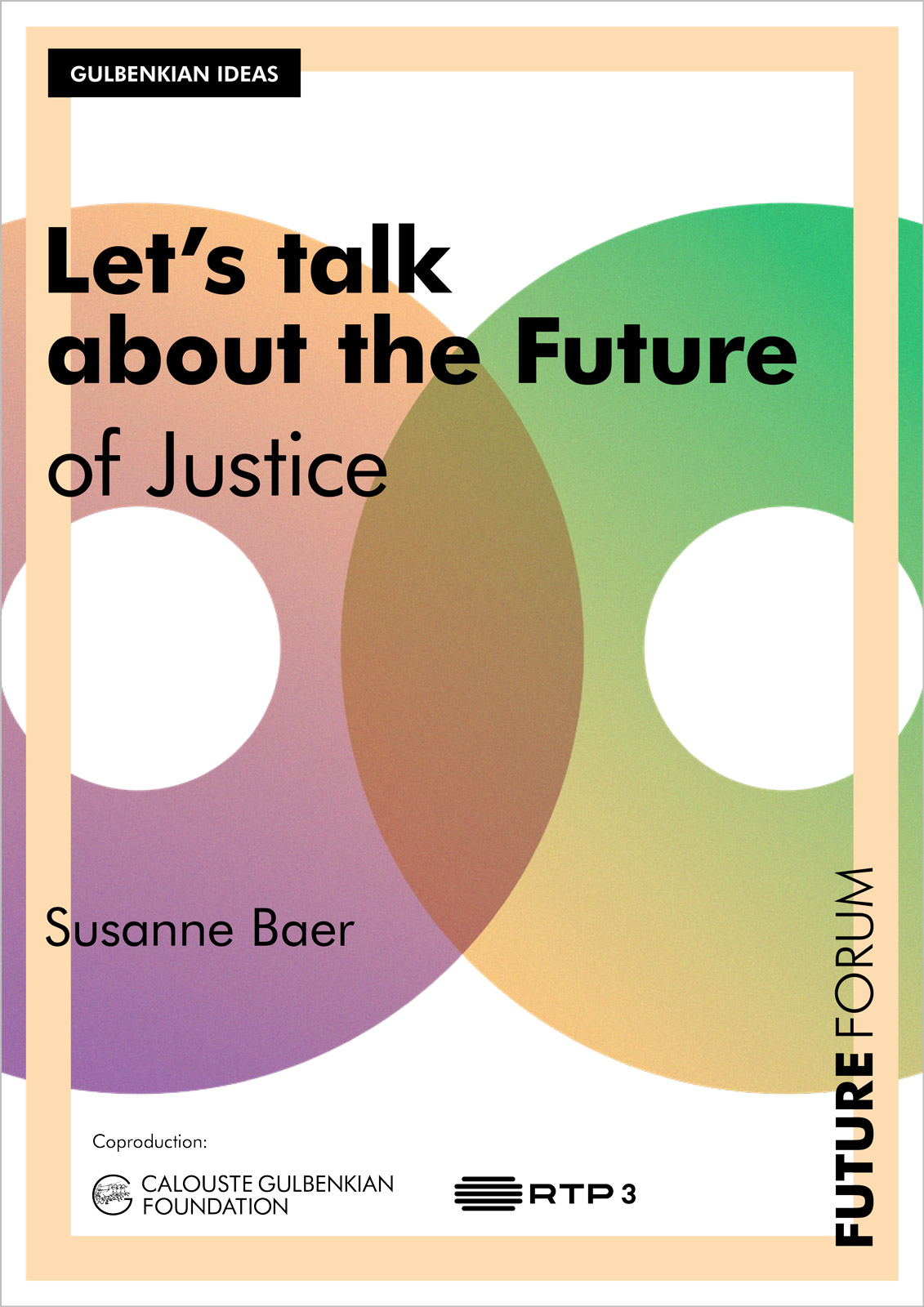 No results were found for your criteria.
---
BIOGRAPHIES
Marta Cartabia (PhD, European University Institute, 1993) is the Italian Minister of Justice, full professor of Constitutional Law and President emeritus of the Italian Constitutional Court.
She taught in several Italian universities and was visiting scholar and professor in France, Spain, Germany, and US.
She was appointed senior expert of FRALEX – Fundamental Rights Agency Legal Experts – Vienna (2008-2010) and adjunct member of the European Commission's Network of Independent Experts on Fundamental Rights (2003-2006).
Since 2013, she has been invited to the annual Global Constitutionalism Seminary, part of the Gruber Program for Global Justice and Women's Rights, a signature international program of Yale Law School.
Since December 2017, for Italy ,she is member of the European Commission for Democracy through Law of the Council of Europe (also known as Venice Commission).
She is a member of the Associazione Italiana dei Costituzionalisti.
She is co-president of ICON•S (The International Society of Public Law); as a co-founder of the Italian Chapter of the latter in 2018, she was its co-president until 2021.
She sits in the scientific and editorial board of a number of academic law journals. She is currently member of the Advisory Board of the International Journal of Constitutional Law (I•CON) and one of the founders and, at present, the co-editor in chief (with prof. Giacinto della Cananea) of the Italian Journal of Public Law.
She is author of many books, book chapters and articles; among her recent publications, in 2020, with V. Barsotti, P. Carozza and A. Simoncini, she edited the book Dialogues on Italian Constitutional Justice. A Comparative Perspective (Routledge). With N. Lupo, she co-authored The Constitution of Italy (Hart Publishing, 2022).
In December 2020, she has been awarded an honoris causa PhD in Law by the Sant'Anna School of Advanced Studies (Pisa).
Susanne Baer serves as Justice of the Federal Constitutional Court in Germany, elected by parliament in 2011 to the First Senate, for a 12 years term. She is the Professor of Public Law and Gender Studies at Humboldt University Berlin and a Lea Bates Global Law Professor at the University of Michigan Law School, and taught at CEU Budapest, in Austria, Switzerland and Canada. Her work is dedicated to a realistic, necessarily interdisciplinary understanding of legal practice (#rechtreal; Rechtssoziologie, 4th ed. 2020), to comparative fundamental rights (with Dorsen et.al., Comparative Constitutionalism, 4th ed. 2022; Dignity, Liberty, Equality, Toronto LJ 4 (2009) 417), and to critical, namely feminist, approaches to law. She has been active in movements against sexual harassment and domestic violence, founded the GenderCompetenceCentre to advise the government on gender mainstreaming 2003-2010, and co-drafted standards for equality in research for the German research foundation DFG. At Humboldt University, she served as Vice-President, Vice Dean and Director of Gender Studies, founded the Law and Society Institute Berlin and the Humboldt Law Clinic in Fundamental and Human Rights. She studied law and political science at FU Berlin, earned an LL.M. from Michigan, a Doctorate from Frankfurt/Main, and the Habilitation at HU Berlin.