Directors
Rui Esgaio
Secretary of the Board
Rui Esgaio joined the Gulbenkian Foundation in 1999. Graduating in Economics from the Catholic University of Portugal and with a post-graduate qualification in Development and International Cooperation from the Higher Institute of Economics and Management, he began his professional career under the auspices of the project "Building the Competitive Advantages of Portugal", run by Professor Michael Porter, having also held the post of Assistant to the Secretary of State for Agro-food Production before later serving as Secretary of State for Agricultural Markets and Agro-food Quality.
---
Rui Gonçalves
President's Office
Director of the President's Office since January 2015, he also serves as Legal Counsel to the Foundation as well as secretary to the Management Board of the Gulbenkian Institute of Science since March 2014. Having graduated in law from the University of Coimbra Faculty of Law in 1999, he began collaborating with the Foundation in 2000 serving as Assistant to the President's Office. He also participated in the Northern Rock Foundation training programme in the United Kingdom in 2003, the Marshall Memorial Fellowship run by the German Marshall Fund of the United States in 2004 and in the Tällberg Emerging Leaders Programme, at the Tällberg Foundation in Sweden in 2006. He is currently working on his doctoral thesis on the Laws for Foundations at the Faculty of Law of the Nova University of Lisbon and was previously Visiting Scholar at the Max Planck Institute for Comparative and International Private Law in 2013 before attending the Kellogg | Católica Advanced Management Program in 2014. He lectured Fiscal Law for Non-Governmental Organisations at the School of Economics and Management, at the Catholic University of Portugal in Oporto between 2006 and 2007. He is the author and co-author of diverse publications about the Laws of Foundations and Non-Profit Organisations including Sector Não Lucrativo – Colectânea de Legislação das Organizações da Sociedade Civil, Catholic University of Portugal (2006), with Raquel Campos Franco, Fundações e Direito da União Europeia: Perspectivas de evolução, in the Commemorative Studies on the 10th anniversary of the Nova University of Lisbon Faculty of Law, Almedina, 2008, with Emílio Rui Vilar, and Defining the Portuguese Foundation Sector, in Developments in Foundation Law in Europe, Springer, 2014.
---
Penelope Curtis
Calouste Gulbenkian Museum
Penelope Curtis studied History at Oxford, before going to the Courtauld to study Modern Art, and then undertook research in Paris for her PhD on Monumental Sculpture in France c.1870-1930. Her first job was in the new Tate Gallery Liverpool when it opened in 1988. From 1994-2010 she was based in Leeds where she was responsible for developing the Henry Moore Institute, with its acclaimed programme of exhibitions, collections development and research, presenting sculpture of all periods and places in distinctive thematic projects. The Institute became known for encouraging new kinds of scholarship, with fellowships, publications and inter-disciplinary programmes using the collections of the museum, library and archive. In 2010 she took up the Directorship of Tate Britain where she oversaw the Millbank Project (arch. Caruso St John 2013) alongside the complete rehang of the building with a new chronological installation, which opened in May 2013. At the Tate she was also Chair of the Turner Prize, and co-curated the Barbara Hepworth exhibition (2015). Penelope Curtis is an established scholar and author with particular interest in inter-war art and architecture and in contemporary art, and often writes at the invitation of artists. Her publications include Sculpture 1900–1945 in the Oxford History of Art (Oxford 1999) and Patio & Pavilion: the place of sculpture in modern architecture (Ridinghouse/Getty 2007). In 2015 she gave the Mellon Lectures at the National Gallery in London and at Yale University.
---
Risto Nieminen
Music
Risto Nieminen has been director of the Calouste Gulbenkian Foundation Music Service since April 2009. Nieminen holds a Master's Degree in Musicology and Literature, University of Helsinki and, among other roles, was director of the Finland Radio Symphony Orchestra between 1989 and 1991, and artistic director of IRCAM (Institut de Recherce et Coordination Acoustique/Musique), Georges Pompidou Centre, in Paris, between 1991 and 1996. He sat on the Board of the European Association of Festivals from 1997 to 2001 and in 1998 was awarded the honour of Knight of the Arts and Letters of France. Risto Nieminen took over from Luís Pereira Leal, who had held the post as from 1978.
---
Mónica Bettencourt Dias
Gulbenkian Science Institute
Mónica Bettencourt Dias is group leader at IGC since 2006. With a PhD in Biochemistry and Molecular Biology by the University College London (UK), Mónica also holds a post graduate degree in Science Communication by the Birkbeck College London. She was awarded two grants from the European Research Council in 2010 and 2015 and was also elected member of the European Molecular Biology Organisation (EMBO).
---
João Vieira
Art Library and Archives
Director of the Art Library and Archives, João Vieira began his collaboration with the Foundation as an archives' consultant in 2001. Between November 2014 and May 2017, he held the position of assistant director of the Gulbenkian Archives.
He graduated in History from the FCSH at Nova University of Lisbon (1982-86) and completed a post-graduate program in Information Science – Archives at the Faculty of Letters, University of Lisbon (1987-89).
He began his professional activities as an archivist at the Commission for the Reform and Reinstallation of the National Archives – Torre do Tombo in 1987, before joining the Portuguese Institute of Archives and the General Directorate of the Treasury. As from 1994, he took over responsibility for the management of archival, library, architectural heritage research and inventories issues under the auspices of the General Directorate of National Buildings and Monuments. Between 2007 and 2014, he served as director of SIPA – the Portuguese Architectural Heritage Information System (at Forte de Sacavém ).
He was a consultant on archival matters and projects for a diverse range of public and private entities including: Office of the State Secretary of the Treasury (1993-94); Office of the Ministry of Education (1996-97); Historical Institute of Education (1999-2002); Portuguese Society of Education Sciences /Faculty of Psychological and Education Sciences (1997-2001). He served as an expert to CReSAP – the Commission for Public Administrative Recruitment and Selection (2013-2014). Since 2009, he has been a member of the Scientific Board of the Architect Marques da Silva Institute Foundation at the University of Oporto.
Between 2004 and 2012, he was guest lecturer on the post-graduate and master's degree programs in Information Science at the Nova University of Lisbon and the University of Évora.
Since 2008, he has collaborated with the International Council on Archives and, following his election, held the functions of Secretary and Chair of the Section on Architectural Records for the four-year periods of 2004-2008 and 2008-2012, respectively. He currently serves as a member of the Editorial Board of COMMA, the International Journal on Archives.
As a speaker, moderator and/or organiser, he has participated in many technical and scientific meetings at the national and international levels, especially on Information Science, architectural and urban heritage and the associated arts. He coordinated and participated in scientific research projects, exhibitions and publications in the aforementioned fields and is the author of multiple studies published on these themes.
---
Margarida Abecasis
Scholarships
Margarida Abecasis was born in 1951 in Lisbon where she graduated in Economics from the Higher Institute of Economics. She joined the Calouste Gulbenkian Foundation as Assistant Director of the Education and Grant Service and currently serves as Director of the Gulbenkian Grants Service. Her earlier professional experience includes presiding over the Managing Commission of the Institute for Innovation in Training at the Ministry of Social Security and Employment from 2000 to 2003, serving as Sub-director General of Employment and Professional Training, from 1991 to 1999, simultaneous to being Vice-President of the Inter-ministerial Commission for Employment. From 1987 to 1991, she was Consultant to the Office of the Secretary of State for Employment and Professional Training. Within the development aid framework, she has contributed towards projects in every Portuguese speaking African country and specifically in the field of development support for education systems and professional trainings as well as participating in cooperation projects as an external BIT and OECD consultant. She has also published a diverse range of articles on the field of employment, education and training.
---
Razmik Panossian
Armenian Communities
Razmik Panossian assumed the post of Director of the Armenian Communities Department in February 2013. Razmik Panossian is the author of The Armenians: From Kings and Priests to Merchants and Commissars (Columbia University Press/Hurst & Co., 2006). He received his PhD from the London School of Economics and Political Science. His thesis won the prestigious Lord Bryce Prize for Best Dissertation in Comparative and International Politics in the UK (2001) granted by Britain's Political Studies Association. He received his MA from York University in Toronto, Canada, and his BA (honours) from McGill University in Montreal. Panossian has taught at the London School of Economics and at the School of Oriental and African Studies (University of London) on the subjects of nationalism, ethnic conflict, post-Soviet transition/democratisation, and comparative politics. In 2004 he assumed the position of Director of Policy, Programmes and Planning at the International Centre for Human Rights and Democratic Development, a Canadian federal institution devoted to the promotion of democracy and human rights. He managed the Centre's international programming in Latin America, Africa, the Middle East and Asia. His work took him to countries as diverse as Afghanistan, China, Haiti, Colombia, Egypt, Morocco and Congo. Between 2010 and 2012 Panossian worked as an international consultant, including at UNDP in New York. He has delivered numerous lectures and conference papers throughout the world, has participated in Turkish-Armenian workshops and the Armenia-Diaspora conferences. He has published many academic articles on Armenian national identity and nationalism, as well as on Armenia-diaspora relations. Razmik was born in Lebanon and immigrated to Canada at the age of 12. He has lived in English and French Canada as well as the UK.
---

Luís de Melo Jerónimo
Cohesion and Social Integration
Luís Jerónimo works as Director at the Gulbenkian Integration and Social Cohesion Programme of the Calouste Gulbenkian Foundation since January 2019.
Joined the Gulbenkian Foundation in 2006 and worked at Uk Branch of the Foundation between 2009 and 2010. Served as Project Manager (2009-2016) and Deputy Director (2017-2018) of Gulbenkian Human Development Programme and was responsible for the portfolio of projects on social innovation and impact investing.
It is currently Member of the Board of Directors of the European Venture Philanthropy Association and Non Executive Board Member of MAZE Impact.
Born in 1981, holds a Degree in Philosophy and has completed the INSEAD Social Entrepreneurship Programme in 2013 and the General Management Programme at Judge Business School / University of Cambridge in 2015.
---

Jorge Soares
Knowledge
MD PhD Director of Calouste Gulbenkian Foundation, Lisbon, Head of Health and Human Development Department, (2009-12), Gulbenkian Programme for Innovation in Health (2012-2017) and Gulbenkian Knowledge Programme (2018- ). Professor of Pathology, Lisbon Medical School (2006-13) Director of the Pathology Department of Lisbon Cancer Institute (1985-2009) Director of the Institute of Forensic Sciences at Lisbon (2001-03) Professor of Legal Medicine and Ethics, Lisbon Medical School (2001-03) Professor of Pathology, Medical Sciences Faculty (1996-2006) Member (chair 27) of the Academy of Medicine of Portugal and Academico Correspondiente de la Real Academia Nacional de España (1999) Member of "Conselho Nacional de Ética para as Ciências da Vida" (2003-08) National Expert at the 3rd "Europe Against Cancer" Council of the European Union Chairman of the Steering Committee – Pathology Group of the Organization of European Cancer Institutes, 1997-99 Member of the Scientific Council for Health Sciences – Fundação para a Ciência e Tecnologia, 2005-09 and Chairman, 2013- Past-President of the Portuguese Society of Pathology (1997-99), Portuguese Society of Senology (2004-06), and Sociedade das Ciências Médicas de Lisboa (2003-05) Member of the Governing Board of the Program Harvard Medical School-Portugal, 2011- Chairman of the External Committee for the Quality in Education, Public Health Nacional School, 2011 Areas of scientific interest: oncology, head&neck and breast pathology (more than 150 papers in peer review journals and 1,100 personal citations)
---
Rui Vieira Nery
Portuguese Language and Culture
Rui Vieira Nery was born in Lisbon in 1957 and first began his musical studies at the Santa Cecília Music Academy before moving up to the Lisbon National Conservatory. Graduating in History from Lisbon University's Faculty of Letters (1980), he completed his Doctoral Degree in Musicology at the University of Texas in Austin (1990), having been awarded a Fulbright Scholarship Calouste Gulbenkian Foundation study grant. A professor at the Évora and Nova Universities, he has supervised a vast number of master's and doctoral degrees at Portuguese, Spanish and French universities. He is a researcher at the Institute of Ethnomusicology – Centre of Music and Dance Studies and at the Centre of Theatre Studies. At the Calouste Gulbenkian Foundation, he was Assistant-Director of the Music Service (1992-2008) and Director of the Gulbenkian Education for Culture Program (2008-2012) and is currently Director of the Gulbenkian Portuguese Language and Culture Program (since 2012). As a musicologist, he is the author of many studies on the History of Portuguese Music, two of which won the Portuguese Council of Music Writing Award (1984 and 1992), as well as a large number of scientific articles published in journals and other collective specialist works, both nationally and internationally. Nery has also been a regular conference speaker both in Portugal, across Europe, the United States and Brazil. His research themes include the problematic framework of Mannerism and the Baroque in Iberian Music and the processes of cross-cultural interpenetration in Portuguese Music, from Vilancico à Modinha through to Fado. As a music critic and columnist, he has written for both the Expresso and O Independente weekly newspapers. He is a regular contributor to the Portuguese state radio Antena Dois channel and produced programs such as Timeless and Matrix Sounds, among others, and Resonances with Vanda de Sá. He has made radio and television documentaries for RTP, BBC, Radio France, NDR, Al Jazeera, TV Cultura among other national and international broadcasters. He was musical consultant to the National Commission for the Commemoration of the Portuguese Discoveries, the Régie Symphony Cooperative and the Serralves Foundation. From November 1991 to June 1992, he was responsible for designing the artistic project for the Belém Cultural Centre Performance Centre. He was National Commissioner for Commemorations of the Centenary of the Republic and President of the Scientific Commission for the application of Fado to the Representative List of Intangible Human Cultural Heritage (UNESCO). He is the Corresponding Academic to the Portuguese Academy of History and, in 2002, was made a Member of the Order of Infante D. Henrique for his services to Portuguese culture. He is also the Honorary Member of the Iberian-American Forum for Arts and in 2012 was awarded the CICOP Prize for International Intangible Cultural Heritage attributed by the International Centre for Heritage Conservation. Between October 1995 and October 1997, Nery served as Secretary of State for Culture in the 13th Constitutional Government and has served as an individual member of the National Council for Culture since 2010.
---
Maria Hermínia Cabral
Partnerships for the Development
Maria Hermínia Cabral de Oliveira was born in Luanda, in 1963. She is graduated in Economics from the University of Porto's Faculty of Economics in 1985 before completing a Master's Degree in International Cooperation and Development at the Higher Institute of Economics and Management, the Technical University of Lisbon in 1997. Beginning her professional career in 1985 at the Coordination Commission for the North Region, in the Studies and Planning Division (fishing sector), she then joined the North Region Hydraulic Resource Integrated Projects Management team. She has lectured at the University of the Minho (Industrial Cost Analysis) and the Faculty of Economics at the University of Porto (Cost Accountancy) between 1985 and 1988. Between 1988 and 1991, Maria Hermínia served as the Assistant State Secretary for Agriculture. In 1991, was nominated Cooperation Attaché at the Embassy of Portugal to Angola. Between 1993 and 1995, she was assistant to the State Secretaries for the Environment and for Planning and Regional Development. She was furthermore consultant on European Affairs in the Portuguese Parliament between 1997 and 2002. Between 2002 and 2003, she was Head of Office for the State Secretary of Foreign Affairs and Cooperation and, between 2003 and 2004, Vice-President of the North Region Coordination and Development Commission. Between 2004 and 2005, Maria Hermínia served as Assistant State Secretary for Regional Development in the 15th Constitutional Government and manager of the Operational Health Program (Healthcare XXI). Awarded the Portuguese Aid Institute's prize for the "Best International Development and Cooperation Master's Degree Student" in 1997, she was also a member of the "New North" Award Jury for the North Operational Program in 2010 and 2011. Maria Hermínia Cabral was the executive coordinator of both the Gulbenkian Environment (2007-2011) and Advanced Healthcare Training Programs (2008-2009). Currently she is the Director of the Gulbenkian Program Partnerships for the Development.
---
Luis Lobo Xavier
Sustainability
Director of the Gulbenkian Sustainability Program since 2018.
Economics degree and law degree, respectively in Faculty of Economics and in Faculty of Law at Universidade Nova de Lisboa.
Between 2007 and 2012 worked in energy planning at EDP, Energias de Portugal, developing and coordinating projects in the areas of Energy Markets, Regulation, Market and Operations Risk, Renewable Energies, ERoEI, Assets Valuation, Energy Policy.
Subsequently worked in strategic and technical area of Access to Energy for Development (A2E) at EDP Foundation, and also as a consultant and trainer in many institutions of social intervention and entrepreneurship.
Since 2014 works at the Calouste Gulbenkian Foundation, providing strategic support to the Board of Trustees, and in the coordination and supervision of projects in the areas of health, human development, sustainability and social innovation.
He was Director and organizer of several volunteering projects, and since 2016 is Member of the Board of ACEGE – Christian Association of Business Executives.
In what concerns with the professional level, his great aspiration is to apply his skills and experience in the promotion of the common good, whether in the area of the State, whether in the research field, or in the social area of companies and organizations.

---
Francisca Moura
Forum for Reflection and Debate
Born in Lisbon in 1953, Francisca Moura graduated in Economics from the Instituto Superior de Economia (Institute of Economics), at Universidade Técnica de Lisboa (Lisbon's Técnica University). Since September 2012, she has served as Director of the Gulbenkian Oceans and Cities initiatives. She joined the Calouste Gulbenkian Foundation in 1990 having served as Assistant Director of the Science Service between 1996 and 2012. She began her professional career at the now Foundation for Science and Technology (formerly JNICT) in 1979 where she held a range of different positions.
---
Luís Madureira Pires
Active Citizens
Manager of the Cidadania Ativa Programme since January 2013. With a degree in Economic Sciences by the Université Libre de Bruxelles (Belgium), he was a professor at the Catholic University of Portugal between 1980 and 1984. In 1979, he joined the negotiation team for Portugal's accession to the European Union. In 1986 he was appointed as Deputy Director for Regional Development and then Director General up to 1995, and during this period he was responsible for the management of the ERDF and Cohesion Fund in Portugal, as well as for the coordination of the implementation of the Structural Funds. In early 1995 he moved to private consultancy on regional planning and development and on EU structural funds, working in Portugal and in nine Eastern Europe countries. He has published several books on these subjects in Portugal and abroad. He was a consultant to the Portuguese authorities, the European Commission, the World Bank and the United Nations Development Programme (UNDP). He was awarded the level of Commander of the Order of Prince Henry the Navigator in 1994.
---
Miguel Magalhães
Délégation en France
Miguel Magalhães has been at the Calouste Gulbenkian Foundation Delegation in France since 2011 and holds the position of Assistant Delegation Director. He began working for the Gulbenkian Foundation in Lisbon in 2005, where he was assistant manager for the programs; State of the World (2005-2007), Distance and Proximity (2008) and Next Future (until 2011). In 2011, he took up residence in Paris and accompanied the change in the Delegation installations in the building on Avenue d'Iéna (the former residence of Calouste Gulbenkian), where it had been located since 1965, to Boulevard de La Tour Maubourg, under the new management headed by João Caraça since 2012. A graduate in law (Catholic University of Portugal, Oporto), he took his Master's Degree in Arts Management (City University, London) as well as the Advanced Management Program at the INSEAD business school (Fontainebleau, France). He began his professional career in the S. João National Theatre (1996-2000), where he was consultant to the administrative and financial board, among other responsibilities, before becoming the artistic director of Casino da Póvoa between 2000 and 2003. In parallel, he undertook activities as a researcher in the field of cultural policies and cultural organisation management. He was the co-author of "Strategies for Culture in the City of Lisbon", a study commissioned by Lisbon Municipal Council from the ISCTE Dinâmia research centre. He was also a guest professor at the Higher School of Theatre and Cinema (Lisbon), at the University of the Algarve and as well as joining the teaching staff on the Management Program /Performance Arts Production by Fórum Dança (Lisbon). He is a member of the patrons commission of the Fondation Nationale des Arts Graphiques et Plastiques (France) for the 2016-2017 biennial.
---
Andrew Barnett
UK Branch
Andrew Barnett has been Director of the UK Branch of the Calouste Gulbenkian Foundation since September 2007. Andrew joined the Calouste Gulbenkian Foundation from the Joseph Rowntree Foundation where he held the post of Director of Policy Development and Communications. Prior to this, he was Director of Communications at the UK Sports Council and, before that, Head of Public Affairs at the National Consumer Council. Andrew previously held posts at the then Midland Bank and then HSBC Group HQ, the Arts Council of England, and the Foyer Federation for Youth, as well as working for the Chair of the All-Party Parliamentary Group on Homelessness and Housing Need. He is: chair of DV8 Physical Theatre; a trustee of Addaction, the UK's leading specialist drug and alcohol treatment charity; and a Council member of the Collaborate Institute, based at London South Bank University, whose aim is to promote collaboration between the business, social and public sectors in order to secure better public service outcomes. He has previously served voluntarily in a variety of capacities: as chair of trustees for People Can, a charity and social enterprise; chair of the trustees of SPACE Studios, a London-based arts property charity; and a director of Yorkshire Housing. Born in New South Wales, Australia, Andrew was educated at King's School, Bruton in Somerset, and St Andrews University. He is a Fellow of the Royal Society of Arts and an enthusiast for contemporary dance and abstract and Aboriginal art.
---
António Repolho Correia
Central Services
Director of the Calouste Gulbenkian Foundation Central Services since February 2001, an economist by education, António Repolho Correia began his career at the Ministry of Finances in 1977, as a Senior Technician in the Offices of Studies and Planning, a position he retained through to 1983. Among his subsequent positions are: Divisional Head of the General Directorate of the Treasury (1985-1987), Head of Office of the Secretary of State for Planning and Regional Development (1987-1995) and Member of the INGA Audit Commission, the Fiscal Board of IPE – Águas de Portugal and the Fiscal Board of the Innovation Agency. António Repolho Correia was Director at Teixeira Duarte – Engenharia e Construções S.A., and environmental service companies within the group: Recolte – Recolha, Tratamento e Eliminação de Resíduos S.A and Indáqua – Industria e Gestão de Águas S.A. He was also Board Member of the Association of Portuguese Environment Sector Companies.
---
Elisabete Caramelo
Communication
Elisabete Caramelo was born in Lisbon on 28th May 1963. After graduating in Media Studies from Lisbon's Nova University, she became a journalist for the following eleven years. Her professional career began at Agência Noticiosa Portuguesa, with articles published in various newspapers and magazines as well as television appearances. It was to be radio that defined this stage of her career. Following a six-month professional training program in "Radio Journalism", Elisabete Caramelo was a founding member of the TSF radio station where she progressed to become Senior Editor before leaving to join the Presidency of the Republican in 1996. She spent the following decade as media consultant to President of the Republic, Dr. Jorge Sampaio.
---
Gonçalo Leónidas Rocha
Finance
Gonçalo Leónidas Rocha was born in Lisbon in 1966. He graduated in Company Administration and Management from Lisbon's Catholic University of Portugal. He holds a PhD in Finance from Nova School of Business and Economics. He worked as director of the Lisbon Stock Market, general director of the bank Caixa Económica Comercial e Industrial, director of Banco Cisf and Cisf Dealer, director of RTP, member of the Senior board of Millennium bcp and as a partner at the consultant Roland Berger. He has also been director of CTT (the post office), Banco Postal (bank), Previsão (pension funds), Multicert (digital certification), Porto TV (television) and President of the Board of Directors of Payshop (mobile phone and invoice payment services) and Telepost (printing and sending of invoices). Since March 2014, Gonçalo Leónidas Rocha serves as Finance and Investment Director of the Calouste Gulbenkian Foundation and as Board Member of Partex Oil & Gas. He is Assistant Professor at the NOVA School of Business and Economics and at the Lisbon MBA.
---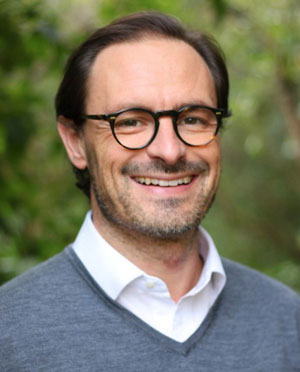 Nuno Prego
Marketing, IT and Digital Transformation
Chief Marketing and Digital Officer since January 2016. Diretor of the Marketing, IT and Digital Transformation department since May 2018.
From 2004 to 2015, held various positions at Portugal Telecom, namely Investor Relations Officer (2004-2008), Chief of Staff to the CEO and Head of Strategy (2008-2014), Executive Board Member of PT Investimento Internacionais (2011-2014), and Member of the Executive Management Committee of PT Portugal responsible for the Digital Transformation Unit (2014-2015).
From 1996 to 2003, worked in the financial market as Deputy Director of the research department at Banco Finantia (1996-1999), Fund Manager at BPI Fundos (1999-2000), Head of Equity Research at BCP Investimento (2001-2003). During this period, covered several sectors, including telecommunications, utilities, pulp and paper.
Nuno Prego has a degree in Economics from the Universidade Nova de Lisboa and is a CFA charterholder.
---
Cristina Pires
Budget and Planning Control
Director of the Budget and Planning Control Services since 2000, Cristina Pires began her career at the Foundation in 1996 as Assistant Director of the same entity. Graduating in Economics from the Higher Institute of Economics, Technical University of Lisbon, she began her professional career at the Ministry for Internal Affairs in 1978, in the General Directorate for Regional and Local Action. At the Foundation, she has been responsible for implementing the working processes re-engineering project that extended across accounting, heritage, treasury, sales, procurement, storage, human resources, budgetary control and management indicators.
---
Ana Rijo da Silva
Human Resources
Head of the Human Resources department since September 2002, Ana Maria Garrido Rijo da Silva was born in 1961 and graduated in Economics and Business Management from the Catholic University of Portugal, having undertaken post graduate study in Actuarial Sciences at the same institution. In 1992, she completed her MPhil in Business Studies at the University of Warwick. Between 1984 and 1988, she was Assistant to the Management Department at her alma mater, where she also chairs the subjects within the fields of behavioural studies and human resources. In 1991, she was a guest lecturer at the Warwick Business School. Throughout the 1990s, Maria Garrido Rijo da Silva was responsible for coordinating and managing various degree subjects and scientific fields at institutions connected to the Catholic University of Portugal, including the Faculty of Economics and Business Sciences, the University Institute of Social Development and the Faculty of Human Sciences. She also held various consultancy roles and was member of the Commission for the Reorganisation of Tax Service (1997-1998) and the Commission for Drafting the Organic Law for the Ministry of Justice (1999). As a member of the "European Summer School for Advanced Management" (1992-1995) Consortium, she organised the organisation's 5th program that took place in June 1993. She has coordinated the post graduate studies in Human Resource Management at the Faculty of Economics and Business Sciences since 1995. She has been Director of the Recursos Humanos journal since 1999. Ana Maria Garrido Rijo da Silva joined the Calouste Gulbenkian Foundation in 2000 and was appointed to run the Human Resource department.
Updated on 29 May 2019