22 oct 2020
Partnerships for development
Women of clay
Reinata Sadimba and Merina Amade, two leading Mozambican ceramists, participated in an artistic residence in Bajouca with support from the Gulbenkian Foundation. This is an account of one of those days.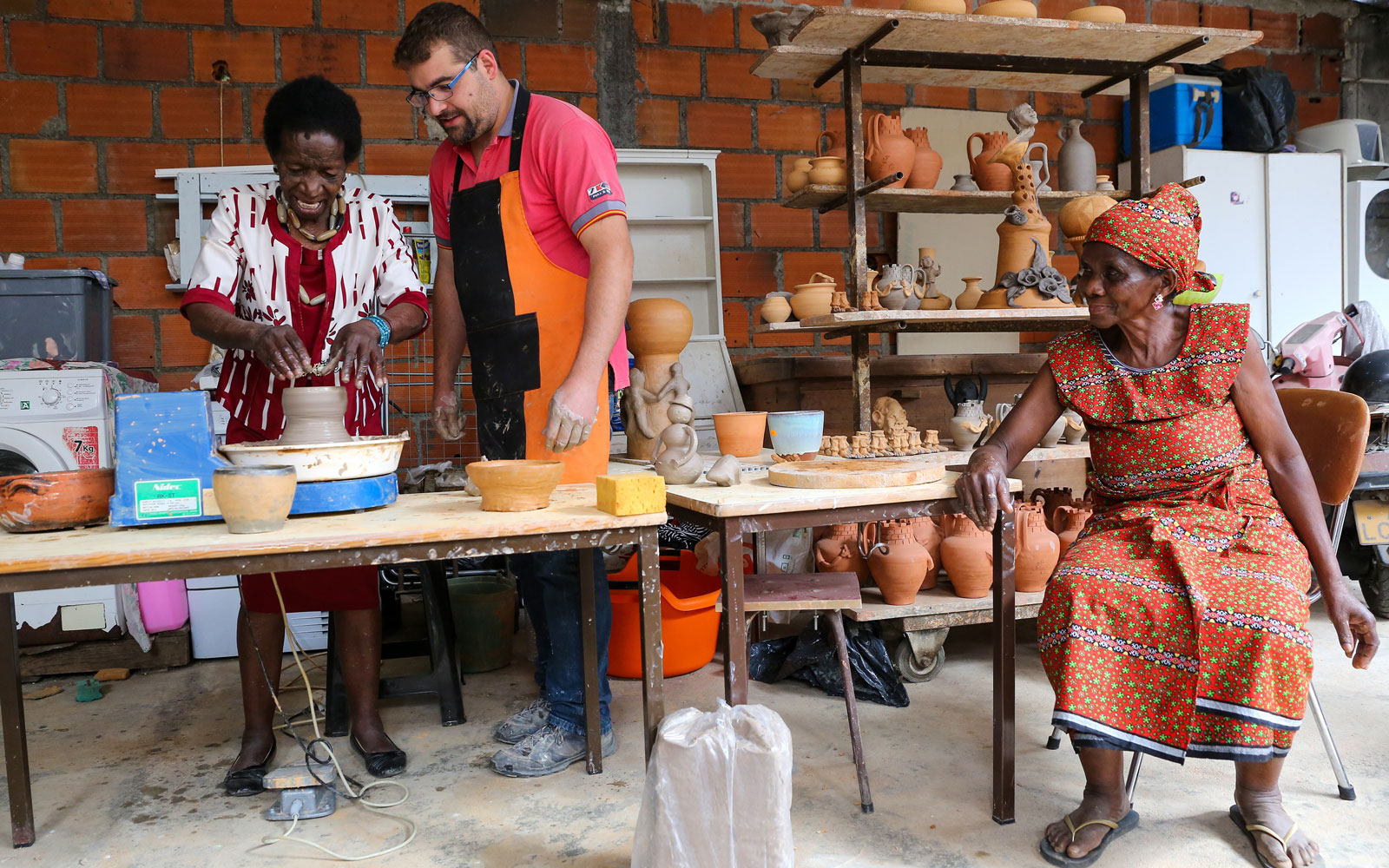 "What I want is clay." In her rudimentary Portuguese, Reinata Sadimba swiftly deviates the beginning of the conversation. Wearing a dress the colour of red wine with a matching jacket, striking necklace and earrings and with a silvery scarf, Reinata was not in Portugal to talk, far less in a language that she all but does not know. She wanted to get her hands on the clay, the material that long since placed her on the map of Mozambican artists with an international profile and that would serve as her means of interaction in this artistic residency that had brought her to Portugal.
While Reinata had turned up dressed "western-style", she has carried her origins marked onto her face, entirely tattooed, from a now unknown early age. "When we grow up [Merina Amade, alongside Reinata, gestures towards her breasts to recall the onset of puberty] we are put into a room for a month. We leave there with our faces all tattooed in charcoal and they give us capulanas (type of cloak)", explains the second Mozambican artist. The facial tattoos (of both) represent proof of a rite of passage but also a means of publicly demonstrating their belonging to the Maconde ethnic group that believes these geometric figures marked onto the skin serve to ensure fertility and placate their relationships with the spirits.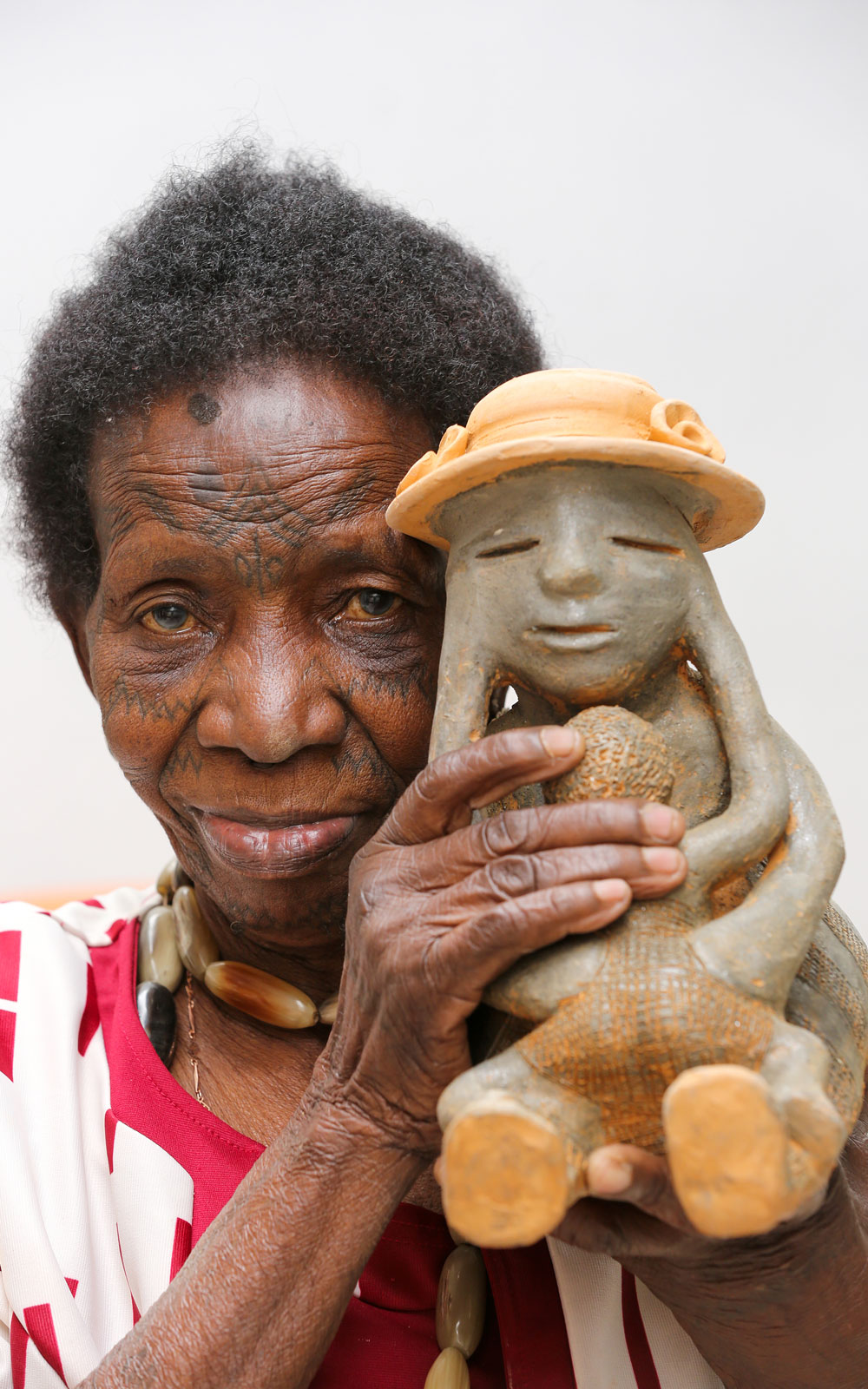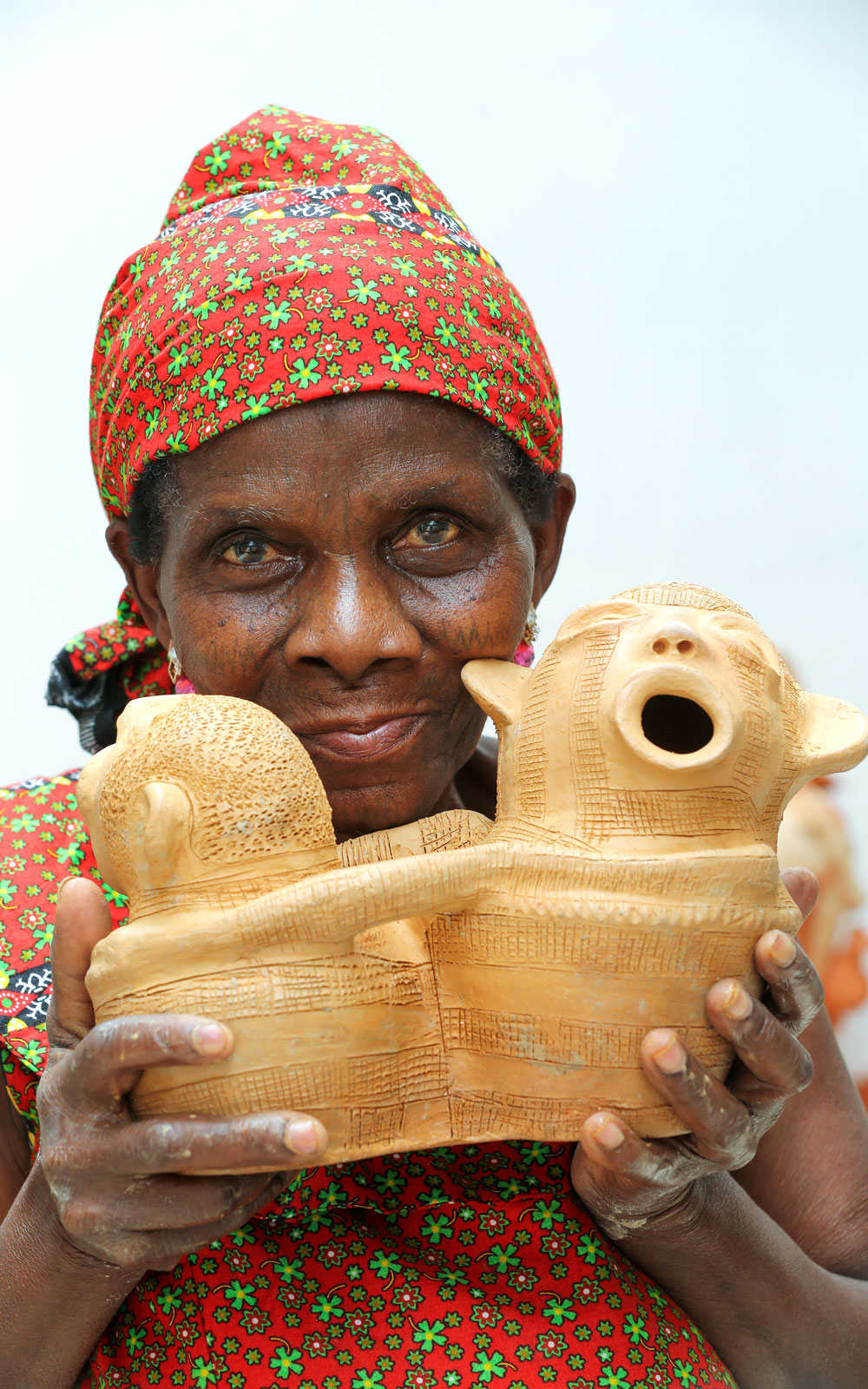 Reinata Sadimba and Merina Amade left their country under the auspices of support (from the Calouste Gulbenkian Foundation) for the mobility of PALOP – Portuguese language African speaking countries – artists within the scope of the application by Leiria to the UNESCO Creative Cities Network, in order to participate in an artistic residence in Bajouca, Leiria.
Bajouca is a land of potters. Céu Pedrosa, the potter with whom Reinata and Merina most worked during the residence, comes from a family with a long tradition in clay. Her great-grandfather was a potter as was her grandfather (who taught the art to Céu) as was her father; of his five children, only one is not dedicated to pottery. At the age of nine, Céu was already making pieces. The traditions are utilitarian. "If they are green and yellow", she notes, "they can only be from Bajouca!" Céu remains loyal to the traditions but with this interaction, this exchange of experiences, she decided to adapt her pieces, to embellish them and set them telling stories as do her Mozambican artist peers. Perhaps this may prove the means for her pieces and those of the other Bajouca potters to gain the recognition they desire.
Around the wheel
In the studio of Céu Pedrosa, Merina Amade does not hide her fascination with the speed that the wheel manages to reach. The pieces emerge from the hands of Céu in a record time and with a perfection that Merina is not able to match.
In his potter's workshop, Alcino Pedrosa produces every type of piece, in fairly large quantities, and sells almost everything internationally – from Germany to Australia. Despite having a substantially more industrialised business than his cousin Céu, it is he who sits Merina in front of the wheel and sets her hands on the moving clay block. Merina, of an undefined age, takes on an almost childlike brilliance in her gaze.
Over in her corner, Céu observes her with an almost quizzical smile. She has been producing some of the pieces for Reinata and Merina to decorate. This indeed constitutes the idea behind bringing the two Mozambican artists to Bajouca: fostering the exchange of experiences, interaction between these two worlds, mutual learning and inspiration. Céu makes utilitarian pieces at a very fast pace. The Mozambican artists take their time over building and decorating each one, adding decorative figures and inscribing them with the geometric Maconde motifs. Their pieces tell a story.
The characters of Reinata – "the woman who goes to fetch water and takes her son Samuel on her back, refusing to leave him with another woman", "this husband, who is a Maconde nhoca [evil snake]", "the woman who is pregnant with child outside of marriage", "the woman who doesn't want to be sensible" – contain rich stories and have already been on exhibition in London, Milan, Paris, Johannesburg and New York in addition to Lisbon, Évora and Oporto. Merina, younger, who in Bajouca they sometimes call "Little Reinata", portrays simpler figures with less elaborate stories – "a woman pregnant with triplets", "a person who has no children and is sad", "a mother sleeping with her son and hugging him".
The explanations enable the conveying of how the life of Reinata, longer than that of Merina, may also have involved greater suffering. But she has encountered her space. She embarked down her path and has gone far as an artist and feels that she should not leave herself overly exposed – this was the reason why, in front of an audience, she did not try working with the wheel: because I don't know how to, she later confessed.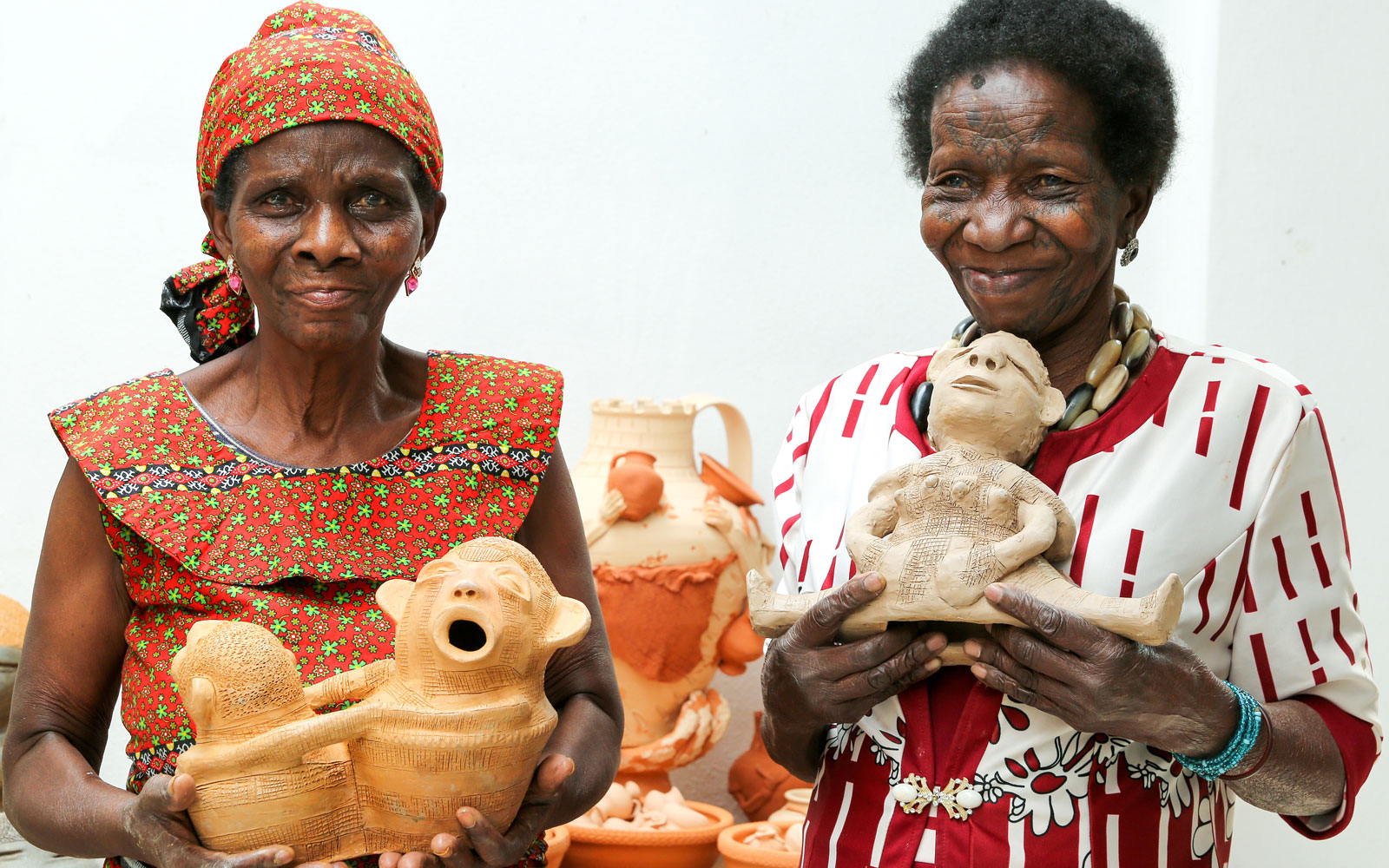 "Mozambique brought the world to Bajouca"
"When the clay tries to be excessively real, it loses this magic", explained Celeste Afonso, the person responsible for the two Mozambicans arriving in Bajouca. It was this magic that I wanted to show to the potters of Leiria so that they might "gaze on pottery as if a work of art".
This residence fell within the framework of the application of Leiria to become a creative city within the area of music. Music? Yes, Celeste explained again: "Leiria has eleven centenary philharmonic bands. But no city is creative in just a single field and therefore to music we added pottery – in a joint logic but as a means of stimulating creativity."
In her perspective, the artisans of Bajouca lacked contact with other artisans. There was stimulus lacking for such creativity that led Reinata, on one particular night, to ask for some clay to be left at home for her. By the following morning, she had eight different pieces underway. "She can't have got much sleep", concluded Celeste.
Reinata and Merina look to clay in different ways. Celeste wanted the potters resident in Bajouca to see this as well. And what she had to conclude at the end of the residency was that "Mozambique brought the world to Bajouca."
Partnerships for the Development
With the goal of supporting the qualification and internationalisation of artists from the PALOPs (Portuguese language speaking African countries), the Gulbenkian Partnerships for Development Program has structured a support system for the international mobility of artists (born and resident in a PALOP) across the fields of the Visual Arts, Curatorship and Dance.
The artistic residencies such as that which Reinata Sadimba and Merina Amade participated in provide exceptional working conditions, facilitating the building of collaborative networks essential for dynamizing creative processes and achieving affirmation in international markets.
Each artist chooses whichever residence they wish to participate in with the jury – based on the candidate's CV, the relevance of the artistic residency and the host institution to the qualification and internationalisation of the participant artists in keeping with their respective artistic profiles – then evaluating the respective merits of the proposal and attributing support funding.
More info