"School must be a place that enables social mobility"
Catarina Cerqueira, a former Gulbenkian Mais grantee who did her master's in Paris and works as a consultant for UNESCO, believes that the influence of a mentor can be essential for student success. Get to know her path.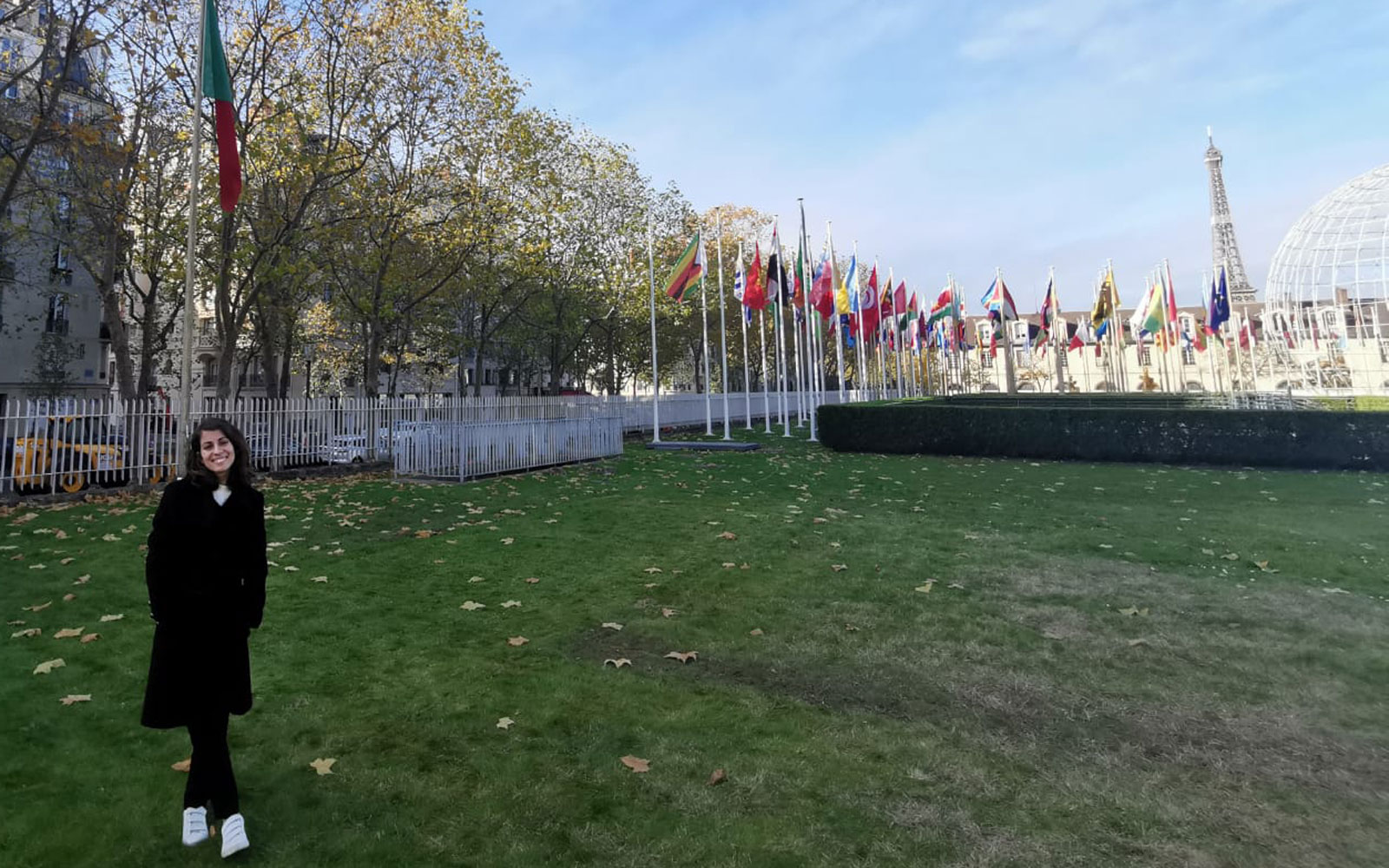 Catarina Cerqueira studied in different schools on the outskirts of Lisbon and soon realized the social inequalities of her environment and the several factors that define student success or its opposite. She did her bachelor's degree in Political Sciences and International Relationships at Faculdade de Ciências Sociais e Humanas (Universidade Nova de Lisboa) and applied for a Gulbenkian Mais Scholarship with the goal of entering the Erasmus programme during the second year and fulfilling her dream of living in Paris.
She went to France and there she stayed for a master's in Public Policies at Sciences Po Paris, specialized in Social Politics and Social Innovation. In the meantime, she did an internship at UNESCO, where she currently works as a consultant in the field of Education – her main field of interest, and she created a programme of mentorship together with the Gulbenkian Grants Program, to which she called "Raízes" [Roots]. In the future, she hopes to contribute to the improvement of a field as crucial as education, particularly in Portugal, a context that is familiar to her and where she knows "there are lots of things to work on".
You are studying and working in Paris. Is there a particular reason why you chose this city?
It was the first place I travelled to the first time I left Portugal. I came here when I was 12 years old and maybe because it was my first trip or because it was Paris, I somehow decided I had to live here someday. Ever since I was 12 my room was covered in posters of the Eiffel Tower, it was sort of a life goal. I do not regret it because I really love the city. The cultural diversity is immense and I really enjoy the language.
The internship at UNESCO came after that? What was that experience like?
Yes, the headquarters of UNESCO are here in Paris. It is a growing experience, where I see more and more possibilities to have an impact on what education is and will be in the future.
How did the project Raízes [Roots] start?
During the first year of my master's I had to create a social impact project for a class, and this idea had been on my mind for a long time. The schools I attended had a lot of underprivileged students and immigrants so I realized very early that this implied inequalities in the access to higher education, that educational attainment is way beyond individual commitment and that the conditions one has at home are a determining factor.
This is basically a project where higher education students are going to be mentors for primary and secondary school students, not to give explanations, but to give information about access to higher education, about career guidance – that support that we should have in schools but don't usually have, especially in the most disadvantaged ones.
In June 2019 I presented this idea to the Calouste Gulbenkian Foundation and in September of that same year I started working with four other grantees and with the Gulbenkian Grants Program in this pilot project. The idea was to ask the schools we had been to if they could identify cases of students who had the potential to attend higher education but were having trouble aiming for it for a series of different reasons. During that school year I was the mentor of two girls who ended up going to university.
Now, our idea is that every Gulbenkian Mais Grantee could embrace this mission of being a mentor for a student at his/her former school. Because we, who know that the Gulbenkian Mais Grants exist, end up being the most privileged of the underprivileged. So how can we get this information to those who don't have access to it and don't have the privilege of, for example, having a cousin, like me, who told me about the grant and took me to the museums and the Gulbenkian? This is the idea of the project, that goes by the name Raízes [Roots].
What do you hope to be doing in the future? Something in this field?
Right now I am working on Education in a more general scope, but in the future I would like to do something in Portugal to mitigate these inequalities because there are still lots of things to work on. School cannot be a place where social inequalities are perpetuated and reproduced; it must be a place that enables social mobility.
This Gulbenkian scholarship and other things have perhaps allowed me this mobility, but I do not like people saying that I am an example that it is possible. It is possible in some cases, with several elements of luck in between, but for many people there is still a very big determinism that does not allow it.
In what way did the Gulbenkian Mais Scholarship change your life?
This scholarship changed my life because it allowed me to break down the barriers between me and my dreams. During secondary education I already knew I wanted to do an Erasmus in Paris, but I also knew that a scholarship by DGES probably wouldn't be enough. Essentially, it allowed me to keep on believing my dreams can come true and that my horizons can remain wide despite my family's lack of financial resources. At the moment, I live at Casa de Portugal in Paris, which was created by the Calouste Gulbenkian Foundation… so Mr. Gulbenkian is always present [laughs].
I feel very honoured for having this opportunity to work with a Foundation that I admire so deeply. My experience as a Grantee isn't over although I don't currently hold a grant. I feel even closer to the Foundation and its work because of this project, I am very glad to be a part of this and to have joined this plataform.
Where do you see yourself 5 or 10 years from now?
I picture myself doing something that has a true impact on the lives of children and youngsters, whether it is working on a school or being part of a decision-making process at the Ministry of Education, or at a Foundation or an international organization that works in this field. I have always told people that the job that would make me the happiest would be being the principal of a school, but I don't think that will happen in the next five years [laughs]. Maybe if you had asked me where I see myself in 15 or 20 years… I would definitely say I see myself being the principal of a school where I can develop projects that will have an impact on the lives of every student.
In Portugal or abroad?
I would love to accomplish that in Portugal. Not just because it is the country I grew up in, but mostly because I am in touch with the reality of schools there. Before I used to think the only thing that mattered was the work done in developing countries, in the field of human rights. After a trip to India, I realized context is very important, we cannot simply go to another country and believe we will solve their problems. The context I am more familiar with is the European one, and especially the Portuguese, which is why I decided to specialize in Public Policies. Although right now I am working in an organization that focuses on development, I am very much aware that there is no "one size fits all" rule, there are no general solutions for very different and specific problems.