01 oct 2019
Sustainable Development News
Apps for Good 2019
At the end of the fifth edition of this competition, 22 teams from schools across the country submitted technological solutions for different social problems – from colour blindness through to animal rescue.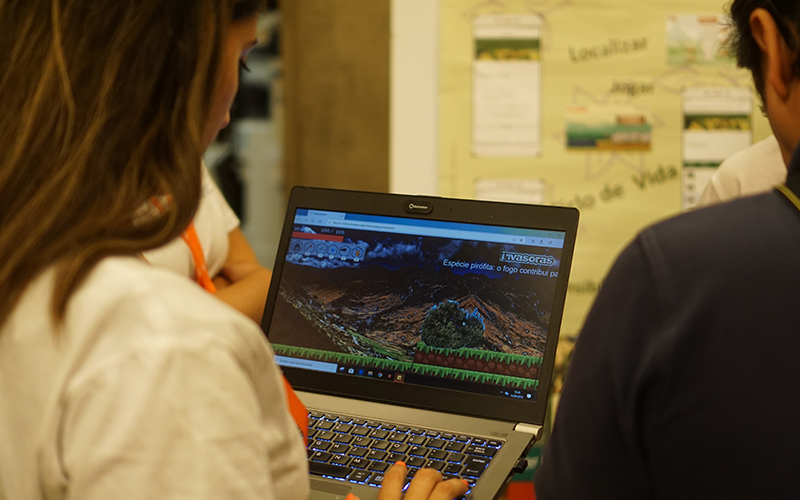 Participating in this edition of Apps for Good were a total of 323 schools and 836 teachers from all across the country. The competition finale, at which ten different prizes were awarded, took place at the Calouste Gulbenkian Foundation on 13 September and challenged the finalist students to demonstrate the work they had been developing throughout their programs. "Colour You", an application that seeks to integrate and facilitate the daily lives of those who are colour blind, won first prize in the secondary school category. Developed by five students, aged 17 and 18, at the Army Pupils Institute, this application ensures its users can identify a colour based upon a photograph for future reproduction as well as providing information on the various different types of colour blindness, tests for this condition and a set of interesting details about how the colour blind perceive and interact with the world.
The first prize in the primary school category went to the Levante da Maia Primary and Secondary School for "Must Be Green", an application for smartphones designed to help people find companies for forest clearing and cleaning and correspondingly enabling communication via a chat channel with the respective companies to request budgets and their availability.
At the end of the fifth edition of this competition, 22 teams from schools across the countries presented their technological solutions for different social problems – from being colour blind to animal rescue. Under the auspices of Apps for Good 2019, eight Gulbenkian Academies of Knowledge were set up via video channel in 2018 with the objective of fostering the social and emotional competences in children and young persons and thereby helping them cope better with a future undergoing rapid change. Eighteen months later and there are already 67 Gulbenkian Academies of Knowledge across the country. The work undertaken by these early Academies features in a set of videos available at gulbenkian.pt. In second place in the primary and secondary categories were, respectively, the creators behind "Coursly" at the Padrão da Légua School Group, an app that simultaneously provides average grade simulators and vocational tests to help secondary students choose the most appropriate university degree for their profile; and "Rescue Pets", by the Saboia School Group, a smartphone and website platform that ensures the public in general have access to a practical means of intervention whenever encountering abandoned animals.
In third place came "Polumap" (by Serafim Leite Secondary School), a smartphone app and a website where all users can in real time identify sites of pollution, such as open-air rubbish dumps, in order to ensure action is taken in such places; and onlyHEAL (Levante da Maia Primary and Secondary School), a digital platform that establishes a direct connection between users and pharmacists in order to access advice, medication taking plans, etcetera.
Prizes were also awarded to the SOS Adolescência app that sends out hints and solutions to help adolescents deal with bullying and other problems; the InvasorasCV game that simultaneously informs and raises citizen awareness as regards invasive plants and the problems they cause; and the AEEG Alugin platform that enables the managing and renting of the sports facilities available at the Eduardo Gageiro School Group. Rita Polido, from the Levante da Maia Primary and Secondary School, won the PT Young Student Award.
Apps for Good is a technological education program, which started out in the United Kingdom and is developed nationally by CDI Portugal, that challenges students and their teachers to developed applications for smartphones and tablets and, in this process, demonstrating to them the transformative potential of such technologies both around the world and in their own communities. This initiative has received the support of the Calouste Gulbenkian Foundation ever since its first edition in 2015.