Reflections of a light
An exhibition of illustrations as part of the colloquium celebrating the centenary of Agustina Bessa-Luís
Location
Congress Area
Calouste Gulbenkian Foundation
At the end of Fanny Owen (1979), Agustina Bessa-Luís refers to life as "the reflection of a light" and to the fact that, once life disappears, that reflection can never again be glimpsed. For attentive readers, characters in a novel rarely cease to exist; they remain alive in readers, become an integral part of their lives, sparkling and projecting lights, fostering an understanding of the world and of existence. They become a memory and, at times, a model. This is what was proposed to the visual artists in this exhibition, held in the context of the colloquium Agustina. The laughter of all words: to recover memories of their readings of Agustina, to appropriate the original vision of certain characters to build their own, to ask some of the women imagined by the author to be models for their drawings.
As Agustina said, "The model must be the artist's intimate conscience, having spent a long time within its moral and physical evolution, to the point of having participated in it, so that one day, by dint of the creative and vindictive memory, it appears as a portrait. The Sybil is a portrait [...] ".
This exhibition of portraits by ten illustrators (Alain Corbel, Cláudia R. Sampaio, João Fazenda, João Maio Pinto, Luis Manuel Gaspar, Mantraste, Pedro Lourenço, Sebastião Peixoto, Susa Monteiro and Tiago Manuel) includes depictions of Quina, the Sybil, and Fanny Owen. And also of Lourença, Purinha, Ofélia, Camila, Ema, Fisalina, Rosalina and Ana. Through them, these women and their narratives, we come across ten of Agustina's books once again; through them, these portraits and the way they have been recreated from passages, we engage with ten perspectives on how to read Agustina's work, which may or may not coincide with ours.
It is this kaleidoscope that allows us to celebrate the infinite richness of Agustina's work and, in turn, it is this infinite richness that allows us to enlarge the kaleidoscope, adding glasses, mirrors, reflections or, as the writer would say, "human proof of love, justice, truth".
— Inês Fonseca Santos
---
GALLERY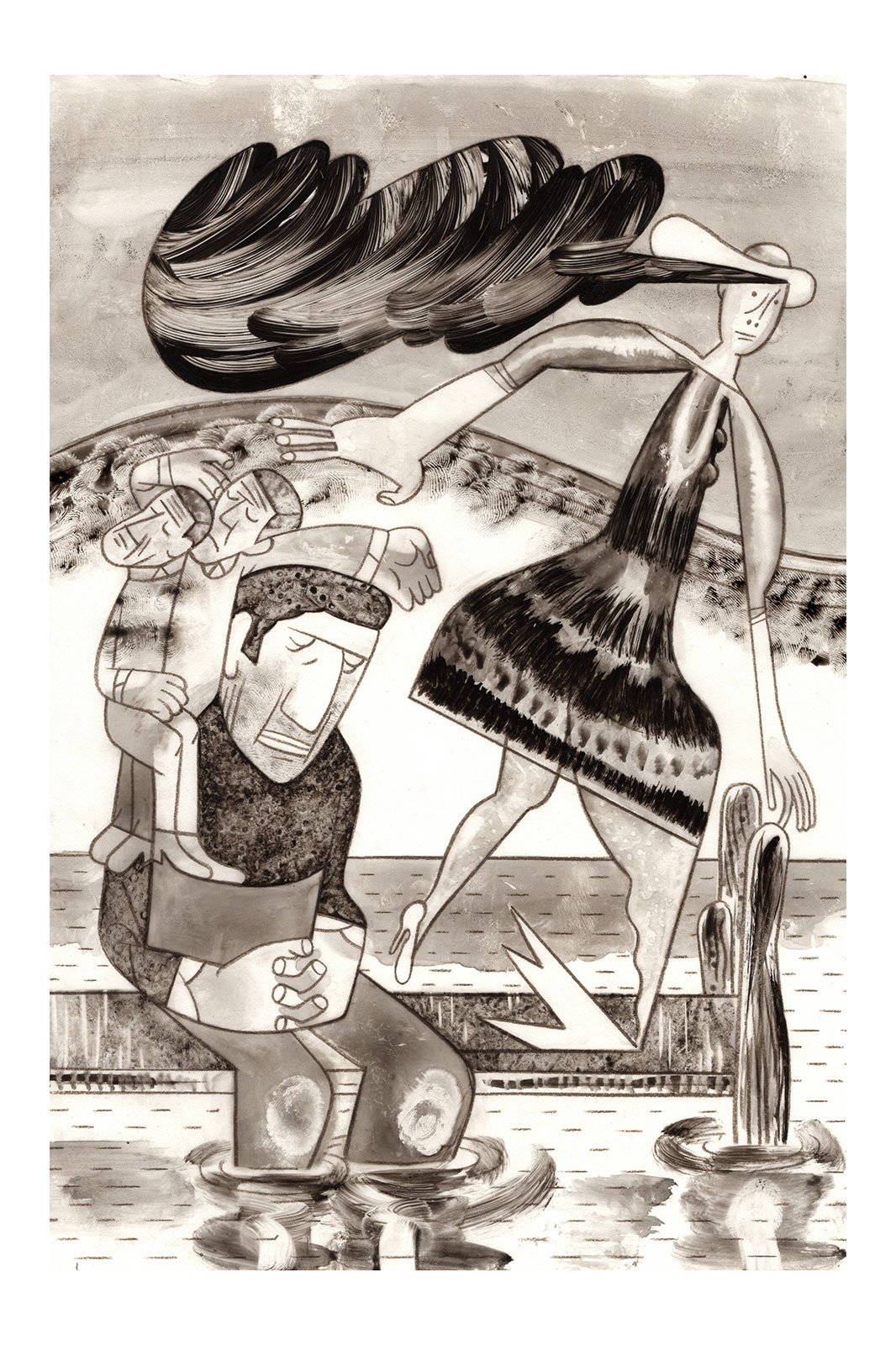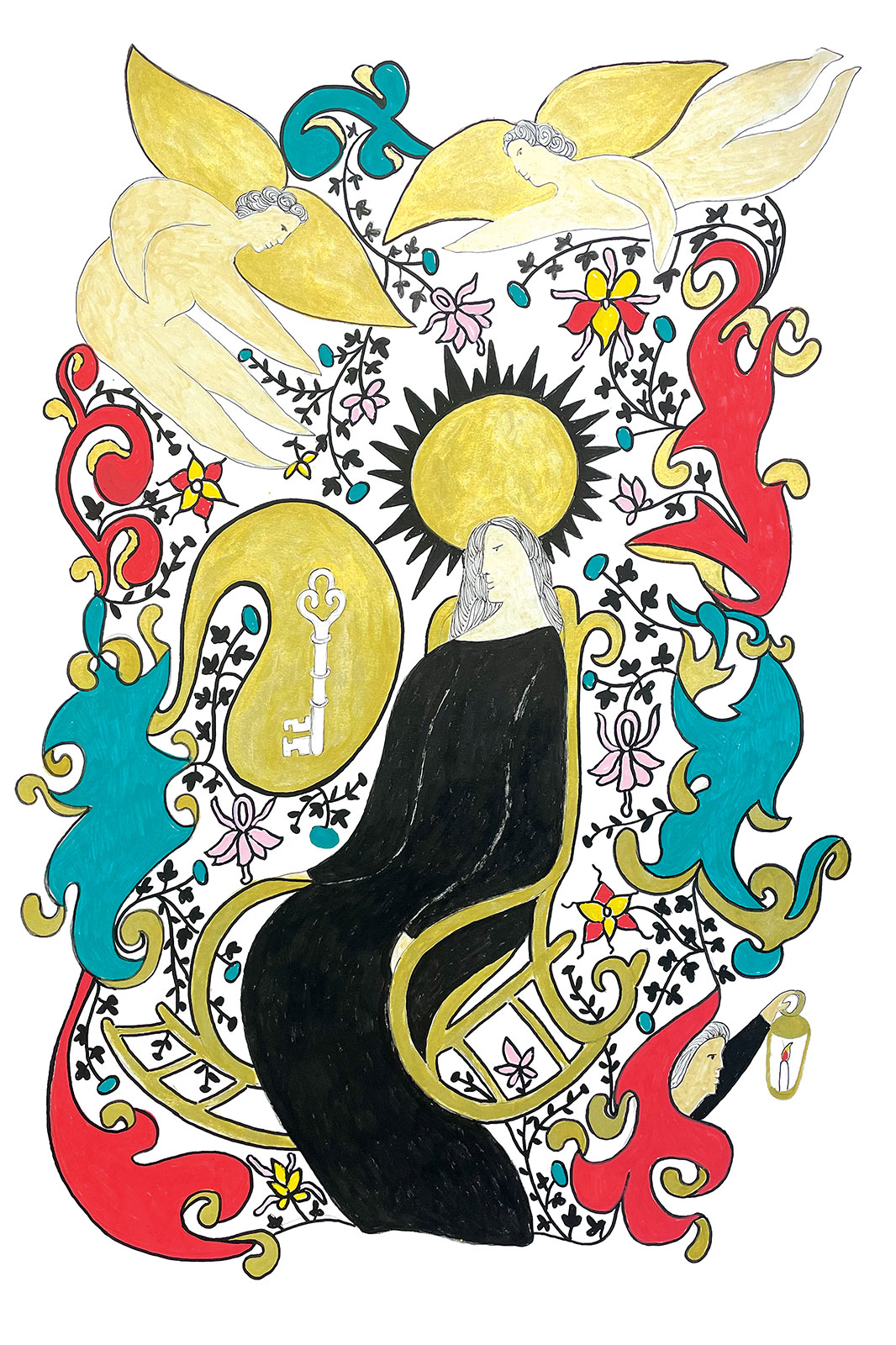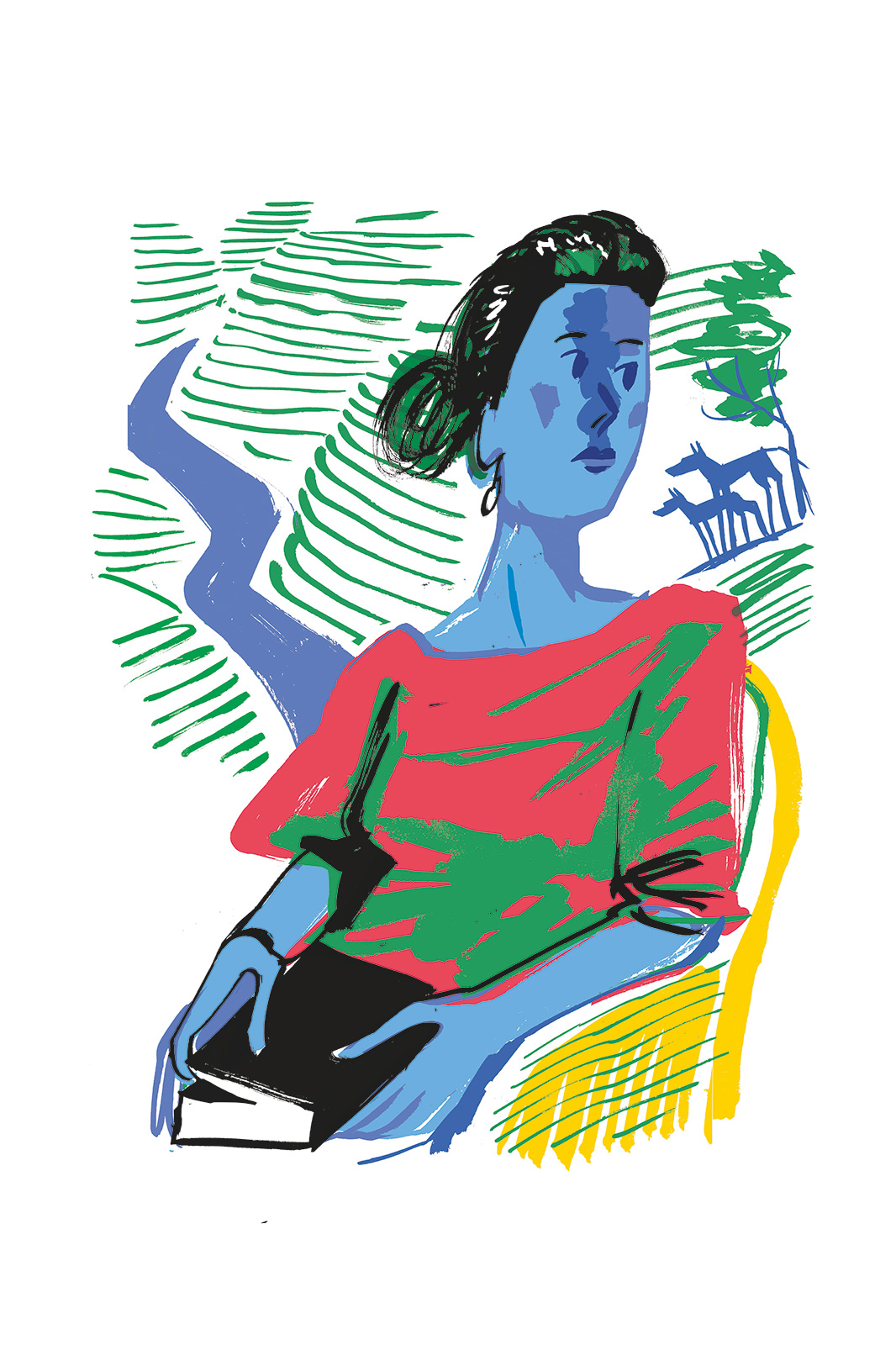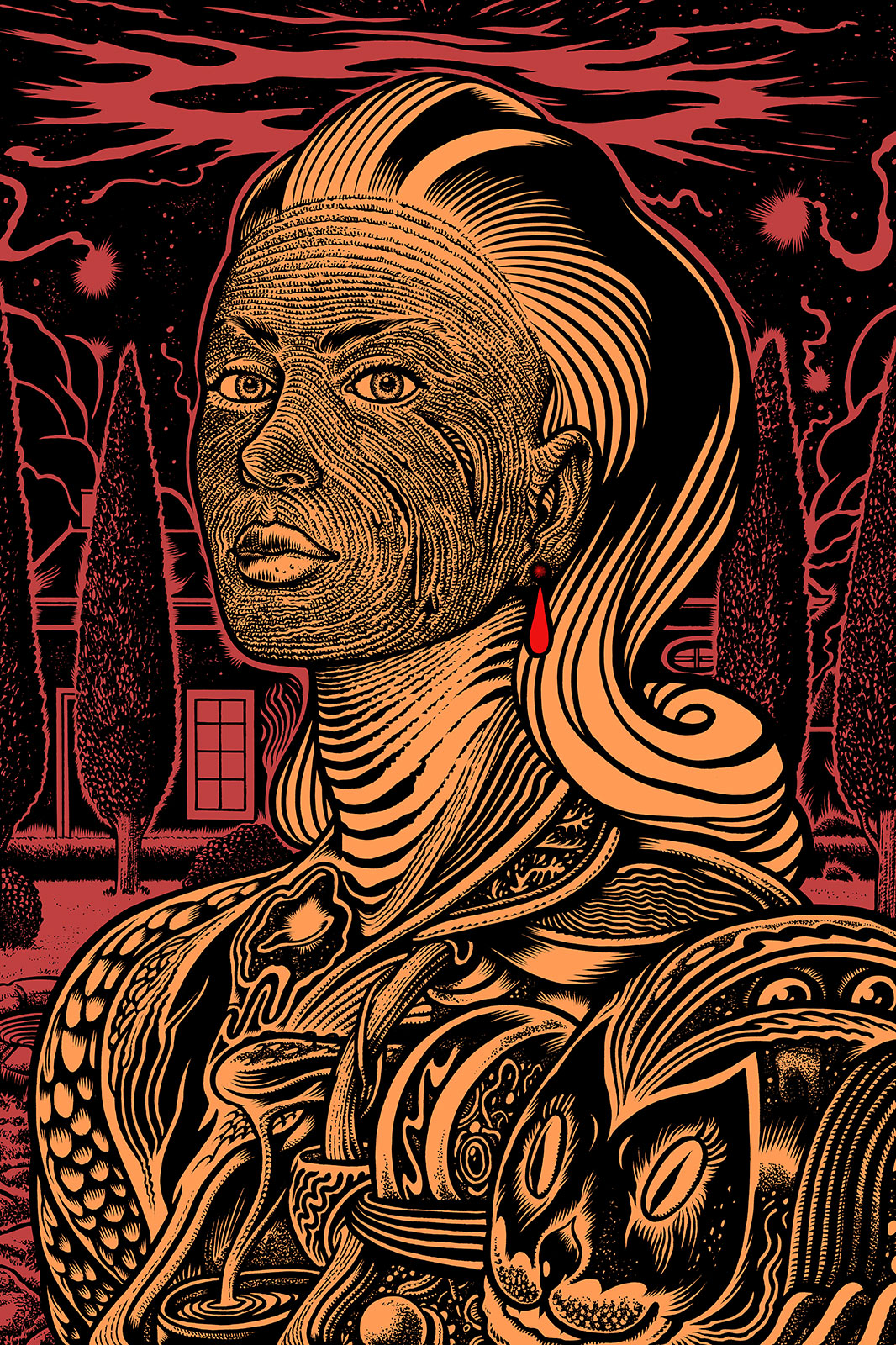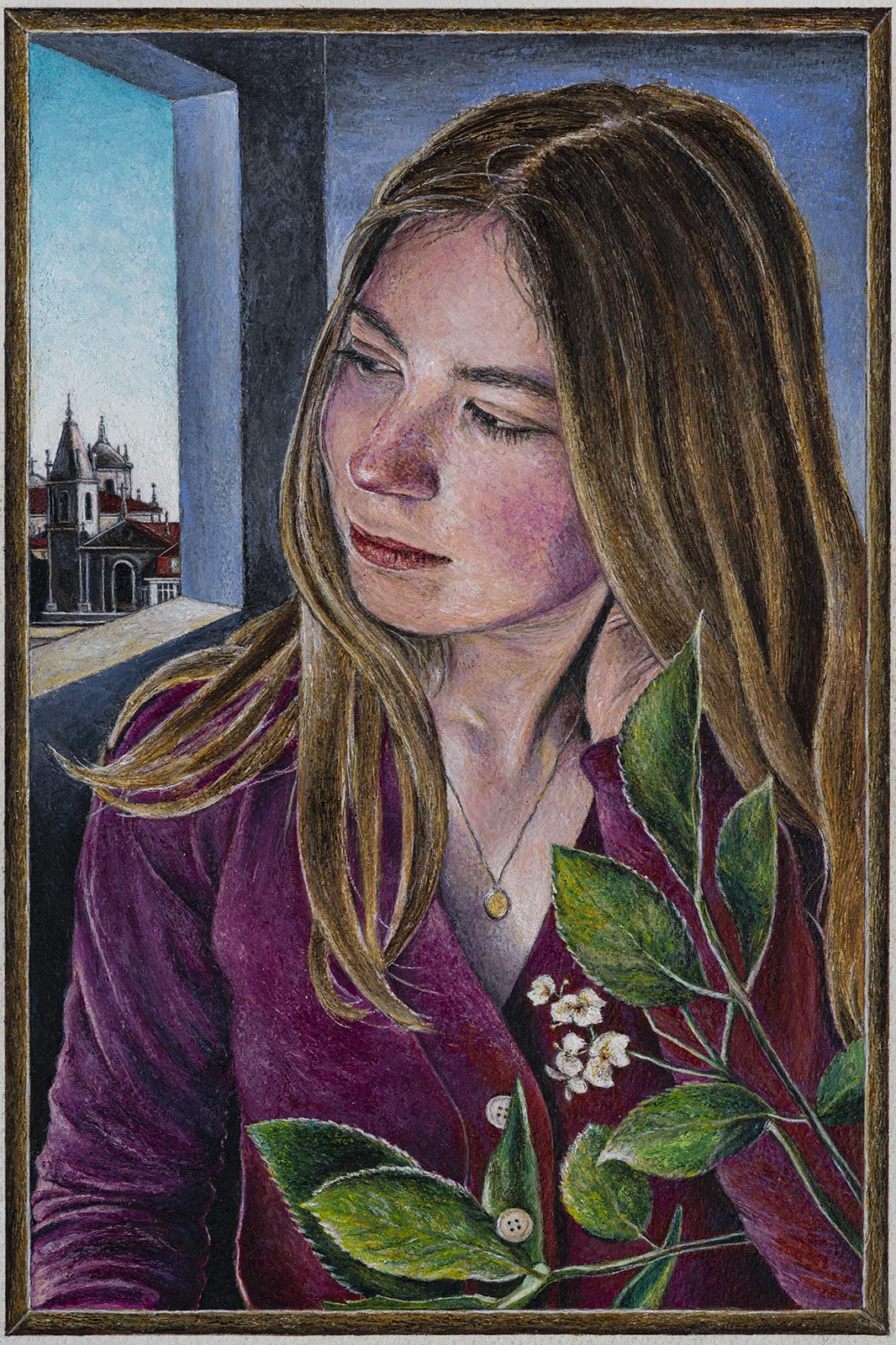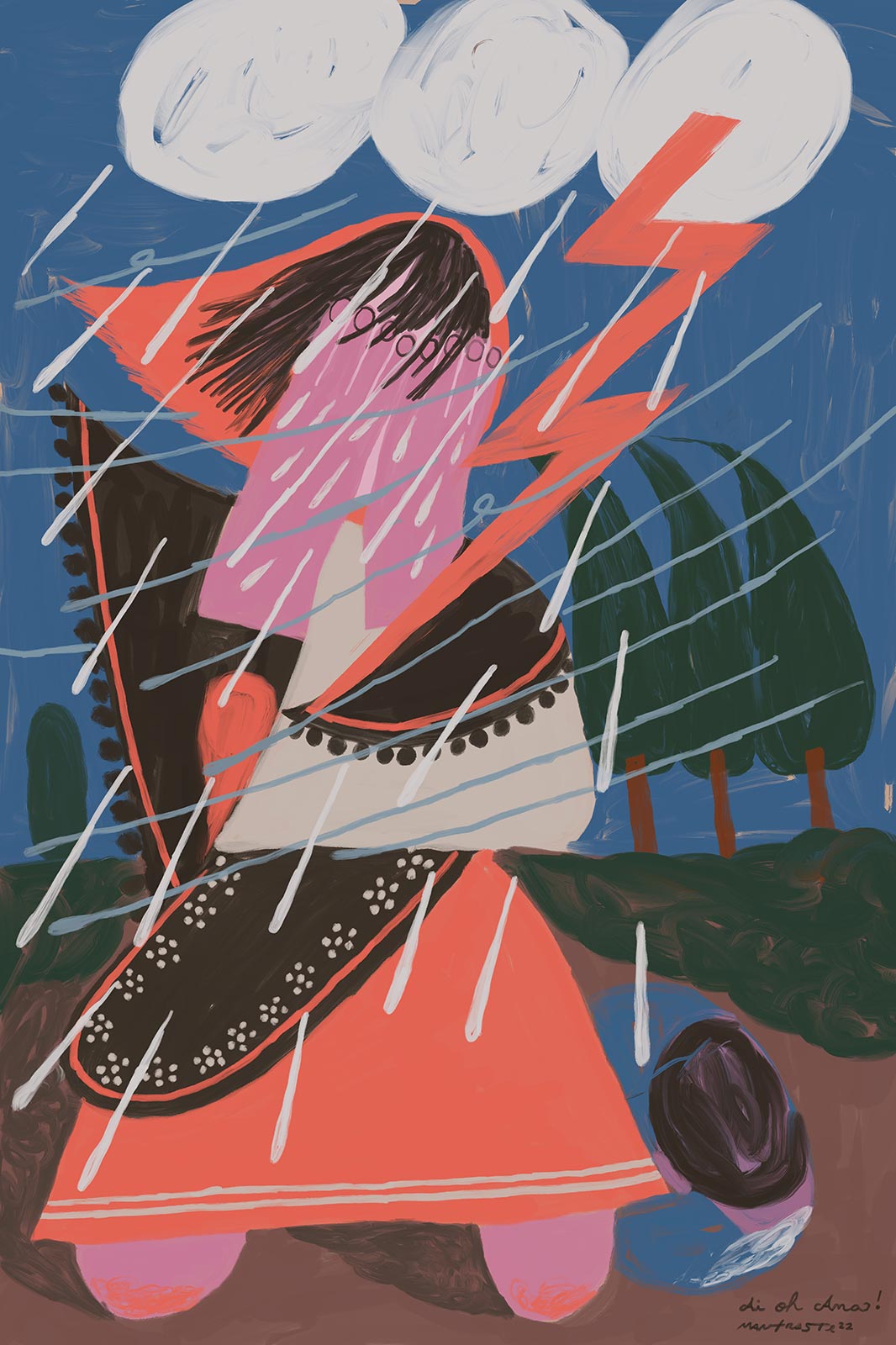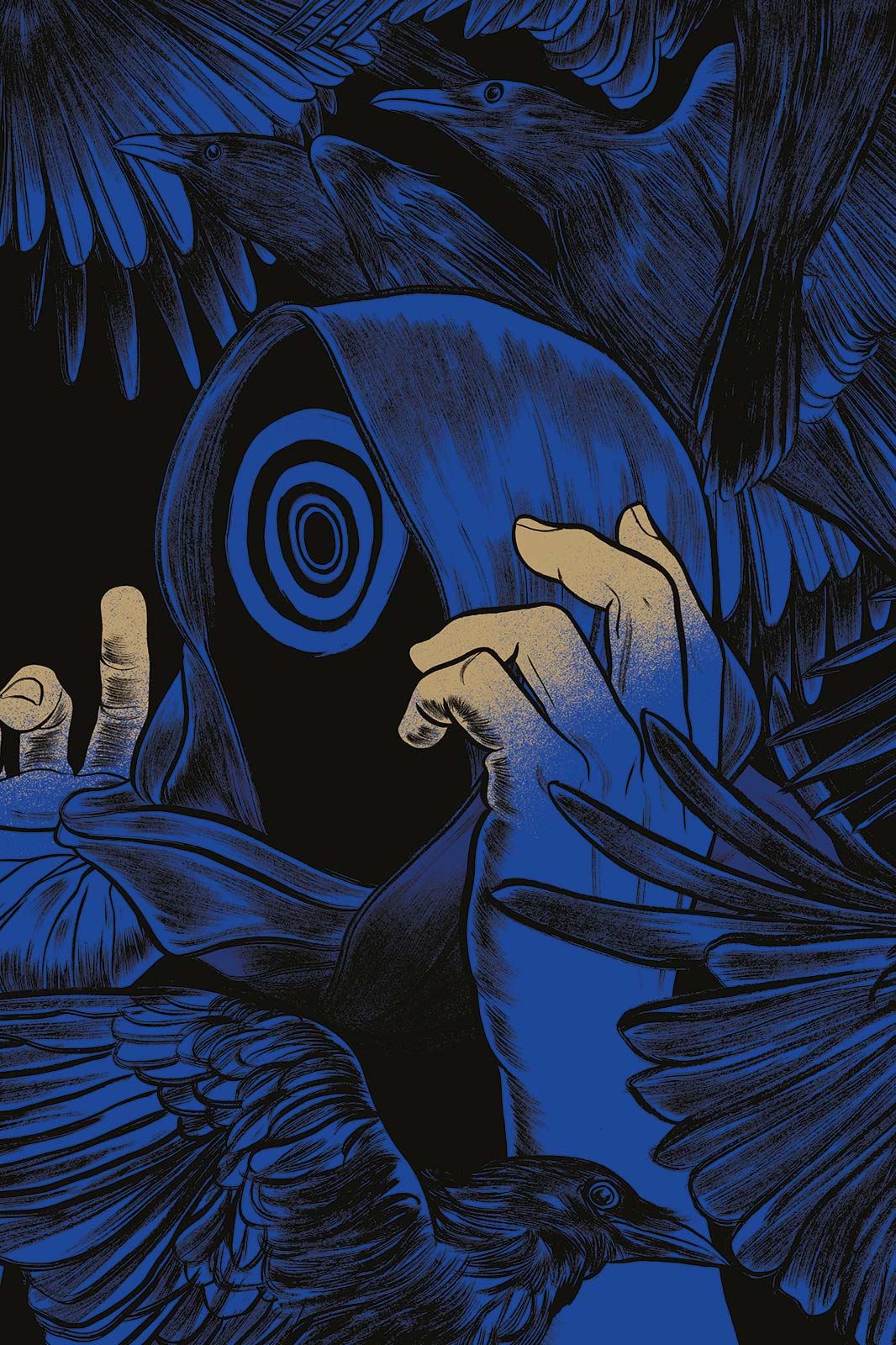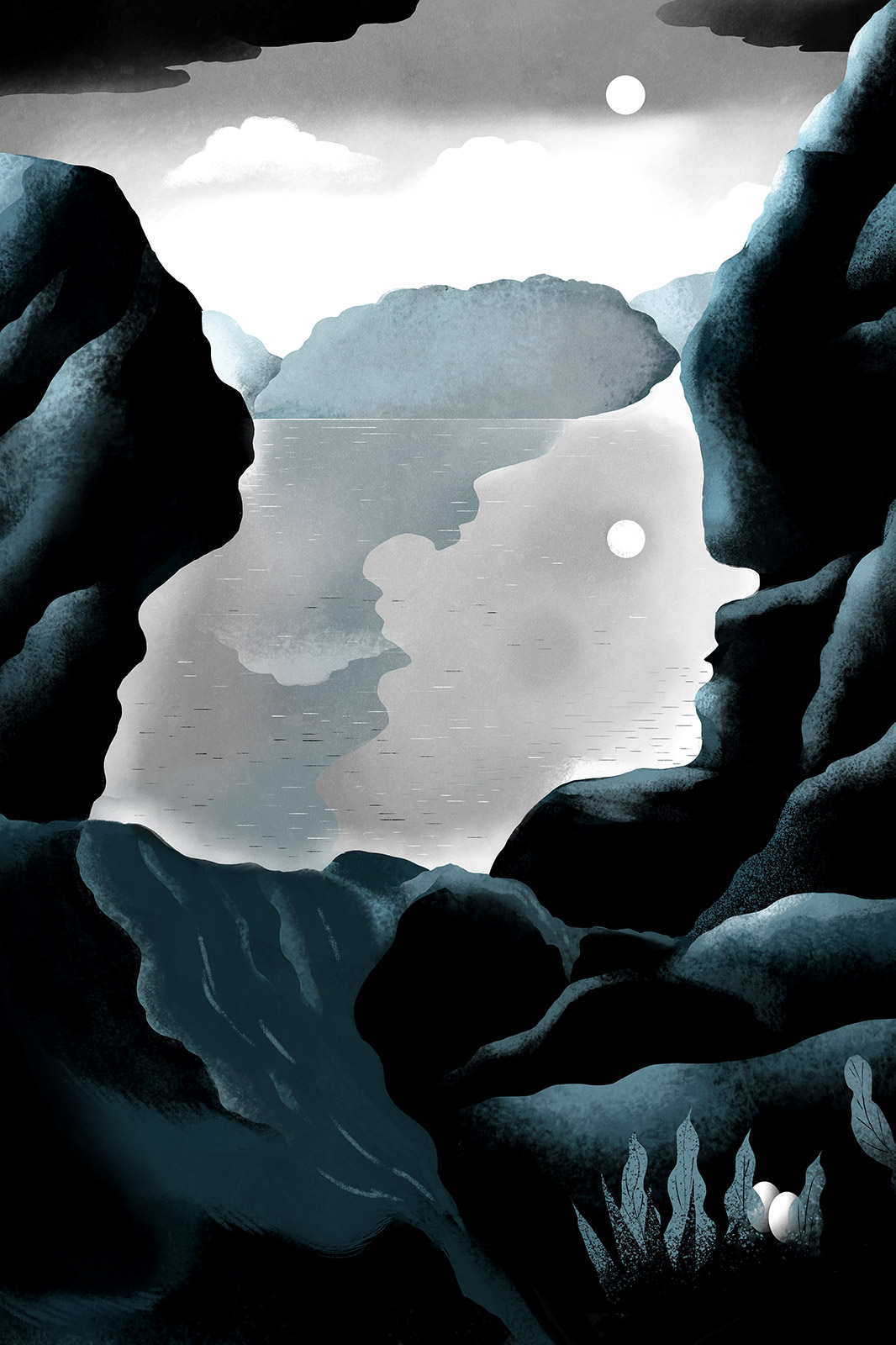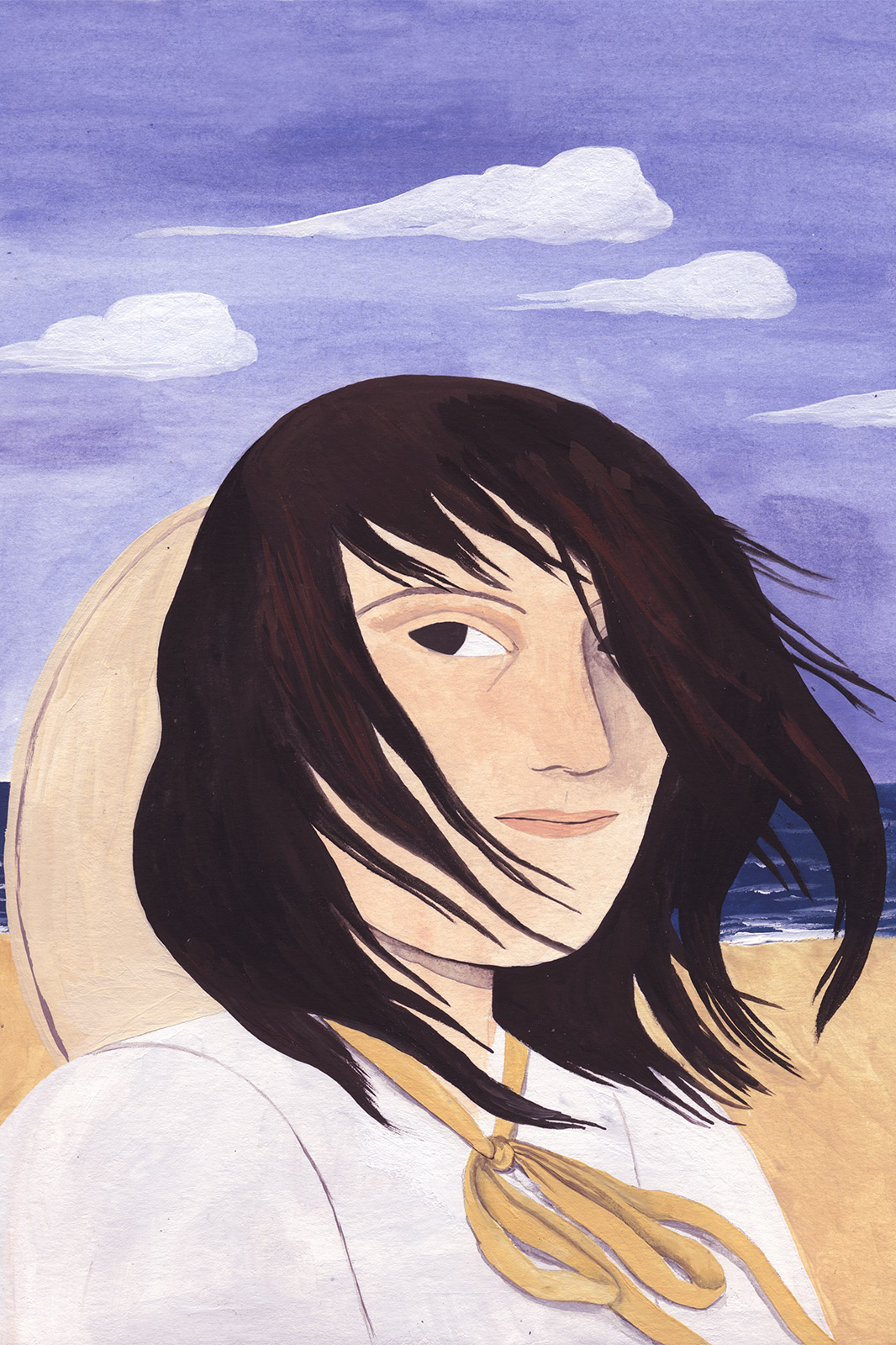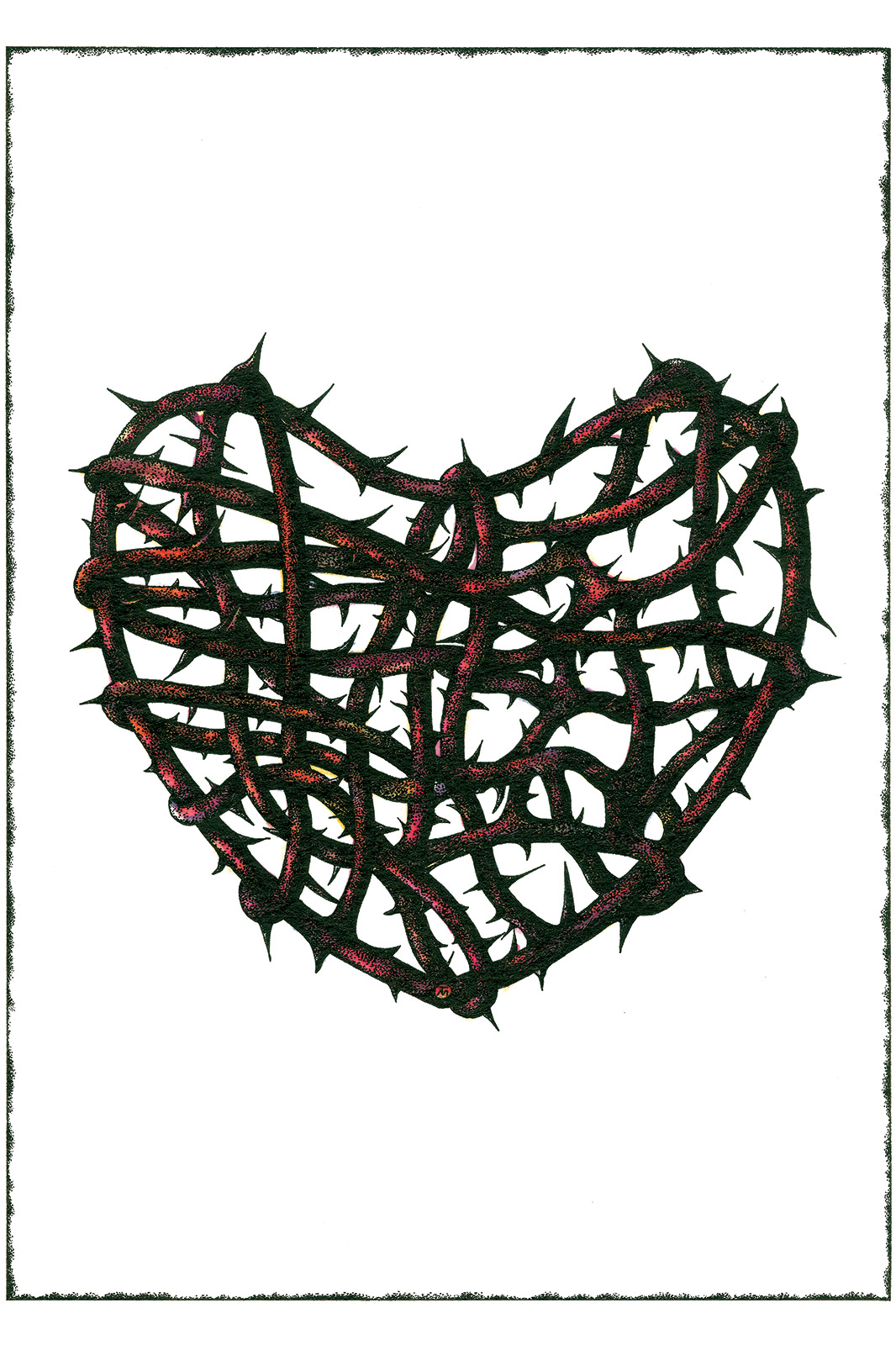 No results were found for your criteria.
---
BIOGRAPHIES
Alain Corbel was born in Brittany, France, in 1965. He studied at the Institut Saint-Luc in Brussels where he met Eric Lambé; together they created the Mokka and Pelure Amère magazines which had a great impact on the development of independent comic book publishers in France and Belgium.
In Portugal, where he currently lives, he has worked as an author/illustrator for magazines and newspapers and illustrated several books – Ilhas de fogo, Madre Cacau-Timor and Lenin Oil by Pedro Rosa Mendes, A cor Instável by João Paulo Cotrim, and Contos e Lendas de Macau, by Alice Vieira, earning him the National Prize for Illustration in 2002. He has also published A viagem de Djuku and A máquina Infernal.
Since 2002, with the support of the ACEP, small NGOs from the PALOPS and other organisations, he has organised writing and illustration workshops. He lectured at the department of Illustration at the Maryland Institute College of Art (Baltimore, USA) between 2007 and 2021. Between 2010 and 2014, he would arrange study trips to Cape Verde and São Tomé and Príncipe for art students.
Cláudia R. Sampaio is a poet and artist born in Lisbon in 1981. She has written for film, television and theatre. She has published several poetry books and the anthology Já não me deito em pose de morrer, in 2020. Her works have also been published in Brazil, Mexico and Spain. She is one of the artists of the MANICÓMIO project and has exhibited some of her works at the Outsider Art Fair, in New York. She lives with her cats: Polly Jean and Aurora.
João Fazenda was born and raised in Lisbon, where he completed a degree in Painting at the Faculty of Fine Arts of the University of Lisbon (FBAUL). His work is based on drawing, illustration, animated film, comic art and painting. He has regularly worked as an editorial illustrator since 2000, with his work appearing in national and international publications.  He frequently illustrates for the New Yorker, The New York Times and Expresso.
He has illustrated books for all ages, book and record covers, film posters and institutional campaigns, and has ventured into cinema, having made some animated short films, and into the theatre, staging two shows for a younger audience.
His work has been exhibited and recognised around the world. He taught illustration at Ar.Co and is a professor of illustration at FBAUL. He lives and works in Lisbon after a decade of living in London.
João Maio Pinto was born in 1974 in Caramulo and lives and works in Lisbon. He has a degree in Communication Design from the Faculty of Fine Arts of the University of Porto. He has published an extensive body of work in illustration and graphic design in a wide range of media, while also venturing into music, animated films, and exhibition production. He has lectured in the Graphic Design and Multimedia department at the Caldas da Rainha School of Arts and Design since 2007.
Luis Manuel Gaspar (Lisbon, 1960) is a visual artist, poet, textual critic, literary reviser and cat secretary. He has curated exhibitions on Almada Negreiros and Iberian modernism. He has put on solo exhibitions at the Alliance Française (Illustrations, 1987), the National Library of Portugal (Um Lugar nos Olhos, 2012), Paralelo W (Aparições, Poetas & Lupanares, 2013), the Municipal Library of Viana do Castelo (História Natural com Parafusos, 2015) and the Palacete Viscondes de Balsemão, in Porto (Luz Acesa nos Bastidores, 2015). He has published several drawings and illustrations in periodicals and poetry books since 1986. He is one of the editors of the literary work of José de Almada Negreiros and is in charge of the poetic works of Ruy Cinatti, António Ramos Rosa, David Mourão-Ferreira and António Franco Alexandre. He is an editor for the Colóquio/Letras magazine.
Bruno Reis Santos, Mantraste, was born in 1988. He is a Portuguese author, illustrator and graphic designer graduated from ESAD.cr. He grew up in nature and is a lover of folk mysticism. He has designed over a hundred covers for authors such as J.G. Ballard, Ali Smith and Michel Rio, and more, among others, and has several publications, including Sebenta do Diabo, The spiritual ascension of all the animals and The Tree as an Antenna to a Spiritual Revolution. Aside from his work as an illustrator, he has taught illustration and risograph in Brazil, Spain and Portugal and has participated in several solo and collective exhibitions. He sees his work as a form of reflection on himself and others.
Illustrator and musician, Pedro Lourenço has designed for advertising and brands, concert promoters, publishers and bands, has published in books, newspapers and magazines, including leading international publications such as The New York Times and Rolling Stone. He has simultaneously grown his body of work as an author. He was born in Lisbon, where he still lives and works.
Born in Braga, a graduate of painting from the Porto Faculty of Fine Arts, he works as a freelance illustrator, collaborating with several national and international publishers. He has published works in numerous fanzines, magazines and newspapers and frequently participates in collective painting and illustration exhibitions in Portugal and abroad. In 2014 he received an honourable mention at the 7th International Illustration Meeting of S. João da Madeira. In 2016 he was selected for the Ibero-American Catalogue of Illustration and in 2017 he won a Gold Award, An Illustrated Book of Plants: To Sprout, bloom, and fruit, Thesif Award/Seoul Illustration Fair, Seoul. In 2021 he received a Merit Award from 3x3, The Magazine of Contemporary Illustration and won the Grand Prize at the 3rd Guimarães Illustration Biennial.
Susa Monteiro lives in the city of Beja, where she was born. She studied Performing Arts Direction at ESTC and Animation Cinema at CITEN. She is responsible for the graphic direction and has been a co-organiser of the International Comics Festival of Beja and the Beja Bedeteca (comics library), since their creation in 2005.
In recent years she has illustrated books for various publishers, including Pato Lógico, Bertrand, Asa, Verbo, Porto Editora, Leya, Bruáa, Kalandraka, Fósforo, and Bárbara Fiore. She has also illustrated posters and pamphlets for several institutions and projects (Casa da Música, Palavras Andarilhas, Guarimba International Film Festival, Festival du Court Métrage de Clermont-Ferrand, Dia Mundial do Livro, etc.). Her book Sonho (Pato Lógico, 2018) was published in Brazil and Italy and received an honourable mention at the National Prize for Illustration. Since 2004 she has illustrated weekly for news media.
She collaborated in the graphic concept and art direction of some scenes in the animated feature film Nayola, from director José Miguel Ribeiro, which will premiere this year.
Tiago Manuel was born in Viana do Castelo in 1955. In addition to the exhibition "Mishima, Manifesto de Lâminas" (CCB, Lisboa, 2008), he has put on solo shows in galleries and spaces including Galería Spectrum Sotos (Zaragoza, 2008), Galeria Palmira Suso (Lisbon, 2007) and Lugar do Desenho, Júlio Resende Foundation (Gondomar, 2002). Some of the collective exhibitions that he has participated in include "Sem Consenso", held at the Neo-Realism Museum (Vila Franca de Xira, 2015), Annual Comic and Cartoon Art Competition, Society of Illustrators (New York, 2014), "Tinta nos Nervos", Banda Desenhada Portuguesa, at the Berardo Museum (CCB, Lisboa, 2011) and others at the Salão Lisboa (Bedeteca de Lisboa) and ARCO, International Contemporary Art Fair (Madrid, 1998).
He has illustrated for Público, Expresso, Jornal de Letras, the magazines Colóquio/Letras of the Calouste Gulbenkian Foundation, and Ler – Círculo de Leitores, Cão Celeste, Intervalo, Bestiário, Torpor, Media Vaca, Bertrand, Abysmo and Kalandraka. He has been awarded various national and international prizes.
The Calouste Gulbenkian Foundation reserves the right to collect and keep records of images, sounds and voice for the diffusion and preservation of the memory of its cultural and artistic activity. For further information, please contact us through the Information Request form.