Raúl Costa, award winner in Hanover
Grantee of the Fundação Calouste Gulbenkian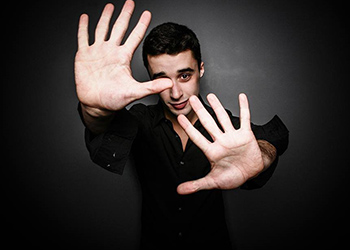 Raúl Peixoto da Costa is aged 23 and a Calouste Gulbenkian Foundation grant holder studying for his Master's Degree in Piano in Hanover.
His talents have seen him win two awards in the last month, one attributed to the young pianist who has most stood out in terms of their careers and activities in Germany and the other awarded by his school, Hochschule für Musik, Theater und Medien, which distinguished him as best student of the year. In a brief, written interview, Raúl da Costa sets out his projects and the importance of music in his life.
"A life in classical music is a long pathway"
What do these awards mean for your career?
It was a good year for international awards and I feel very honoured by this. The awards open doors whether for recitals or for concerts with good orchestras in central Europe. 
However, I also know that these awards are not everything and that choosing a life in the field of classical musical is a long pathway and extending far further than any prize. The search for the true essence of music, for the deepest intentions of its composer, is our greatest objective. And this work takes an entire lifetime but that is the award I am most truly interested in. We might say that this is more comparable to a marathon and not the 100 metre sprint.
What has been your career like thus far?
I was lucky to begin studying piano with some very good teachers, such as Luís Amaro and Maria Emília Coelho at the Póvoa de Varzim Music School. Later, I studied with Álvaro Teixeira Lopes at the Vila do Conde Music Academy, a change that had an enormous impact on me. There, I strengthened the foundations that are so very important for a career as a pianist and that are still today immensely useful to me. In these years, there was a greater openness to the exterior, participating in various international competitions and concerts in venues such as Casa da Música, CCB, São Luiz Theatre and, furthermore, a number of different masterclasses both inside and outside of Portugal. In 2010, in Salzburg, I met Prof. Karl-Heinz Kämmerling and I began my adventure in Hanover with him until he passed away in 2012. From then on, I have studied with Prof. Bernd Goetzke, with whom I really closely identify and I'm very happy to be able to work regularly with him.
Did your relationship with music begin immediately with the piano or did you play other instruments?
That's difficult to explain. I know that my mother, while pregnant, would play piano to me every day and therefore it is highly possible that my relationship with music began at that stage! More than music itself, what fascinated me as a child was sound.
It was normal for me to spend hours around the piano, my dad's guitars, an improvised bass, or listening to my father recite poetry and always accompanied by excellent music. I believe all this had a great impact. At the age of seven, I began studying piano officially at the Póvoa de Varzim Music School and the years began rolling by. Of course, I also learned a second instrument like any other student and I also played the clarinet for seven years. However, that's another story…
How have your experiences been since leaving Portugal?
Very special. I know that I have become a different person in the last five years. Here, I have always been alone a lot and I know how I formed my character in various, more difficult, moments. I never particularly missed Portugal apart from the sea and the people closest to me. I understand that I came here to work and to look forwards, to look to my own future. In terms of chamber music, that was perhaps the biggest change in my life as I have much greater chances to play with excellent musicians and I've learned immensely and had the type of chances that did not happen in my years in Portugal.
What do you plan on doing when your grant runs out?
Work, work and more work… I shall keep Hanover as my base and I'm going to start my post-graduate studies, the Konzertexamen. My relationship with my professor is excellent and I'm very happy to have the opportunity to be here. There will probably also be more concerts and international competitions… I shall continue working with the same seriousness as in recent years and I am indeed curious about what the future holds.