"Giving back is sometimes not giving directly to the Foundation, but to the world"
When he grows up, Édi Ferreira wants to be a Data Scientist. The former Gulbenkian Mais Grantee talks about his master's in Finance and Data analysis and plans for the future.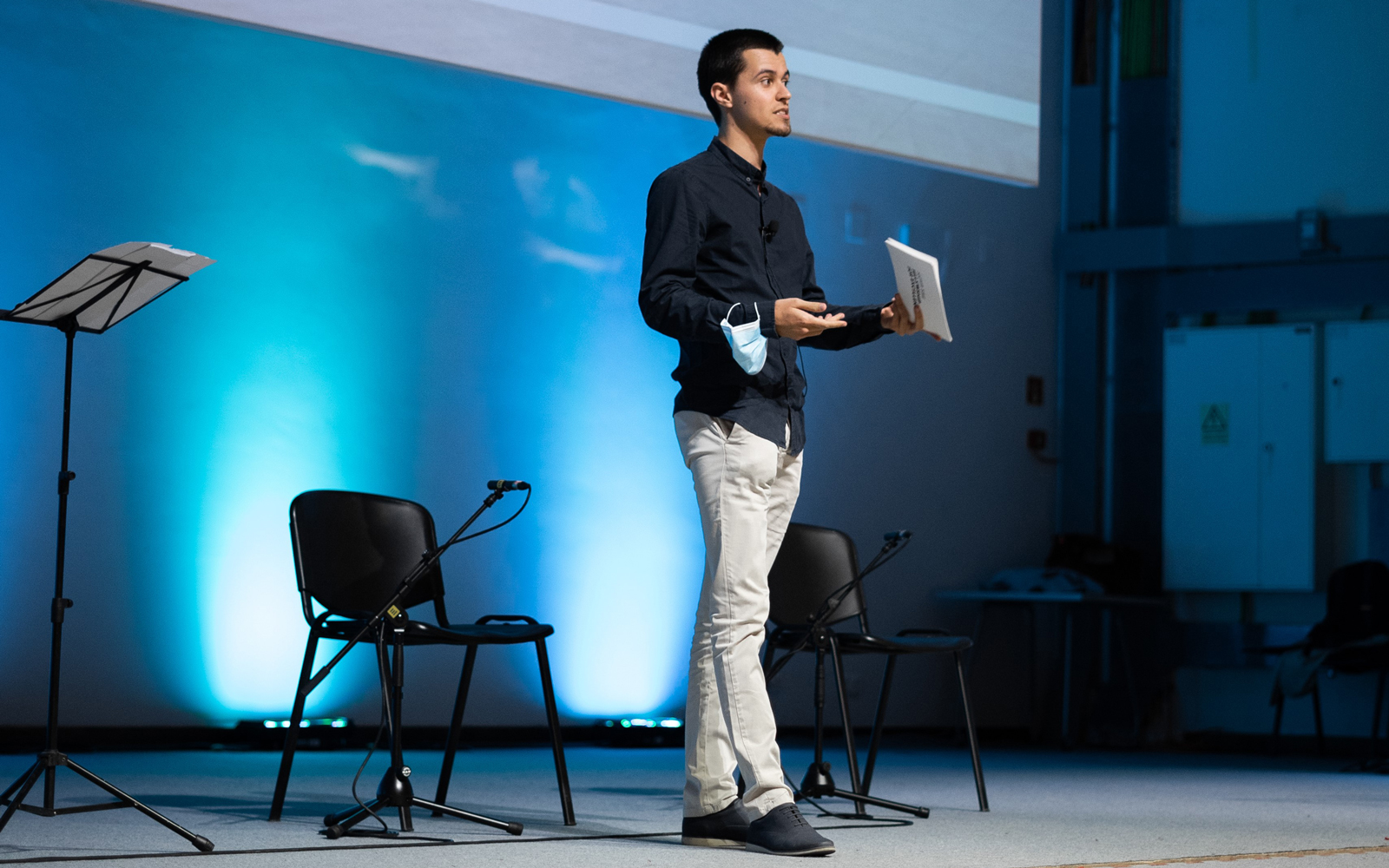 Édi Manuel da Silva Ferreira is 22 years old and lives in Espinheiro, Santarém. Ever since he was a child, he knew he had an inclination for numbers. This was what made him choose Economics during secondary school and Business Management in college. But it was during a class called "Introduction to Programming" that he found his true calling: Data Analysis.
Besides working at OutSystems, where he is a data analyst for different companies, Édi was also a volunteer at Data Science Knowledge Center at NOVA SBE and dedicated two or three days a week to collecting and analysing data for NGOs. He just finished his master's in Finance and specialized in Data Analysis, a field where he sees himself building a career as a Data Scientist.
He states that he is not "an inspirational person", but says he has been inspired by the Gulbenkian Fellowship, and by meetings with other grantees, to become a more dedicated person to causes and to make a difference in the world.
You studied Management and you have just finished a master's degree in Finance. Why did you choose this path?
Ever since I was a child, I knew I had an inclination for numbers. When I got to secondary school I ended up choosing Economics also to get away from Physics and Chemistry. Then I chose Management as my first option to enter university.
In the second year I had a Finance course that I really liked and I thought that would be my major. In the third year I had Introduction to Programming and I loved it. Then I did an internship at TAP, at the end of my third year, in Corporate Finance. I enjoyed the experience, but it wasn't the job I wanted to do: too much uncertainty, groundless decisions… So I thought: I will go into Finance anyway, but with a specialization in Data Analysis. I just finished my master's degree.
Can you explain the theme of your thesis to someone who knows nothing about the field?
Companies have limited resources for their needs. In this case, we had to choose who were the valuable customers, the customers who were more likely to buy a service without having to engage ten thousand vendors and have them offer the product to every single company.
What we do is to create a better use for the resources that we have, meaning, all the data form the past, which gives us a good idea about these companies and about how we can narrow down that list, and have the vendors approach those who are more likely to buy the products. This is my thesis essentially: the use of data analysis to create this sort of model.
Why the interest in data analysis?
I think it was because I saw, through my studies in Management, that things are very much based on human intuition, that is, people think that in principle there is a way for something to happen and they apply it. And the results will always be very uncertain. When we can use data from things that have happened in the past, we basically do what machines do: verify that what happened in the past is highly likely to happen in the future.
So now you have a sense of what you want to be "when you grow up"?
In fact, I already signed a contract with OutSystems, so I will stay there. But when I'm older, I really want to be in in touch with data analysis and be a Data Scientist. Right now, I'm just Data Analyst, but the goal is to move on to Scientist, which is a bit more connected with model creation, and also to make companies become more "data driven", so that decisions are taken on a more solid basis than people's intuition.
How can data analytics be a positive resource, besides enabling companies to improve their sales?
I think that it does not have to be just profit-oriented. Right now, at OutSystems, I work with other companies, but in the future, I picture myself more focused on the issue of people, understanding what happens and why. Because we see the data, but then we must have a plausible justification. This justification often involves people's behaviour, and the challenge is to find a way to explain this predictability.
When I was at a Data Center [at NOVA SBE], for example, we were working on a project to make a given law more accessible to the public in general. This is still data analysis, it is the same thing, but instead of serving to predict behaviour, it helps to make things simple for people who need to have access to that information. The world of ​​data does not always mean big companies trying to make profit, it can also mean helping other non-profit organizations.
What is the big difference the Gulbenkian Grant made in your life?
I think the most important thing for me was to meet other who are way better than I am. I am not a very inspiring person; but whenever I went to the meetings of the network of grantees, I heard stories from people who were inspiring, who were having an impact on the world (even if it was a small one). And I think that was a big eye-opener for me, that it is worth it doing things for others. There are people who handle five projects at the same time, who are really committed to their causes and I am not, or was not, like that. Now I feel like I'm a little bit more like that because I can see others doing it.
How do you feel for being part of the Gulbenkian Grantees' Network?
I feel very good, because I think to myself "there are really good people who entered and I am among them. I mustn't be that bad [laughs]". It is about giving and receiving. The scholarship, and Gulbenkian, give us something precious – the support, the training – and then it is our turn to give back, which sometimes is not giving directly to the Foundation, but giving to the world, which is the end purpose of the Gulbenkian Foundation. That is very much how I feel and that is why I am grateful that Gulbenkian invested in me.
Of all the training sessions and courses you did over the years, is there a particular moment that had a special impact on you?
I really enjoyed the Mindfulness session with Vasco Gaspar. It was a two-day meeting, an entire weekend, and that was where we got in touch with more grantees. In the end it seemed like we were a group of friends who had all been studying together for five years, even though we each studied our own field. (…) I didn't know anything about Mindfulness, I was never a believer in such things, but then I left the meeting and realized that it calms you; it doesn't necessarily change the person, but it changes our way of looking at things.
Where do you see yourself in 10 years?
I really enjoy working with people, so I would love to have a job that allows me to work in direct contact with them. With the Covid-19 pandemic, it has been very strange to have so little human contact. But five or ten years from now I hope I have a stable career and my own team so I can treat them as well as the Calouste Gulbenkian Foundation treated me.