Discover the winners of the 5th edition of the Blue Bio Value Acceleration Award
The winners this year are the Portuguese Exogenus Therapeutics, the Polish Proteon Pharmaceuticals and the Dutch Sophie's BioNutrients, three startups targeting the blue bio-economy.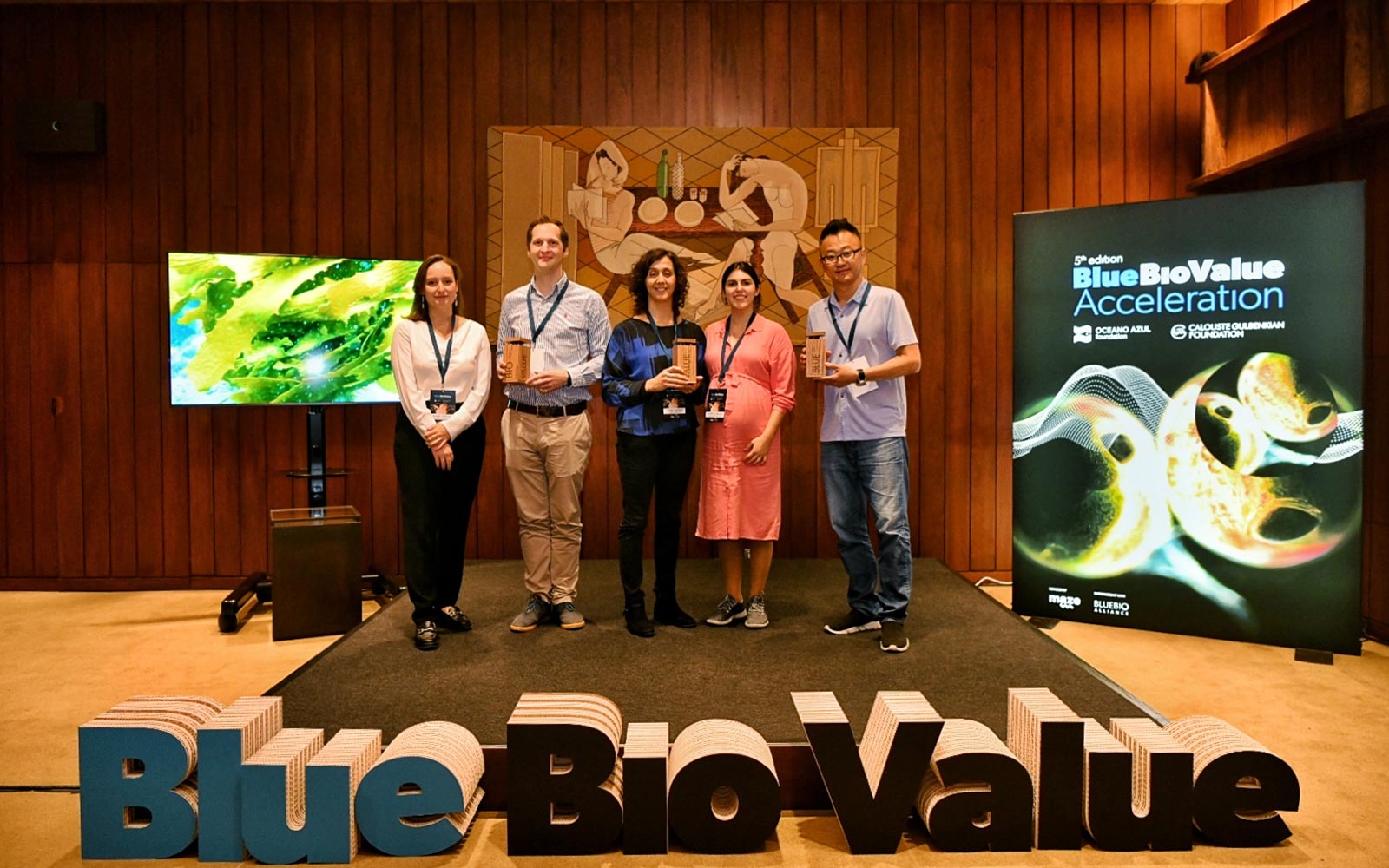 Exogenus Therapeutics is a Portuguese firm seeking to transform subproducts from the production of macro-algae into solutions for the healthcare industry based on nanovesicle technology. These commercially viable solutions derive from recovering the extra-cellular vesicles, derived from wastewaters – with the "purified" water returning to the system and thereby reducing water consumption.
The Polish firm Proteon Pharmaceuticals develops solutions for modelling microbiomes and improving animal and human health. This company is removing antibiotics from the food chain through developing a bacteriophage based cocktail which is then added to aquaculture feeds.
Finally, Sophie's BioNutrients, a Dutch startup, takes advantage of food industry subproducts to develop a vegetal based protein out of macroalgae – as an alternative to existing food products.
This year's edition of Blue Bio Value Acceleration which lasted for a duration of 7 weeks (5 remote and 2 in-person) counted on the participation of 18 startups from twelve countries (Canada, Chile, Croatia, Lithuania, Netherlands, Norway, Poland, Portugal, Spain, Switzerland, United Arab Emirates, and the United States).
The three award winners each receive a cheque for the amount of €45,000, which is for application in the development of their respective projects through the Blue Demo Network, a networks of blue bio-economy services, headquartered in Portugal, with the mission of supporting startups to find local infrastructures and services in response to their technological and market development needs.
Among the other participants in this edition were startups with their business models focusing on restoring marine ecosystems, the sustainable production of algae for consumption and cosmetics, connected with coastal zone monitoring technologies and preventing climate change related risks as well as sustainable fishing activities.
This year, the program attracted applications from 84 startups from 39 countries, from which 18 were selected from twelve different countries located across four continents. The number and geographic reach of participants reflects the relevance of this initiative and the dynamism of this sector both in Portugal and internationally.
About Blue Bio Value
The Blue Bio Value program is run by the Calouste Gulbenkian Foundation and the Oceano Azul Foundation, in partnership with MAZE and Bluebio Alliance. This integrates the facets of Idea Design and Acceleration within the framework of fostering more responsible economic models, capable of generating positive impacts on the sustainability of oceans and thereby taking advantage of marine bio-resources in keeping with the principles of circularity, zero waste and decarbonisation. Through this Program, the Oceano Azul Foundation and the Calouste Gulbenkian Foundation pool their efforts to contribute towards Portugal becoming an international pole of relevance and innovation in developing the marine bioeconomy and correspondingly fostering more sustainable usage of the ocean.
While Blue Bio Value Ideação seeks to drive innovative projects in the sustainable blue bio-economy sector, establishing a bridge between academia and the markets and providing participants with tools, a network and the initial financing necessary to transform innovation ideas and blue bio-technology applications into new, circular and sustainable business solutions, Blue Bio Value Aceleração seeks to support already established startups, which act along the marine bio-resource chain of value and provide sustainable services or products that contribute towards healthier usage of the oceans.
Since 2018, Blue Bio Value Acceleration has already boosted 77 startups from 24 nationalities, which, through to 2021, had attracted 7.9 million euros of investment to their projects.
More info