Accessible art: breaking barriers and dancing with a difference
Accessible Art Day opens the doors to families with children, young persons and adults with special education needs in a programme in which there is a place for all.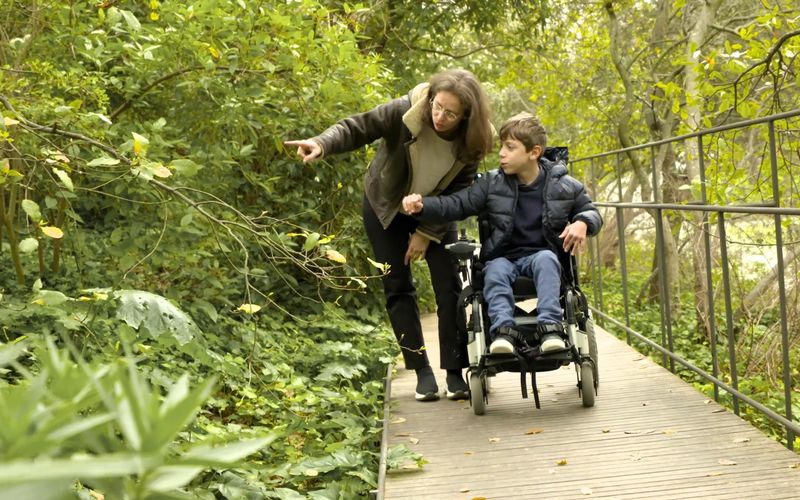 This is not the first time that the Calouste Gulbenkian Foundation runs a day like this one, demonstrating the power of art as a tool for inclusion; however, this edition of the Accessible Art day is also special because it places artists with special education needs up on stage. Throughout 28 March, there are visits, workshops and performances to explore the feelings and emotions all the while the Foundation shows off its collections, the Garden and its hidden nooks with some rhythm and music mixed in.
The visits and workshops with audio-description, Portuguese sign language and accessible sessions divide into the morning and afternoon. Stories to listen to, routes to discover and works to explore in the Founder's Collection (The Garden of Babaï; Painting a blanket; Hands that speak of painting), moments for design, conversation and dance in the Modern Collection (Image, design, action; A dancing visit with a thinking body; With your head, trunk and members) and alongside creative tours of the outdoors in order to discover The world in the garden or The wool cycle are among some of the proposals that was prepared to bring cheer on this spring day that seeks to give access to culture those who do not always enjoy this.
Ana Manta, a mediator in the Garden Education Service of the Calouste Gulbenkian Foundation since 2014, explained that "the objective of these activities consists of, through a relaxed atmosphere and with constant sharing, stimulating contact with the nature that surrounds us and developing an environmental awareness".
The proud mother of Francisco, aged nine, with cerebral palsy that, not affecting his cognitive capacity – nor dimming his personality packed with good humour and affection – leaves him compromised in motor terms, forcing him to circulate in an electric wheelchair and communicating with difficulty. Ana Manta does not miss out on referencing the lack of opportunities that the majority of persons with disabilities have to "interrelate with the nature that surrounds them, especially because they encounter a series of barriers, whether architectural or communicative in nature, which leads them to be very closed off within themselves." The importance of these activities thus becomes "attempting to overcome some of these barriers through collective work but which seek to meet individual needs". One of the aspects the mediator most appreciates about working with a special needs audience is the "unpredictability", which makes "every day a unique encounter", in which flexibility and creativity in the different ways the contents get approached is a constant presence.
However, it is not only the workshops that are a highlight on this day. In the Multipurpose Room, there are to be two performances by very particular guests: a concert by the APPDA Band – the Portuguese Association for Development Disturbances and Autism; and the performance of "Bichos (Animals)", by Rui Lopes Graça, featuring the Dancing with a Difference Company.
The APPDA Band – Lisbon has been performing ever since 2002 following a European project entitled "A society for all". Henceforth, the band has integrated into its training and rehearsals many young persons and adults with disturbances on the autism spectrum with the mission of providing them above all with wellbeing and simultaneously enabling their interventions and awareness raising among the general population about this incidence. The repertoire undergoes constant construction and features originals, covers of pop/rock, jazz and film soundtracks and always inspired by the interests and musical suggestions of its members.
One of these members is Micas. Maria João Morgado, a speech therapist who accompanies the group, said how "Whoever glances quickly, they don't even notice him [discreet, quiet, head down and eyes set on his instrument], but he also has a jazz band outside of the APPDA and he plays bass by sight. He's the soul of the band". The therapist and lecturer also stated that all the young persons who collaborate with APPDA have music classes perceived as a form of therapy and there are those who show greater aptitude and interest and then go on to join the band.
In turn, Dancing with a Difference emerged as a pilot project in the year of 2001 in the Autonomous Region of Madeira and now functions as a leading professional company with its main objective being the opportunity to bring people, with and without deficiencies, together on stage for a single cause: to dance.
The "Bichos" performance, with choreography by Rui Lopes Graça and artistic direction by Henrique Amoedo, is based on the homonymous work by Miguel Torga and seeks to deal with fundamental questions about society and our own existence in a universe in which humans and animals not only share characteristics but also the vicissitudes of life.