Floating world: 'ukiyo-e' Japanese prints
Location
Temporary Exhibition Gallery
Calouste Gulbenkian Museum
Calouste Gulbenkian amassed a remarkable collection of Japanese art. This exhibition explores this lesser-known aspect of his activity, bringing together a large number of Japanese prints from the 17th to the 19th centuries.
Floating world: 'ukio-e' Japanese prints focuses on the concept of ukiyo, which means 'floating world', and refers to the fleeting pleasures of everyday life. It explores the city of Edo, modern-day Tokyo, through two themes that illustrate the popular culture of the city at the time: female beauty, in the figure of the courtesan, and contemplation of the natural world.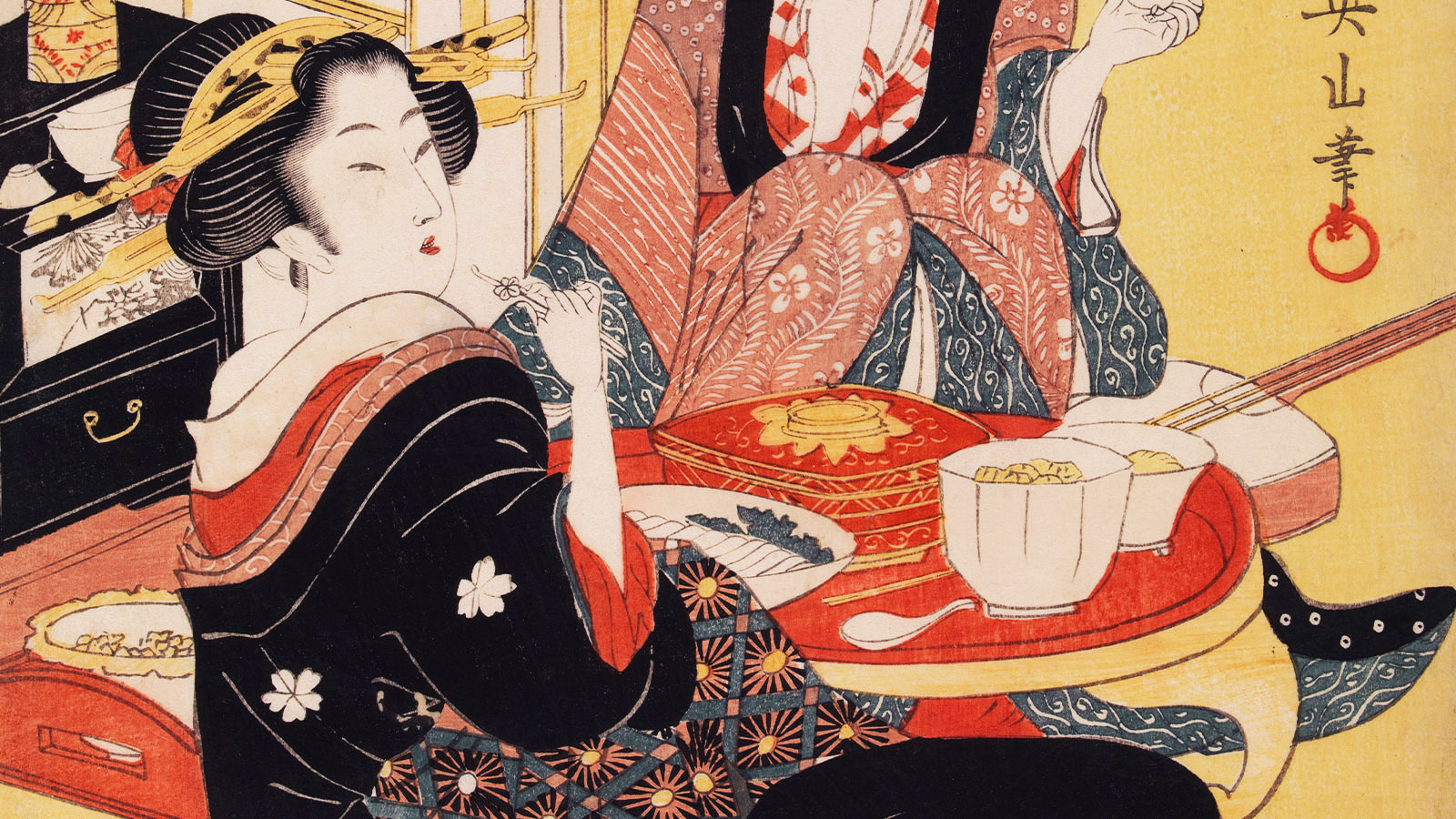 The popular culture of Edo is also perceptible in the representation of the urban layout of the city, its iconic places — including the historical neighbourhood of Yoshiwara —, its streets, and surrounding landscape. The twelve uki-e, or perspective prints, by Utagawa Toyoharu (1735-1814) present genuine overviews of Edo and attest to the incessant hubbub of the city. The adoption of linear perspective, essential in the development of the ukiyo-e landscape genre, was first explored by Katsushika Hokusai (1760-1849) with his famous series of Thirty-six Views of Mount Fuji (Fugaku sanjūrokkei), two prints from which feature in the Gulbenkian collection.
The first version of The Fifty-three Post Stations of the Tōkaidō (Tōkaidō gojûsantsugi), the editorial project by Utagawa Hiroshige (1797-1858), was so successful that it was printed in two editions. The Gulbenkian collection owns a second version made in collaboration with Utagawa Kuniyoshi (1797-1861) and Utagawa Kunisada (1786-1865) which, while representing the Tōkaidō — the road linking Edo to Kyoto — pairs each of the different stations on this route with the most emblematic Japanese legends, stories and poems.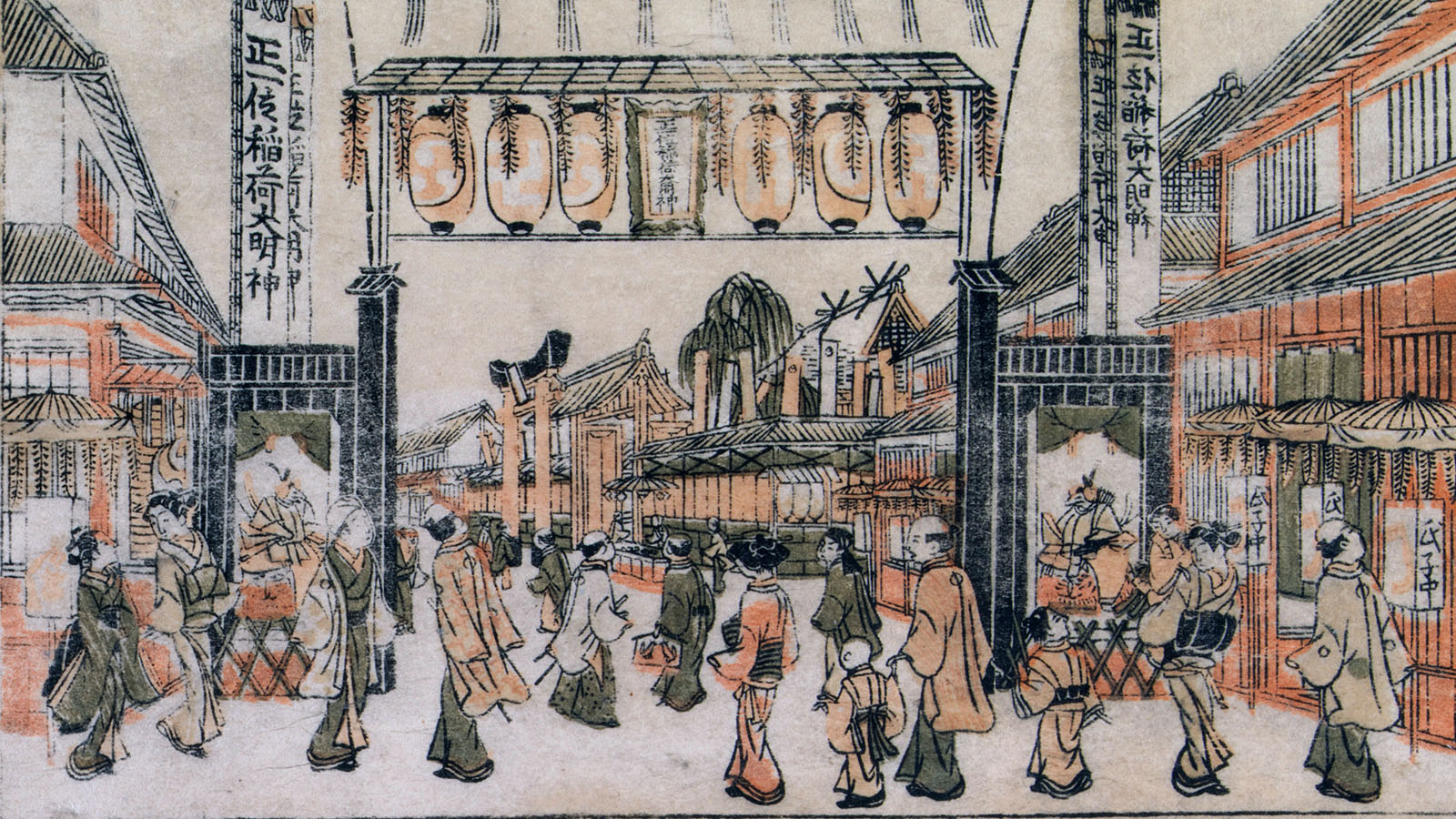 The importance of surimono, the exclusive and limited editions of woodcut prints accessible only to a select few at the time, is also explored in this exhibition. The Museum collection holds a significant group of these works, mainly by Toyota Hokkei (1780-1850). 
Finally, this exhibition provides an opportunity to discover some of the prints damaged in the floods that affected the Lisbon region in 1967. The slow and meticulous work on these works by the conservation and restoration teams was pioneering in Portugal and is also reflected in the choice of works of art on display.
---
Credits
Curators

Jorge Rodrigues – Calouste Gulbenkian Museum
Francesca Neglia – Sapienza, Università di Roma
Hannah Sigur – FCSH, NOVA University Lisbon
Header image
Katsushika Hokusai; Yeijudo (editor), detail. Japan, c. 1827. Calouste Gulbenkian Museum