Sharing the Stage: A summary evaluation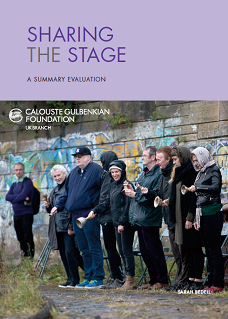 June 2019
Author: Sarah Bedell
From 2014-2018 the UK Branch of the Calouste Gulbenkian Foundation ran an initiative called Sharing the Stage as part of our Participatory Performing Arts strand. Sharing the Stage emerged from a scoping review which identified that, despite considerable innovation in participatory performing arts, the work is regarded as under-recognised and undervalued with questions often posed about its artistic merit. 
Sharing the Stage gave selected artists and arts organisations the opportunity to spend focused and funded time on project development, working closely with social partners.  Phase One supported research and development (R&D) of 14 consortia projects. Phase Two supported 10 consortia projects to full production of the work created through the participatory process. The initiative was co-funded with the Esmée Fairbairn Foundation, with support for the learning community from the Paul Hamlyn Foundation.
This independent evaluation report finds that:
Paying or invited, audiences were enthusiastic about seeing these shows and attendance rates were high.
Many participants indicated they felt more confident, made friends and felt part of a community during the process.
Organisations extended their vision, practice and the scope of their activities.
The optimal length of time to develop a high quality piece of participatory work from R&D to final performance is up to three years.
Access the report