Participatory Performing Arts (2014-2018)
The power of participation in the performing arts
We want to widen participation in the performing arts to people from all walks of life, especially from the most vulnerable and under served communities
Opening up the performing arts for everyone is what this strand of work was all about. Research has shown that participating in groups such as your local choir or theatre group develops new skills and knowledge, builds richer social networks and boosts confidence. In a study by the Scottish Government (1), regular participants in a creative or cultural activity were 38% more likely to report good health.
And these experiences are even more meaningful for the most vulnerable and underserved in our communities, such as people living in poverty, people with learning and physical disabilities, prisoners and ex-prisoners, the homeless and older people in care homes. But sadly, these groups rarely participate. This robs them of the opportunity for self-expression, to developing critical life skills and forge closer social connections. And it robs audiences from hearing stories about a diverse range of life experiences.
Our long-term aim has been to see performing arts include people from every part of society, to give a platform to the voices that are seldom heard and to enrich artistic works with authentic lived experiences.
We consider the development of participatory practice as central to making work that combines these artistic and social outcomes. This work aimed to bring participatory performing arts into the mainstream.
Our approach
We supported a consortia of 10 organisations to undertake innovative projects as part of our Sharing the Stage programme that take risks in order to explore new ways of thinking and working that will benefit the arts sector and society. From a writing festival of playwright prisoners, to older people in care homes acting alongside professional actors, to musicians with disabilities playing instruments which were designed for them, these projects are diverse and push boundaries. These performances took place between 2016 and 2018 and were filmed by the Foundation (films to be released in early 2019). An evaluation report will be released in early 2019.
Representatives from our 10 partners also come together as a learning community to share practice and discuss creative solutions to the pressing questions facing arts organisations developing participatory work. Topics such as artistic and social values, collaborations with the social sector and the representation of marginalised experiences in mainstream. Since 2017 the Sharing the Stage Learning Community has been a self-managing group.
Our aims
We had ambitious aims for this area of work, knowing that mainstreaming the participatory performing arts will bring increased social benefits, especially if we are able to engage people from vulnerable groups.  We wanted participatory performing arts to become a platform for the voices that are marginalised by society and to enrich the performing arts with diverse life experiences.
Broadly, we will have succeeded if we can create:  
An evidence base of what works in supporting and promoting participatory practice
A self-sustaining community of practice, sharing learning and forming networks
Funders, arts organisations, artists, critics and audiences taking participatory arts seriously
People who are marginalised and disadvantaged finding a voice through participatory arts.
Who are we working with?
Below are the 10 consortia which the Foundation has funded and supported through our Sharing the Stage work. The consortia was put together through an open call. 
Other projects supported by the Calouste Gulbenkian Foundation (UK Branch) that involve participatory performing arts
With One Voice began as a project we supported in 2012, when together with StreetWise Opera we put on an event at the Royal Opera House with approximately 300 performers who have experienced homelessness. In 2016, With One Voice was officially launched as an international movement, at the culmination of a week-long festival of homeless performing arts projects in Rio de Janeiro at the Cultural Olympiad.
Supporting NESTA in the evaluation of the Arts Ventures Fund and the impact analysis of the ventures supported through it. The pilot fund tested the proposition that access to appropriate investment would enable arts organisations to build their capacity for social impact and income generation.
A two-year programme of work with the London International Festival of Theatre that saw world-class artists from across the globe working alongside non-professionals in the deprived areas of Tottenham to redefine excellence in participatory practice and provide transformative opportunities for participants, audiences, artists and local organisations.
Updated on 05 June 2019
Menu
What do we mean by "participatory performing arts?"
"Participatory performing arts" means non-professionals doing things like acting, singing and dancing. And when we use this phrase we are especially interested in helping vulnerable groups participate in a way which brings them joy. In participatory performing arts taking part is as important as the final performance because when done well the creative process allows people to discover their strengths, gain confidence and develop a positive self-image.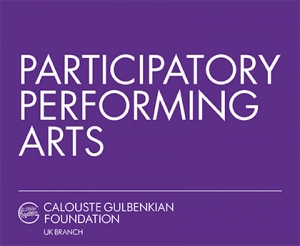 ---