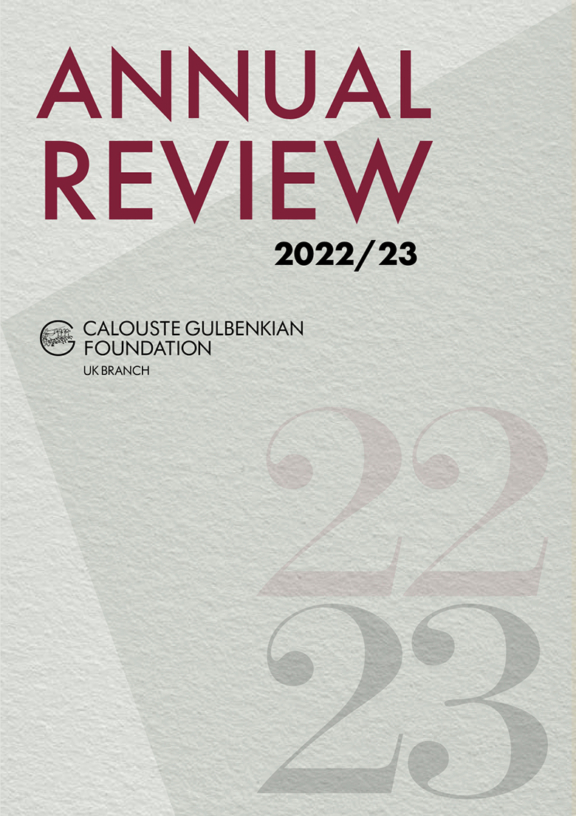 The Calouste Gulbenkian Foundation UK Branch Annual Review for 2022/23 provides a summary of programme highlights, funding, and reflections from the past year.
Our Annual Review 2022/23 showcases highlights from work supported by the Foundation in the UK and beyond.  It offers a snapshot of projects supported by our previous 'Valuing the Ocean', 'Civic Role of Arts Organisations' and 'Citizen Engagement on Climate' UK programmes, and introduces the new international Equity and Sustainability programmes.
The Civic Role of Arts Organisations movement in the UK continued to evolve and meaningful co-creation sits at the heart of this work. Projects that
we supported, such as Creative Civic Change, evidenced how co-creation develops community skills, builds social capital and instils pride in place. We held a third Award for Civic Organisations themed 'Co-Creating the Future' to identify and reward outstanding practice. We also supported a new conversation on arts education via the The Arts in Schools: Foundations for the Future, which called for more equitable access to arts-rich schooling as an essential right.
Our Valuing the Ocean programme continued to support work that promotes the fundamental role of ocean protection in climate action. The Ocean Visuals project provided a collection of diverse ocean-climate imagery which has evidence-based effectiveness, and is freely available. 2022 was a significant year for international ocean action and we co-hosted a UN Ocean Conference side event and produced a report identifying opportunities to accelerate ocean-climate action through influencing and engagement. We also supported the Our Fish campaign, which created pressure at the EU level to improve marine protection and end overfishing, and strengthened the links between overfishing, ocean conservation and climate action.
Civic engagement remains a key thread in everything we do. For our Citizen Engagement on Climate programme, and our current Climate and Ocean international programme, citizen engagement is crucial to ensuring that climate action is fast and fair. Initiatives like Global Citizens Assembly and Involve's Local Climate Engagement project demonstrated the value of involving people in climate decision-making and reaching a broad range of audiences, particularly those who are most affected or underrepresented.
Read more about our work, future strategy and supported projects in the report.
Read Annual Review