New Arts in Schools report highlights the need for more equitable access to arts for young people
The Arts in Schools: Foundations for the Future is a new analysis of arts education today. It reimagines England's education system and provides practical and policy recommendations for improved arts education.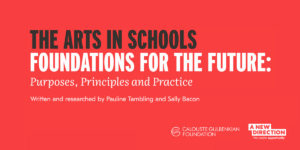 A new report The Arts in Schools: Foundations for the Future, supported by the Calouste Gulbenkian Foundation, is the culmination of a year-long consultation with education and arts professionals and policy makers. The report studies the education system in England today and provides recommendations for a reimagined system, where arts subjects are recognised for equipping children with skills for life and work. This blog summarises some of the key findings. We hope the report contributes to a reconsideration of the role and value of the arts in schools in the UK and beyond. 
Championing the arts for human flourishing
The Calouste Gulbenkian Foundation recognises that the arts play a fundamental role in human flourishing. As an independently endowed foundation, we have a responsibility to look ahead and consider social issues at the systems-level, and beyond political cycles. Our new international Access to Culture programme renews our commitment to supporting arts participation and engagement. We have supported the culture sector in the UK for nearly 70 years and have championed equitable access to arts. 
In 1982, the Foundation's UK Branch first published what became a seminal book and reference for arts education professionals – The Arts in Schools: Principle, Practice and Provision. This inquiry by lead author Ken Robinson (later Sir Ken Robinson) into the state of arts in England and Wales's schools had widespread impact. Its recommendations were taken up by Local Authorities and it paved the way for the arts to be included in England's first National Curriculum in 1988. Forty years on, people still cite its influence. 
In 2022, the Foundation supported a group of education professionals and researchers to see what had changed forty years on. Over nine roundtable discussions, more than 200 experts and young people explored key themes from the original report, and considered what a new set of recommendations might look like. 
Key findings and recommendations for the future
The Arts in Schools: Foundations for the Future finds evidence of inspirational practice across the UK but highlights deep concern about the principles and provision underpinning the arts in schools. It shows that progress isn't always linear or lasting.  
The report calls for greater recognition of how the arts shape human experience and development; a reimagining of the purpose of education; and more equitable access to cultural experiences. 
The three key findings – which echo themes of the original Arts in Schools report – are: 
Arts subjects and experiences have an evidenced role in contributing to improving outcomes for children and young people, providing them with skills for life and skills for work.

 

Despite all that we know about the value of arts subjects for children and young people, there is a lack of value ascribed to the arts within the state education system in England.

 

Many of the current problems we identify are as much about the wider context in which learning takes place as about the specific challenges for the arts in schools, and there are now widespread calls for education system change: the report shows that this is necessary and possible.

 
The report identifies 10 principles for policy and practice to ensure 'arts-rich' schooling experiences:  
Five core policy principles to underpin the arts in schooling:
Rationale: clear purposes for schooling and a coherent vision for subject areas, with curriculum linked to purposes.

 

Parity of esteem: equal status for arts subjects with other curriculum areas, within a broad and balanced curriculum.

 

Including every child: an access entitlement built on inclusion and equality.

 

Whole child and a rounded learning experience: educating for personal development and wellbeing, not just academic attainment.

 

Education for now: educating for the importance of the present, as well as for the future. 

 
Five core practice and provision principles essential in enabling a school to become arts-rich: 
Breadth: exposure to all art forms and a breadth of work and experiences.

 

Balance: between knowledge and skills.

 

Inclusion: embracing the needs of all children.

 

Relevance: reflective of the world in which children live and will work.

 

Learner voice: listening to children and young people.

 
Looking ahead, the report also offers 10 recommendations which can provide scaffolding for the future: 
A national conversation to consider and define new purposes for schooling.

 

New curriculum areas.

 

Changes to how we assess arts subjects.

 

Creating an arts entitlement within the school day, and extra-curricular arts as additional. 

 

Representation and relevance.

 

Teacher and learner agency.

 

Improved and evidence-based case-making.

 

Support for the arts in schools from the professional arts sector.

 

Schools at the heart of their communities.

 

Aggregating the findings of reports calling for education system change.

 
As with the original report, the findings and recommendations are relevant for other countries and contexts too, and we hope it encourages similar debates – highlighting the need for greater and more equitable access to arts for all.  
Read executive summary
Read full report