Library of Alexandria Ismail Serageldin (director)
2013 Calouste Gulbenkian Prize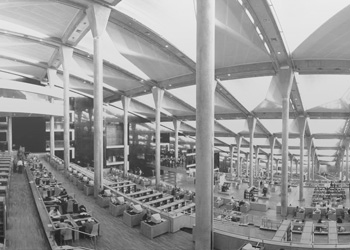 The Library of Alexandria, one of the most prestigious centres of knowledge worldwide, and its director Ismail Serageldin are the winners of the 2013 Calouste Gulbenkian Prize, which amounts to €250,000.
"The Library of Alexandria is a cultural reference point around the Mediterranean resulting primarily from the vision, the commitment and the tireless work of Ismail Serageldin" stated the jury for the international Calouste Gulbenkian Prize, attributed annually to an institution or a person, that stands out for their role in defence of the values essential to humanity.
From among the 70 nominations received, the jury presided over by Jorge Sampaio chose to honour the Library of Alexandria, an Egyptian institution of learning and knowledge that last year completed its tenth anniversary, and its director Ismail Serageldin, an "academic and cultural activist of excellence".
In the words of the jury: "the Library of Alexandria is unique in the sense that it represents a large Egyptian library, international in scope, endowed with the mission of serving as a centre of learning, tolerance, dialogue and understanding between cultures and peoples as well as a leading institution in the digital era."
On the site where once stood the ancient Library of Alexandria, October 2002 witnessed the inauguration of a complex making up the modern Library of Alexandria. Today, this vast complex receives about 1.5 million visitors every year. In addition to caring for millions of books and providing the intellectual centre point to many important regional and international networks, the Library of Alexandria furthermore hosts a number of institutions and incorporates a vast digital archive, six specialized libraries, four museums, a planetarium, eight academic research centres, fifteen permanent exhibition facilities, four art galleries for temporary exhibitions and a conference centre in addition to other infrastructures.
Ismail Serageldin, Director of the Library of Alexandria, also chairs the Boards of Directors for each of the Library's affiliated research institutes and museums. He serves as Chair and Member of a number of advisory committees for academic, research, scientific and international institutions and civil society efforts. He was Chairman of the Consultative Group on International Agricultural Research (1994-2000); founder and former Chairman of the Global Water Partnership (1996-2000) and the Consultative Group to Assist the Poorest (1995-2000), a microfinance program; and was Professor at Collège de France, Paris, and Distinguished Professor at Wageningen University in the Netherlands. Serageldin has also served in a number of capacities at the World Bank, including as Vice President for Environmentally and Socially Sustainable Development (1992-1998) and for Special Programs (1998-2000). He has published over 60 books and monographs and over 200 papers on a variety of topics including biotechnology, rural development, sustainability, and the value of science to society. He holds a Bachelor of Science degree in engineering from Cairo University and Master's degree and a PhD from Harvard University and has received several honorary doctorates. 
Among his many other distinctions and honours, he was made a member of the French Order of Arts and Letters in 2011.