11 February 2021
Civil Society
A tablet for fighting loneliness
The Humanamente @tivos (Humanly @ctive) project targets the emotional esteem and technological competences of the elderly in Beja Council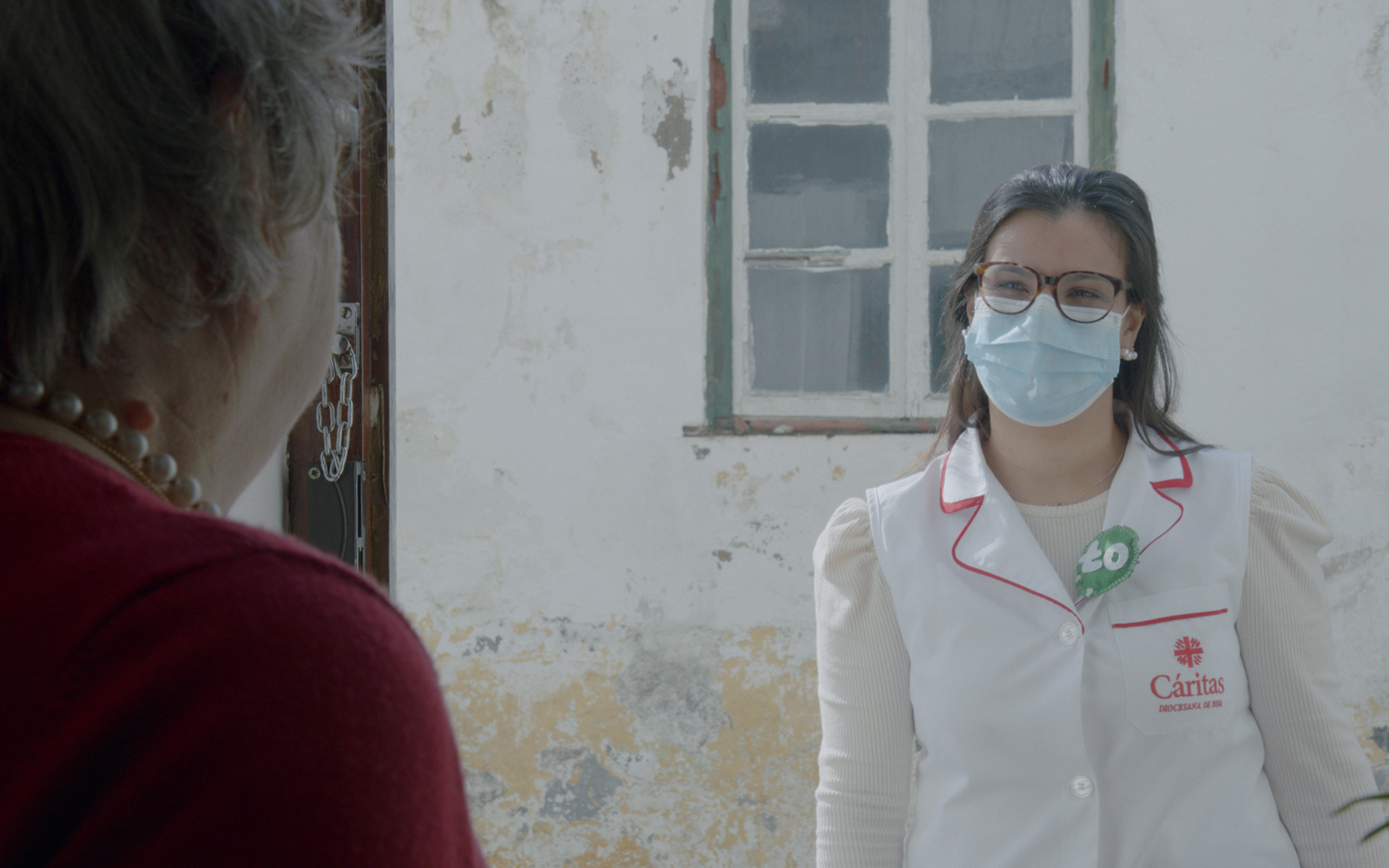 Sara Lopes, an occupational therapist, ends her weekly home visit to António and Domingas Piriquito, an Alentejan couple who live on a peaceful street in the city of Beja. As per usual, ever since the pandemic required their forced seclusion, António, aged 74, and Domingas, aged 76, have been undertaking a series of leisure activities but that also provide cognitive stimulation with the purpose of fostering their attention, memory and calculation skills under Sara's orientation. António uses a tablet that he has come to master following months of practice while Domingas prefers to stick with more traditional techniques, such as drawing and painting.
With the visit over, already out in the street, Sara gestures to the pair, who remain at the window to see her leave. "I always leave here with my heart full, always satisfied with what I've done and heard" affirms Sara Lopes on their participation in the Humanamente @tivos program run by Cáritas Diocesana de Beja, with support from the Gulbenkian Cares initiative and that was launched in order to "provide support to an age group that needs some care", as she likes to highlight.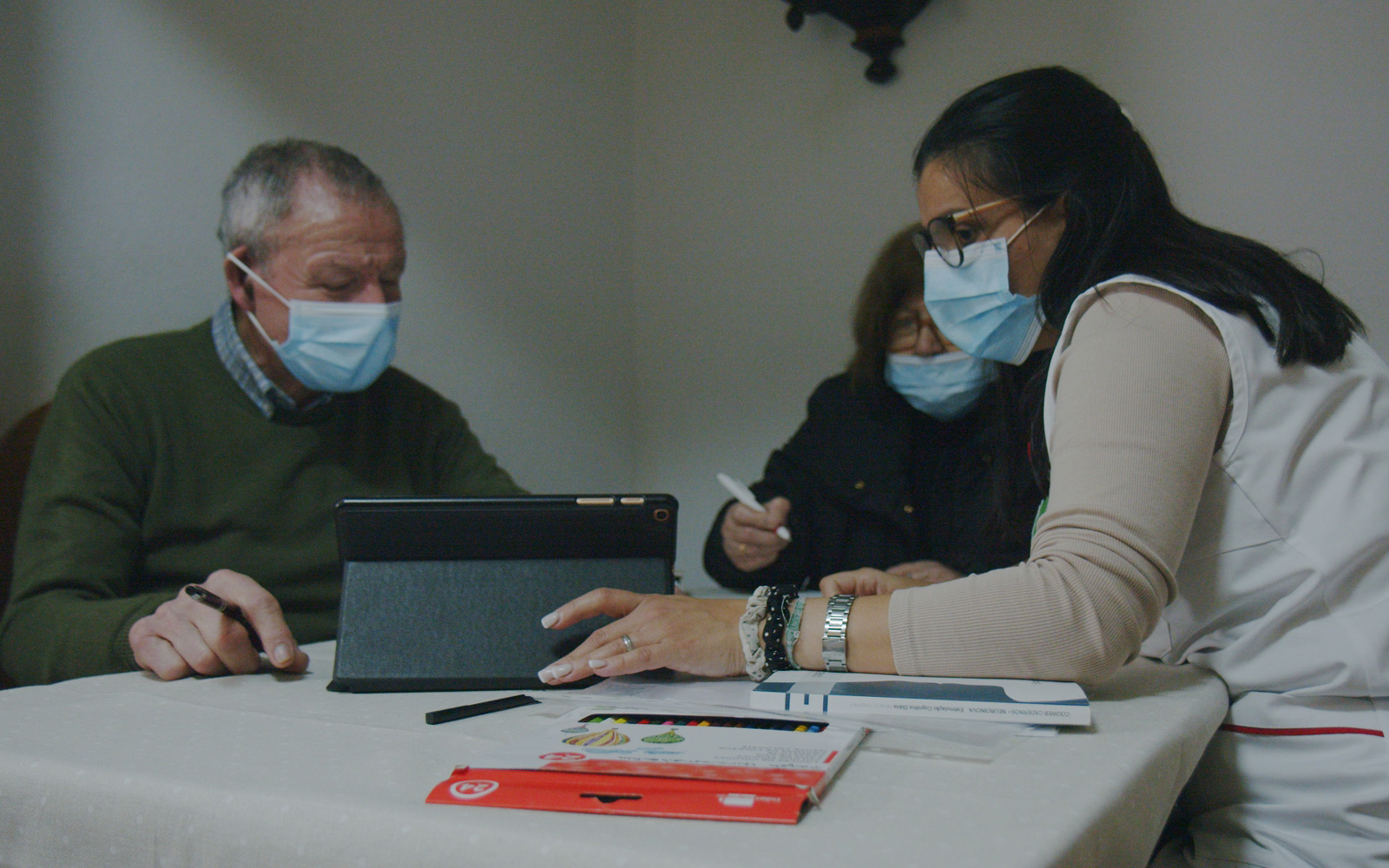 A proximity project
The regular visits by Sara, ongoing since May 2020, are the backbone of this project, financed by the Gulbenkian Foundation and the Institute of Social Security, which brought to these elderly citizens the personalised support of a therapist for the very first time. She has become a precious bond connecting family members and the team of professionals that guarantee the project's smooth functioning.
Sara Lopes highlights "the emotional and human bond" and the "moments of great affection, tenderness and proximity" that she establishes with all users that helps overcoming the initial resistance triggered by the presence of somebody unknown in their homes. Gaining their trust resulted in "the important participation of everybody in this project", Sara affirmed positively.
Such was the case with António Piriquito who only moves with certain restrictions, supporting himself on the furniture and walls of his house to feel more secure and who has seen confinement under lockdown worsen his difficulties in movement. On the other hand, this has also brought these weekly visits that challenge him to do other exercises that have had an important impact on his life. "I know that after lunch, I have my time taken up with the activities on the tablet and that's a way of relaxing from everything else. It's also helped me activate my brain, to find out things, learn and share moments".
A multidisciplinary team
The Cáritas de Beja project was one of 69 social initiatives that received support under the pandemic from Gulbenkian Cares to enable responses for the needs of those who suddenly find themselves closed off at home, deprived of family and social contacts, without being able to benefit from the support centres and their regular socialisation patterns, in this case at the Cáritas de Beja installation. In fact, the entire scenario seemed favourable to an explosion in the incidence of anxiety and depression and worsening the dementia that some were already suffering from.
In order to deal with this situation, within the scope of the first project phase, from May to December 2020, there were 448 home visits and over 225 occupational, motor and sensorial therapeutic activities for three dozen of the council's elderly aged between 74 and 89. All of the logistics were structured around a multidisciplinary team made up of a social worker holding technical supervision functions, an occupational therapist, a clinical psychologist and a general coordinator with a background in sociocultural animation and community development and entrepreneurship. These members were supplemented by five specialists in geriatric care who would daily visit the homes of the elderly to provide basic hygiene and dietary care services.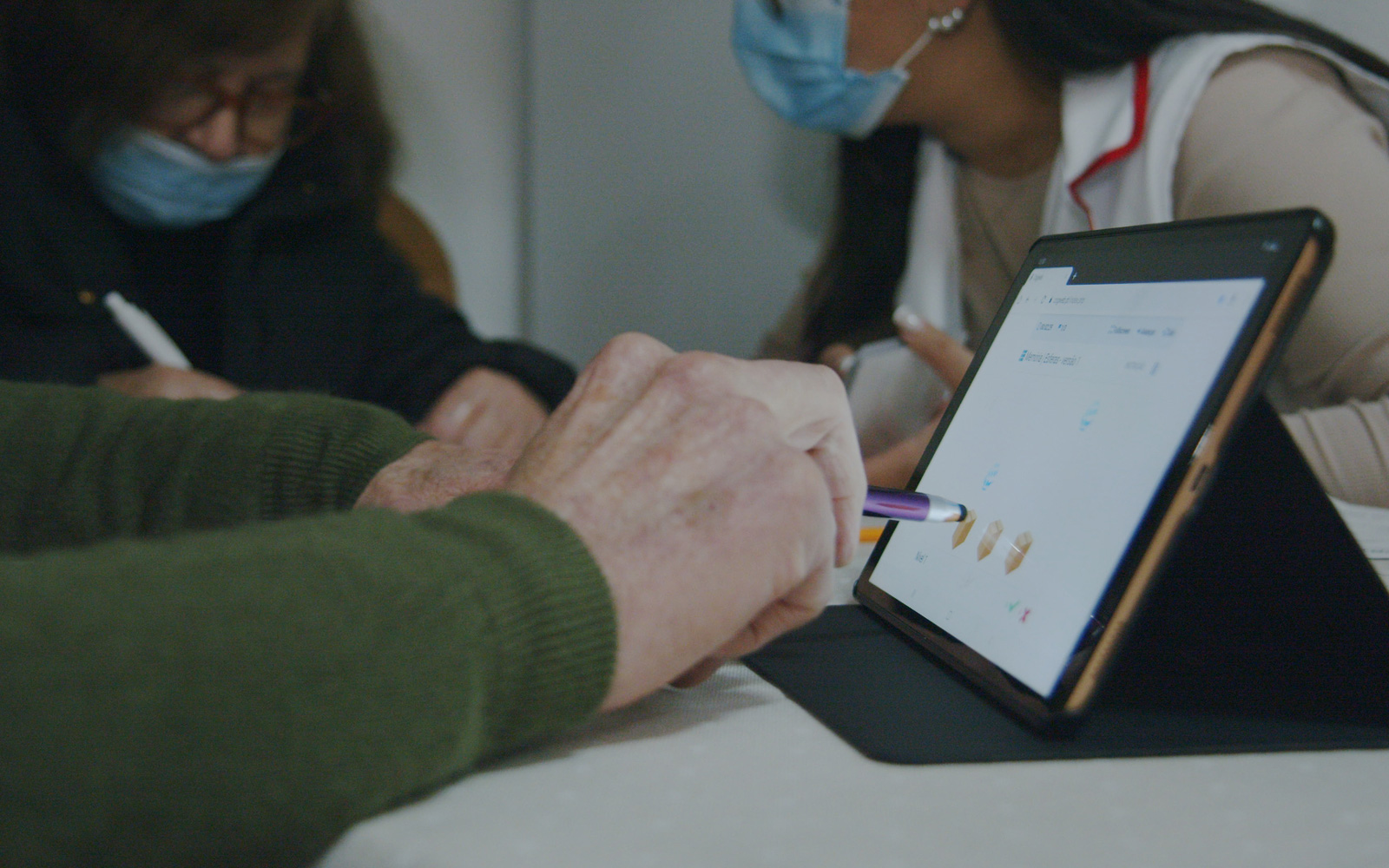 Tablets for fighting loneliness
In addition to dealing with basic needs, the project stands out for rendering, within the framework of uncertainty and loneliness caused by the pandemic, the security of a regular and warm presence, helping users to feel accompanied, active, valued and rooted in their daily lives. The project introduced them to the "brave new world" of technology and the tablet became, as is the case of António Piriquito, an essential resource for carrying out exercises as well as making videocalls to their family members. For a large majority, this was a highly challenging process with these new technologies being absolutely new to them even while the fears were gradually dispelled to the extent they learned how to use the tablet and autonomously access the different contents and exercises available on the platform. Furthermore, in addition to technological competences, this process also worked their personal competences such as their motivations, entrepreneurial spirit and resilience when faced with frustrations.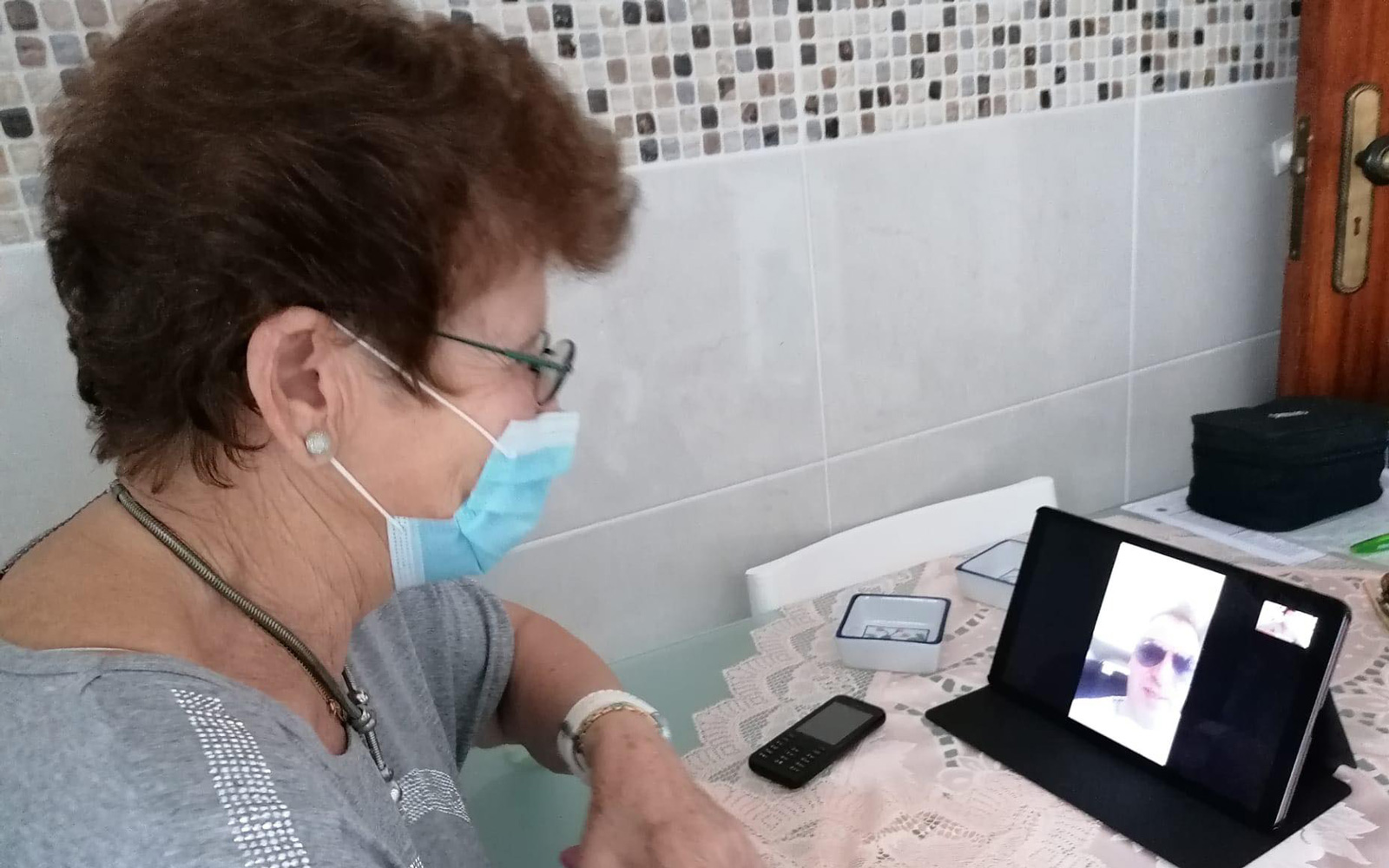 The happiness of seeing a daughter
Another beneficiary of this project is Manuela Guerreiro, aged 77, a widow, and also already a regular at Cáritas de Beja prior to the pandemic. Living alone, she had somewhat succumbed to feelings of sadness and loneliness: "My children live far away, my daughter is in Germany and my son in Gaia." However, just like António Piriquito, participation in this project instilled new cheer into her: "I began having more to do and bother myself less about other things. I made my brain get to work and stop thinking about negative things". However, the most important aspect, she told us, "was seeing my daughter who I hadn't seen for the last three years through a video-call. It was such a great thing being able to speak to her". Manuela Guerreiro also highlighted the help given by the therapist Sara, without which, she confessed, "none of this would have been possible".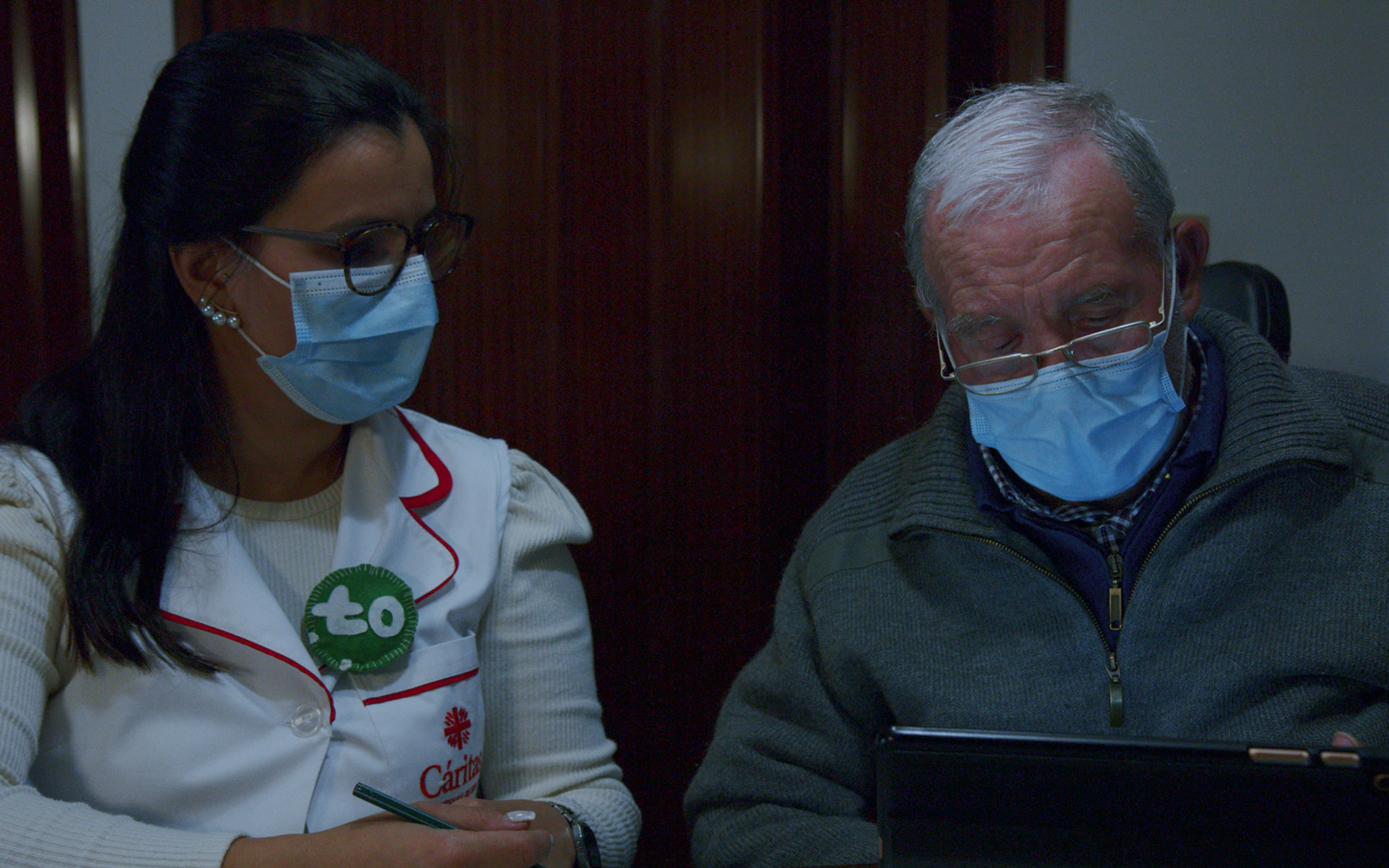 Not noticing the time ticking by
José Carrega, also included in this program, is aged 85 and uses an electric wheelchair to get around due to the polio that struck his upper and lower limbs during childhood. Despite the limitations, he does everything to maintain a normal life. "I go out for some fresh air and I always try and keep up with the news through Diário do Alentejo". With this program, he said he had become "more occupied and distracted". When the weather turns wet, he takes advantage to do the exercises in the book of activities and stimulate his brain and in this way "I don't notice the time ticking by". I was not used to this type of work and now I do things "that I'd never thought I'd be able to do."
In keeping with the great success of this project, which featured the Alémemória Association and Beja Municipal Council as local partners, the Calouste Gulbenkian Foundation renewed its support this year and maintaining the intervention in its current structure. The project spans the parishes that make up the city of Beja as well as the rural parishes of Cabeça Gorda, Nossa Senhora das Neves and Santa Clara de Louredo.