Dr Penelope Curtis Appointed New Director of Calouste Gulbenkian Museum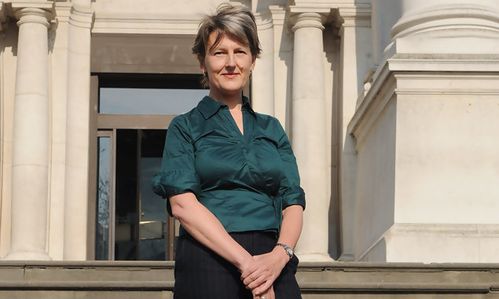 The Calouste Gulbenkian Museum is delighted to announce that the new Director will be Dr Penelope Curtis, current Director of Tate Britain in the UK.
Dr Penelope Curtis will be the first international Director of the Gulbenkian Museum and will take up the role in autumn 2015. The position was previously held by João Castel-Branco Pereira, director of the Museum between 1998 and 2014.
The British curator has been responsible for the recent successful redevelopment project at Tate Britain, and for the comprehensive rehang of the gallery. Before working at Tate Britain she ran the Henry Moore Institute in Leeds, where a wide ranging programme of exhibitions and research looked at material culture in many forms.
Penelope Curtis said: "I am delighted to be the first international appointment to Director of the Calouste Gulbenkian Museum. I look forward to working in Portugal and working with a strong institution which is looking for change. I want to keep all that is good about the Museum, which I admire deeply, while developing ways in which it can make more of its context and position, especially in relation to the neighbouring Modern Art Centre, and more widely."
Artur Santos Silva, President of the Board of Trustees of the Calouste Gulbenkian Foundation said: "Penelope Curtis's curatorial vision and authority and her high intellectual quality will help to open a new cycle in the life of the GFM, strengthening its international dimension and its ability to intensify collaborations with major museums in the world, for example with Tate, which has since early times, been a very close and constructive partner".
The Calouste Gulbenkian Museum hosts a collection of around 6,000 works of art, spanning from Egyptian Art to early twentieth century art, and has been elected one of the ten best small museums in the world due to the quality and diversity of its collection. In 2014, the museum was visited by around 273,000 people.
Biography
Dr Penelope Curtis, aged 53, studied Modern History at Corpus Christi College, Oxford (1979–1982) followed by a Masters and Ph.D on French sculpture after Rodin at the Courtauld Institute of Art (1983–89). She joined Tate Britain as Director in April 2010, where she oversaw a number of successful exhibitions, along with the opening of the new Tate Britain in 2013, and the critically acclaimed rehang of its collections. She was also chair of the jury for the Turner Prize.
Prior to her to Directorship of Tate Britain Penelope Curtis was Curator at the Henry Moore Institute in Leeds from 1999 where she was responsible for developing an acclaimed and distinctive programme of exhibitions, presenting sculpture of all periods. Alongside this she oversaw the development of the Leeds collections along with its research and publishing programme, the acquisition of significant works including those by Rodin, Epstein and Calder, and built up a unique archive of sculptors' papers.
Joining Leeds Museums & Galleries in 1994 as Head of the Henry Moore Centre for the study of sculpture, she led its transformation into the Henry Moore Institute, where research and collections have played an important role alongside the exhibitions programme. Previously, she was the first Exhibitions Curator at Tate Liverpool when it opened in 1988 was closely involved with Tate's British collections. Major exhibitions she has curated or co-curated include Barbara Hepworth: A Retrospective at Tate Liverpool in 1994, the Henry Moore Institute's Sculpture in Painting (2010) and Modern British Sculpture at the Royal Academy in 2011.
Penelope Curtis is an established scholar and author with particular interest in inter-war art and architecture and contemporary art, on which she has written widely for many artists. She is a regular speaker, recently delivering a series of Paul Mellon Lectures at the National Gallery which travel to Yale in April 2015 and has also spoken at the Metropolitan Museum, Guggenheim as well as many universities in the UK and abroad. Her publications include Sculpture 1900–1945 in the Oxford History of Art (Oxford 1999) and Patio & Pavilion: the place of sculpture in modern architecture (Ridinghouse/Getty 2007). She has previously been a member of Art Commissions Committee for the Imperial War Museum and is currently on the Advisory Committee for the Government Art Collection as well as the British School at Rome.