First UK Creative Community Fellows cohort announced
25 arts and culture trailblazers have been selected to participate in the new leadership programme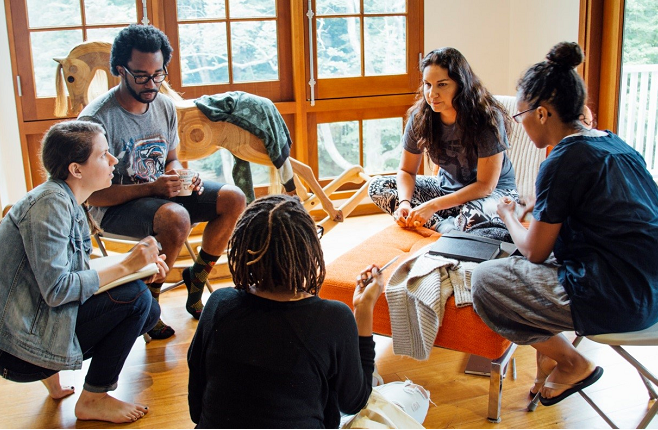 Derby Museums and NAS are excited to announce the 2020 cohort of UK Creative Community Fellows, comprised of 25 creative entrepreneurs working to drive transformational change in their communities through the power of arts and culture.
From Edinburgh to Brighton, Fellows were selected amongst communities throughout the UK to explore proven tools and frameworks with faculty and form a community of practice, enriching projects that advance a more equitable post-Covid 19 world.
Celebrating its inaugural cohort, UK Creative Community Fellows is an international partnership between Derby Museums and United States-based NAS with support from the University of Pennsylvania's Center for Social Impact Strategy (CSIS). The Fellows' programme journey includes an online retreat and focused online learning modules in addition to two in-person convenings; one at an incubator-like environment in Yorkshire and one at a summit of arts and culture leaders in the US. Read our interview with Derby Museums' Hannah Fox about her experience of participating in the US Creative Community Fellows programme in 2014.
Together, Fellows will embrace their authentic leadership capacities, examine opportunities to strengthen partnerships and strategies, and deepen their relationships with their communities. At the programme's conclusion, Fellows will join a network of nearly 200 leaders from NAS' long-running Creative Community Fellows programme who work to drive positive change in our world.
UK Creative Community Fellows programme fees are underwritten thanks to funding through Arts Council England and the Calouste Gulbenkian Foundation (UK Branch) Foundation. The Foundation is supporting this initiative as part of our Civic Role of Arts Organisations programme, which identified leadership development as a key lever for change in the arts and culture sector. UK Creative Community Fellows is one of several timely initiatives that the UK Branch is supporting to equip cultural leaders with insights and inspiration to increase the impact of their work and champion a civic role.
"UK Creative Community Fellows will assist Fellows in building upon their existing skills to accelerate their projects and become valuable community leaders," said Hannah Fox, Director of Projects and Programmes at Derby Museums. "The curriculum that we've been developing is right for this period. It's about supporting your communities through really tough times. It's about you as a leader having the right tools, strategies, and networks to feel supported and energised."
The following Fellows were selected for the crucial work they are doing in their communities:
2020 UK Creative Community Fellows
Sandy Abdelrahman | London
Shirley Bailey | Preston
Laura Beattie | Edinburgh
Georgina Bednar | London
Rachel Crossley | Twickenham
Sona Datta | London
Celine Elliott | Wadebridge
Rachel Gillies | Birmingham
Phillip Hargreaves | Wakefield
Becky Harrison | London
Erica Hesketh | London
Ruth Hopkins | Birmingham
Lewis Hou | Edinburgh
Kristoffer Huball | Hereford
Lucy Jefferies | Brighton
Xi-mali Kadeena-Guscoth | London
Murad Khan | Oldbury
Tara Munroe | Leicester
Tara Okeke | London
Christelle Pellecuer | Bristol
Alex Pemberton | Altrincham
Jessica Prendergrast | Watchet
Alison Solomon | Derby
Jenny Staff | Brighton
Naomi Wilds | Derby
See more about the Fellows here and follow their journey online with the hashtag #UKCCF
For more information contact Sue Jacklin on 01332 641901 or email: [email protected]