CGF marks the passing of Sir Ken Robinson
The writer, educationalist and thinker fought for creative schooling
The UK Branch of the Calouste Gulbenkian Foundation marks the passing of the great thinker Sir Ken Robinson. The writer, educationalist and theorist will be remembered as one of the world's leading thinkers on creativity and innovation. 
An advocate of transforming education, Sir Ken dedicated his career to promoting learning approaches that nurture individual creativity. Sir Ken led the The Arts in Schools Project from 1985-89 and was appointed to chair the National Advisory Committee on Creative and Cultural Education in 1998. In 2003 he was knighted for his achievements in creativity, education and the arts.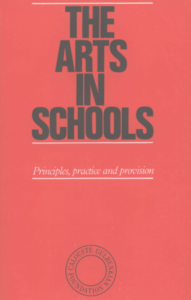 At the UK Branch, we have enjoyed a long affiliation with Sir Ken, by publishing in 1982 his seminal text The Arts in Schools.  The publication argued the arts have a central place in education and that they were essential for navigating a fast-changing and uncertain world. We also published his second book 'The Arts in Higher Education' in partnership with Leverhulme.
"We don't grow into creativity, we grow out of it. Or rather we get educated out of it." – Sir Ken Robinson
Sir Ken drew on these themes in his 2006 Ted Talk 'Do Schools Kill Creativity?', which has been watched 85 million times online. During the talk he spoke of the value of creativity and suggested "We don't grow into creativity, we grow out of it. Or rather we get educated out of it."
At his core, Sir Ken believed in the transformative potential of creativity. Writing in the Guardian in 2013, he said, "There are various myths about creativity. One is that only special people are creative; another is that creativity is just about the arts; a third is that it's all to do with uninhibited "self-expression". None of these is true. On the contrary, everyone has creative capacities; creativity is possible in whatever you do, and it can require great discipline and many different skills."
Sir Ken's work has been a source of inspiration for the UK Branch for decades. "He defined the work of the Gulbenkian Foundation in the UK for a generation. Our current work on the Civic Role of Arts Organisations is the next chapter" said Andrew Barnett, Director of the UK Branch. "That the role of individual creativity is so centrally acknowledged in the Arts Council of England's new strategy to 2030 is the finest legacy of Ken's life." 
Sir Ken Robinson (4 March 1950 – 21 August 2020)