Transitions in Later Life: Summary of Research and Consultation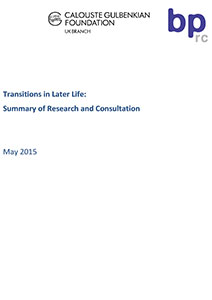 Transitions in Later Life: Summary of Research and Consultation
Authors: Bridget Pettitt, Liz Kwast, Jean Barclay and Janice Needham.
(May, 2015)
This report summarises the findings of the scoping phase in the development of the Foundation's Transitions in Later Life strand. The research and consultation focussed on the context, discussion and interventions about retirement and emotional and psychological support. The findings will inform the next stage in the development of the strand.
Read the findings here.