Transitions in Later Life: Learning Community 2016-17
Ageing and Social Cohesion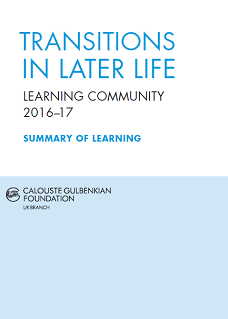 This report outlines learning that has emerged from our Transitions in Later Life (TiLL) learning community over the past two years and identifies key themes.
Our TiLL programme supports a cohort of organisations that are piloting group-based interventions that focus on building emotional wellbeing and resilience. We bring this cohort together as a learning community three times a year, along with our evidence and evaluation partner The Centre for Ageing Better.
The aim is to share practice, develop new approaches and share insights that emerge over the course of project delivery. This report also includes a summary of what we have learnt from running learning communities in this way, as reviewed by an external consultant.
We hope this will inform others who are working in this sector and/or are interested in this approach.
Read the full publication