Engaging the Public Around COP26: What Worked?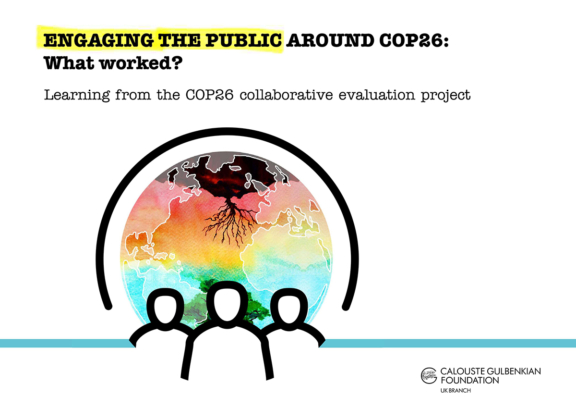 Learning from the COP26 evaluation project
Ahead of COP26, the Calouste Gulbenkian Foundation (UK Branch) invited funding applications from organisations planning different public engagement initiatives. We brought together a cohort of six organisations to share knowledge and plans, create a joint 'Theory of Change', and collect evidence on what campaigns, models and practices turned out to be most effective in engaging the public around COP26. Various public audiences in Glasgow and around the UK were reached through the group's activities.
This report describes key lessons from the learning cohort, and case studies of each organisation's work. The findings should benefit other NGOs, campaign groups and organisations, especially those working towards COP27 who could be inspired to do more in the public engagement arena.
The Foundation commissioned evaluators to lead the collaborative project and produce the full report. The group met and shared learning through a series of virtual meetings, held between June and November 2021, where the evaluators helped the organisations implement frameworks, design data collection tools, and assess their work.
Supported projects
Democracy Pioneers – using theatre to enable young people to influence policy.
Hope for the Future – training people to engage with Members of Parliament on climate change.
Force of Nature – mobilising young people and using physical and digital campaigns to connect people to their environ(mental) health.
Stop Climate Chaos Scotland – organising spaces for people to stay, meet and network during COP26.
People Ocean Planet – supporting collaborations between scientists and artists.
Not1More and Together We Ride – connecting UK communities with international environment defenders.
Full report
'Top tips' summary