Ocean Literacy – We Are Ocean
To be 'ocean literate' means to have a clear understanding of our impact on the ocean and the ocean's impact on us. We believe that if people understand why a healthy ocean matters to them, they will act to protect it. That's why improving ocean literacy is a key objective of our Valuing the Ocean programme. Creative collaborative initiatives which promote ocean literacy, informed by the latest research, communicate a joined-up story across networks, connecting the dots between people, ocean protection and climate action to catalyse change.
We Are Ocean
The We Are Ocean (WAO) collective emerged in 2016 from a small group of organisations, aligned by shared objectives of increasing Ocean Literacy and effective collaboration. The WAO network was established through a series of lab-type workshops, pioneered by The Wild Network, to address the need for improved ocean literacy in and beyond the UK. WAO co-designs and pilots projects, drawing on expertise from scientists, activists, artists and designers. Since 2016, the Calouste Gulbenkian Foundation has provided a series of grants totalling £189,500 towards core development costs of the network and key activities, with a focus on the annual World Ocean Day for Schools initiative, regular We Are Ocean summits, and strategy development. Three organisations spearhead the network: The Wild Network, the Ocean Conservation Trust and the Marine Conservation Society.
We Are Ocean film campaign
World Ocean Day for Schools
World Ocean Day for Schools is one of the flagship initiatives to have emerged from WAO. The initiative was developed as an annual moment to encourage young people to celebrate and explore their connection to the ocean on World Ocean Day, 8 June, in the same way that schools in the UK celebrate World Book Day.
WAO piloted the project in 2018 with over 400 primary and secondary schools taking part. Since then, World Ocean Day for Schools has extended its reach annually and encouraged deeper and more sustained engagement across the year. In 2022, over 30,000 children from 70 countries participated in the initiative, with resources being made available in Portuguese, French, Italian and Spanish for the first time. Interactive resources, live lessons, and a global community map are available online throughout the whole year, inspiring children from the age of five with the wonders of a healthy ocean and the actions we can take to protect it.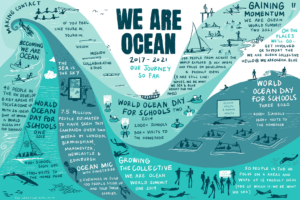 We Are Ocean Summit
The We Are Ocean Summit brings together scientists, educators, businesses, sportspeople, NGOs, and government to innovate effective approaches to improving ocean literacy through a 'heart-based' approach, triggering in the public an emotional connection to the benefits of a healthy ocean. In 2021, the Summit went virtual, providing a platform for leading voices and projects connecting humans to the ocean in the UK and internationally. More than 150 people gathered to share expertise and insights, exploring methods, audiences and issues, ranging from blue carbon to human health benefits, ocean-climate action and more effective engagement with communities beyond traditional conservation groups.