Nic Green & Artsadmin (producer)
This case study is from our Sharing the Stage initiative, which was part of the Foundation's Participatory Performing Arts strand (2014-18)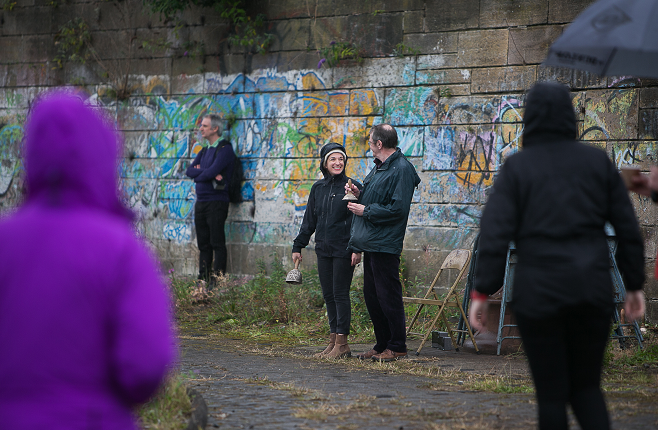 Turn
"It was great to tell my life story and to be witnessed and know that the telling of my story made a positive impact to many listeners." Participant
This case study looks at Turn. Artist Nic Green brought together unheard voices and traditional crafts to make a tidal orchestra for voice and bells on Govan Docks, Turn, celebrating the cycles of life, nature and birthdays. Find out more about Turn by watching the film and reading the project summary below.
The UK Branch of the Calouste Gulbenkian Foundation's Sharing the Stage initiative ran from 2014-2018. It supported arts projects in which vulnerable and under-served groups of people 'share the stage' with professional performers, and projects that are based on partnerships between arts organisations and social partners.
Phase One supported the research and development (R&D) stage of 14 consortia projects. Phase Two ran from 2016-18, supporting 10 consortia projects to full production of the work created through the participatory process. 
Nic Green is a performance maker based in Glasgow, Scotland. Her work is varied in style and method, with forms often 'found' through collaborative and relational practices with people, place and material. She is the Artist in Residence at National Theatre Scotland for 2017-2019. She also teaches regularly at Glasgow University, on the Theatre Studies Undergraduate programme.
Artsadmin enables artists to create without boundaries, producing interdisciplinary work to share with local, national and international audiences. For this project, Artsadmin supported Nic Green's development and delivery of TURN.
Nic Green produced TURN (co-funded by the Esmée Fairbairn Foundation), a performance project created especially for the Govan Dry Docks with collaboration with the women and community groups around Govan, seeking to provide a way for unheard voices to tell their stories. Nic Green and the communities worked with Naomi Pinnock (composer), Yas Clarke (sound design), Rosie Galloway (bell-maker) and Feral Producers Jill Smith and Kathryn Boyle.  
TURN began through Nic Green's research into the Clydeside communities and places where river-based industries had once been in operation with the intention of creating a temporary, outdoor spectacle. During this research Nic Green found that a defining strand running through such communities was gender. Post-industrial narratives predominantly focused on the male experience of work, or worklessness and connections made between gender and material, for instance referencing 'men of iron' and 'men of steel'. The power of these dominant narratives meant Glasgow was a place that contained a wealth of invisible and unheard stories, often relating to the female experience in post-industrial communities.
​The TURN project drew a number of 'circles' in its creation. It paid attention to the macro-cycles of moon and tide, and the project itself was structured around and consciously integrated into these systems. Within this the project drew geographical circles in and around Govan, with the creation of hand-cast handbells and ringing of church bells, as well as presenting the stories of local life cycles and change, through the voices of women celebrating their birthdays. 
Over 9 months the team engaged over 30 organisations across Govan, formed a choir of 21 'Ringer Singers', supported 7 'Birthday Women Speakers' and welcomed 536 audience members to the final performances.
The intention was to create a celebration of the cycles and transitions that surround, form and influence our lives. From the planetary-lunar and tidal shift, to the human processes of ageing, the performance marked the interaction of 'turnings' on many scales. ​Bringing together radio-broadcast speech, a bespoke choir and a series of hand-cast bells made in and with the people of Govan, TURN was a unique performance of people, place and acoustic instrumentation across three significant dates in the lunar calendar for September 2016.
Partnerships and collaboration
All handbells rung in the performance were created for a specific organisation or individual in, or connected to, Govan. Each bell was cast in bell bronze in the DIY foundry at the GalGael Trust, and features an inscription in relief, chosen by each bell-owner. By the end of the project the team had made 29 bells in total (one for every day of the lunar cycle), for the following people and organisations:
Govan C, Buzzcut, Galgael, Govan Allsorts, FNUF, Scottish Maritime Sailing Trust, Govan Fair, The Pearce Institute, Govan Housing Association, Oar Wee Garden, Cafe 13, Sunny Govan Radio, Glasgow Press, Bead n Blether, Alasdair McIntosh, African Arts Centre, Women's Creative Company, Govan and Craigton Integration Network/ Govan Community Project, Riverside Hall, Mighty Fine Theatre, Hells Bells, Plantation Productions, The Shed, Moogerty Garden, Northlight Heritage, Govan Old Church, Unity Cafe, St Mungo Singers and Friends of Elder Park.
A key partner in realising the creation of the bells was the team at the GalGael Trust based in Govan. GalGael has been working alongside the unemployed in Glasgow's south since 1997. It provides a space in which people can re-connect with themselves and re-connect with the people and the communities around them. GalGael's work uses traditional wood craft to restore a sense of self-respect and self-worth.
Creating great art
"Participating has allowed me to extend my musical skills and knowledge, provided the opportunity to meet some interesting people and to feel part of an inclusive community. We very quickly came together as a group whereby I felt I could trust being myself and express creativity" Choir Member
TURN focused on the relationships between diverse entities. The form and methodologies of the project were committed to emphasising the complex interweave between people/place, sound/space, human/non-human and past/present.
"I really enjoyed performing as a storyteller on the full moon and having the opportunity to do this in a in a natural environment and for an appreciative audience. It was great to tell my life story and to be witnessed and know that the telling of my story made a positive impact to many listeners. The project offered me a chance to step out of my comfort zone and develop as a performer. I have wanted to use my voice for some time and this was the perfect opportunity for me to do that." Woman Speaker
Through a multi artform approach, the work created a unique interplay between autobiographical storytelling, radio technologies and vocal composition which invited audiences to reconsider the parameters of contemporary performance.  There were strong and positive responses in the media and TURN attracted national interest across Scotland.
"Govan is such a diverse and historical area and is much changed from the past. It felt like the access we had to the closed docks was like the access into other people's lives and memories and experiences." Audience Member
As a company, Nic Green & Feral are interested in taking work out of 'black box' theatres and into civic or public spaces to reduce perceived barriers to engaging with performance art.  Working on TURN gave them the opportunity to test themselves in this field.
Being part of the Sharing the Stage learning community was valuable in terms of thinking about care, legacy and authenticity with regard to participatory practice.
Nic Green & Feral identified the main benefits of TURN as follows:
Gaining new insight in how to stage large-scale participatory projects.
Raising the company's profile on a local and national scale.
Increasing confidence in conceptually challenging yet accessible work.
Learning how to better support artists working in participatory contexts.
Feral has continued to work with the Heritage Festival Doors and Open Days, which specialise in opening up heritage to audiences, so they can access spaces virtually closed to the public.
Nic Green continues to conceive context-specific artworks with place and communities.  She is currently working with National Theatre Scotland and Scottish Association of Mental Health on LIKE FLYING; a sited, aerial performance made with teenagers in two local authorities in Scotland.
Read the other case studies
Read the evaluation report