Launch of 'Mr Five Per Cent'
At the launch of the Calouste Gulbenkian biography we considered the role of founders in our work today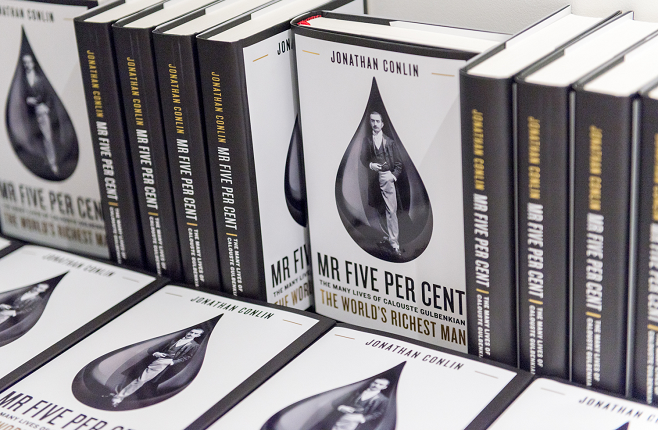 We were joined by peers and partners at an event to mark 150 years since the birth of our founder, at which we launched the first scholarly biography of his life. The launch of Mr Five Per Cent: The Many Lives of Calouste Gulbenkian was followed by a discussion about the place of founders in our work today.
The evening began with great grandson of Calouste Gulbenkian and Calouste Gulbenkian Foundation Trustee Martin Essayan interviewing Dr Jonathan Conlin, the biography's author. Jonathan told the audience about Calouste's many-sided existence as an investor, deal-maker and entrepreneur. He also spoke about Calouste's international outlook and his commitment to bringing people together from different cultures and nationalities, describing him as "the ultimate citizen of nowhere".
Jonathan explained how Calouste's vision of philanthropy differed from the form that was favoured in his native Armenia, where the wealthy were encouraged to give back to their local community. Instead, he wanted the beneficiaries of his philanthropy to be 'all humanity'. Calouste's wish for his Foundation to reflect his interests in arts, science, education and social welfare is evident in our work.
The biography raises questions about the degree to which foundations should stay faithful to donor intent. A panel discussion, chaired by Janet Morrison, Chair of the Baring Foundation and ACF, considered the extent to which founders are a constraint or inspiration for foundations today.
Moira Sinclair, Chief Executive of the Paul Hamlyn Foundation, revealed how founder Paul Hamlyn's progressive values and role as an innovator had influenced the organisation. While shaping the recent strategy, staff and trustees had discussed the underpinning values of the organisation and Paul himself. These values were used as the bedrock, while providing freedom for staff and trustees to contribute their expertise and ideas. Paul's passion for increasing access to the arts, interest in migration, and concern for improving the lives of vulnerable communities India all continue to be represented in the organisation's work.
Unlike the Calouste Gulbenkian Foundation, the Paul Hamlyn Foundation was established in its founder's lifetime. When asked if Paul would love or loathe the organisation as it is now, Moira joked that he would be astonished by the bureaucracy – in the early days it was just him. Moira also noted the power of storytelling. Talking about Paul's background as a migrant and entrepreneur has been a useful way for the Paul Hamlyn Foundation to connect with grantees.
The event revealed the many ways that organisations are inspired by their founders, from beneficiaries and thematic areas of interest to values. For many foundations, it is about finding the balance between inspiration and innovation, while responding to contemporary needs.