Gulbenkian Galapagos Artists' Residency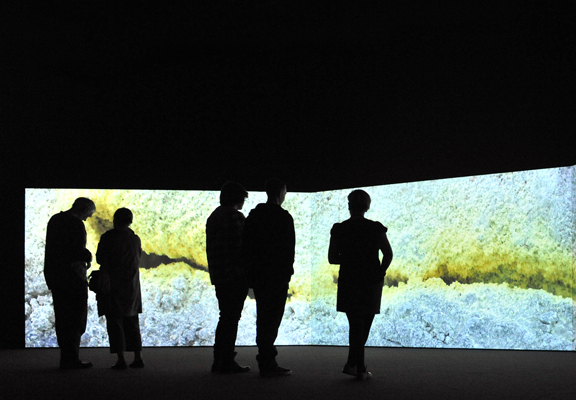 While most of us have been trying to avoid volcano-induced chaos, two Brighton-based artists have been getting up close and personal with these most eruptive of nature's giants.
With the help of The Gulbenkian Galapagos Artists' Residency Programme and an Arts Council England Grants for the arts award of more than £30,000, moving image artists Ruth Jarman and Joe Gerhardt have recently returned from a once in a lifetime trip to study live volcanoes on the Galapagos Islands.
Ruth and Joe of Semiconductor will use their experiences and footage gathered on the islands to create what is sure to be a fascinating new body of work Worlds in the making.
During January and February 2010, Ruth and Joe travelled to the islands to take part in the Galapagos Conservation Trust's Artists' Residency Programme, funded by the Calouste Gulbenkian Foundation, which included spending three weeks on the Galapagos Islands.
The initial stage in the trip involved an eight day boat trip touring the islands, chaperoned by a naturalist guide, followed by seven days at the Charles Darwin Foundation – the primary research organisation for Galapagos and local partners in the Gulbenkian Galapagos Artists' Residency Programme. After a further week on Isabela, the largest island, they then completed their trip in mainland Ecuador.
'We wanted to visit the volcanically produced Galapagos Islands to research a new body of work exploring volcanoes,' Ruth explains.
It was while on mainland Ecuador, however, that they experienced their most explosive filming conditions while staying at the foot of the Tungurahua volcano.
'Tungurahua wasn't erupting when we initially left for Ecuador so it was a twist of fate that we coincided with this exciting episode in its history,' Joe tells us. 'We spent about two weeks there, returning a couple of times drawn in by the eruptions.
'It was such a physical experience. As the volcano violently exploded rocks and lava from its crater, a sonic wave would hit you followed closely by the most thunderous blast. It was so exhilarating that we spent two sleepless nights of volcano watching and filming.'
Since returning from their adventures, Ruth and Joe have been creating their new work, using the film footage they collected during their trip, applying their own custom animation techniques and using processes that they have learned from the volcanologists they met.
'We are a creating a multi screen installation work that is much more ambitious in length and scale than anything we have done before,' Ruth tells us.
Semiconductor's adventures in science and art do not stop there. As a result of their Galapagos residency, they have been awarded a Smithsonian Artists Fellowship.
Ruth explains: 'This is really exciting for us because it offers us an opportunity to continue to research we've been doing on the Galapagos Islands. We'll be spending three months in the mineral sciences department of the Smithsonian Natural History in Washington DC this August.'
Meanwhile, as opportunities to exhibit the new work Worlds in the making are explored, teaser excerpts will be available to view at www.semiconductorfilms.com
Notes to editors
The Gulbenkian Galapagos Artists' Residency Programme has enabled up to 12 leading artists to spend time in the Galapagos archipelago to reflect on its unique nature, its historic value and current importance, and the human and conservation challenges it faces. Artists have been invited to engage with the Galapagos on their own terms, to mix with both the local and scientific communities on the islands, feel inspired to make work connected to their experiences and encouraged to share it with a wide audience.
Lying 600 miles of the coast of Ecuador the Galapagos Islands make up one of most important wildlife areas in the world and became Darwin's most significant stop-off during his survey aboard HMS Beagle. His observations and discoveries of new species here became the bedrock for his theory of evolution through natural selection. Today the islands, surrounded by the fourth largest Marine Reserve in the world, are famously still home to a range of unique wildlife including the giant tortoise, marine iguana, flightless cormorant, blue-footed booby, waved albatross and Darwin finches.
Galapagos Conservation Trust (GCT) is the only UK charity dedicated to supporting Galapagos. Established in 1995 GCT generates income for numerous projects to protect the biodiversity of the islands and meet the challenges of how the human population can live in balance with the unique environment and wildlife of Galapagos. GCT also provides crucial support to the Charles Darwin Foundation on Santa Cruz Island and to the Galapagos National Park Service. www.savegalapagos.org
The Calouste Gulbenkian Foundation's purpose in the UK and Ireland is to help enrich and connect the experiences of individuals and secure lasting and beneficial change. One of its core aims is to support imaginative interventions that contribute to an increased understanding of the importance of habitat conservation for the protection of the environment. The Foundation was established in Lisbon in 1956. The UK Branch, based in London, has for more than 50 years initiated and supported pioneering cultural, social and educational developments. www.gulbenkian.org.uk
Arts Council England works to get great art to everyone by championing, developing and investing in artistic experiences that enrich people's lives. As the national development agency for the arts, we support a range of artistic activities from theatre to music, literature to dance, photography to digital art, and carnival to crafts. Great art inspires us, brings us together and teaches us about ourselves, and the world around us. In short, it makes life better. Between 2008 and 2011, we will invest £1.3 billion of public money from government and a further £0.3 billion from the National Lottery to create these experiences for as many people as possible across the country. www.artscouncil.org.uk
For more information, images and interviews contact:
Chloë Barker
Communications Officer, Arts Council England
01273 763053
[email protected]
or
Felicity Luard
Head of Communications
Calouste Gulbenkian Foundation, UK Branch
020 7012 1410
[email protected]
or
Jonathan Rush
Acting Press & Information Officer, Galapagos Conservation Trust
07798 812253
[email protected]