Cultural spaces: responses to homeless communities during COVID-19
With One Voice has produced visual guidance for cultural spaces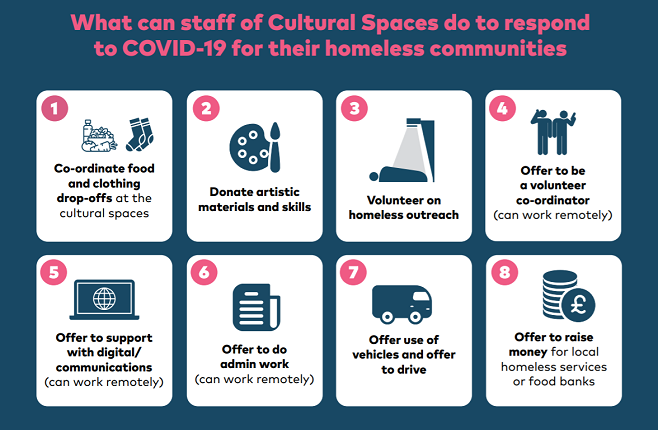 Although cultural spaces are closed with devastating financial consequences for organisations and staff, many still want to respond to their local homeless community and those facing food poverty.
International arts and homelessness movement With One Voice (WOV) has published a short visual guide on how cultural spaces and their staff can respond to the COVID-19 outbreak and support homeless communities.
The idea for the guidance came out of a webinar to launch WOV's 'Cultural Spaces Responses to Homelesness' programme. The initiative supports cultural venue to deepen their engagement and/or work with people who are, or have been, homeless. The webinar brought together over 60 people from across the globe, from the United States to India. Cultural spaces around the world had been struggling with knowing how best to respond to the pandemic and provide support to those in need.
Following the webinar, and after conducting interviews with London-based grassroots organisations and cultural spaces, WOV published a handy guide for cultural organisations and their staff.
At the Calouste Gulbenkian Foundation (UK Branch), our Civic Role of Arts Organisations programme is seeking to create a movement of change makers, with impact in their local communities, across the UK and internationally. It is inspiring to see so many arts organisations rapidly reimagining their civic role in these extraordinary times and exploring how best to be relevant to their communities.
Please share this guide with other cultural organisations using the hashtag #morethanavenue.
Access the guidance document
Cultural Spaces Responses to Homelessness Programme presentation
Cultural Spaces and Homelessness – Coronavirus Responses