Compass Course – learn values and systems-based approaches for ocean action
Join this online learning course growing the change-making capabilities of marine professionals through values and systems-based approaches.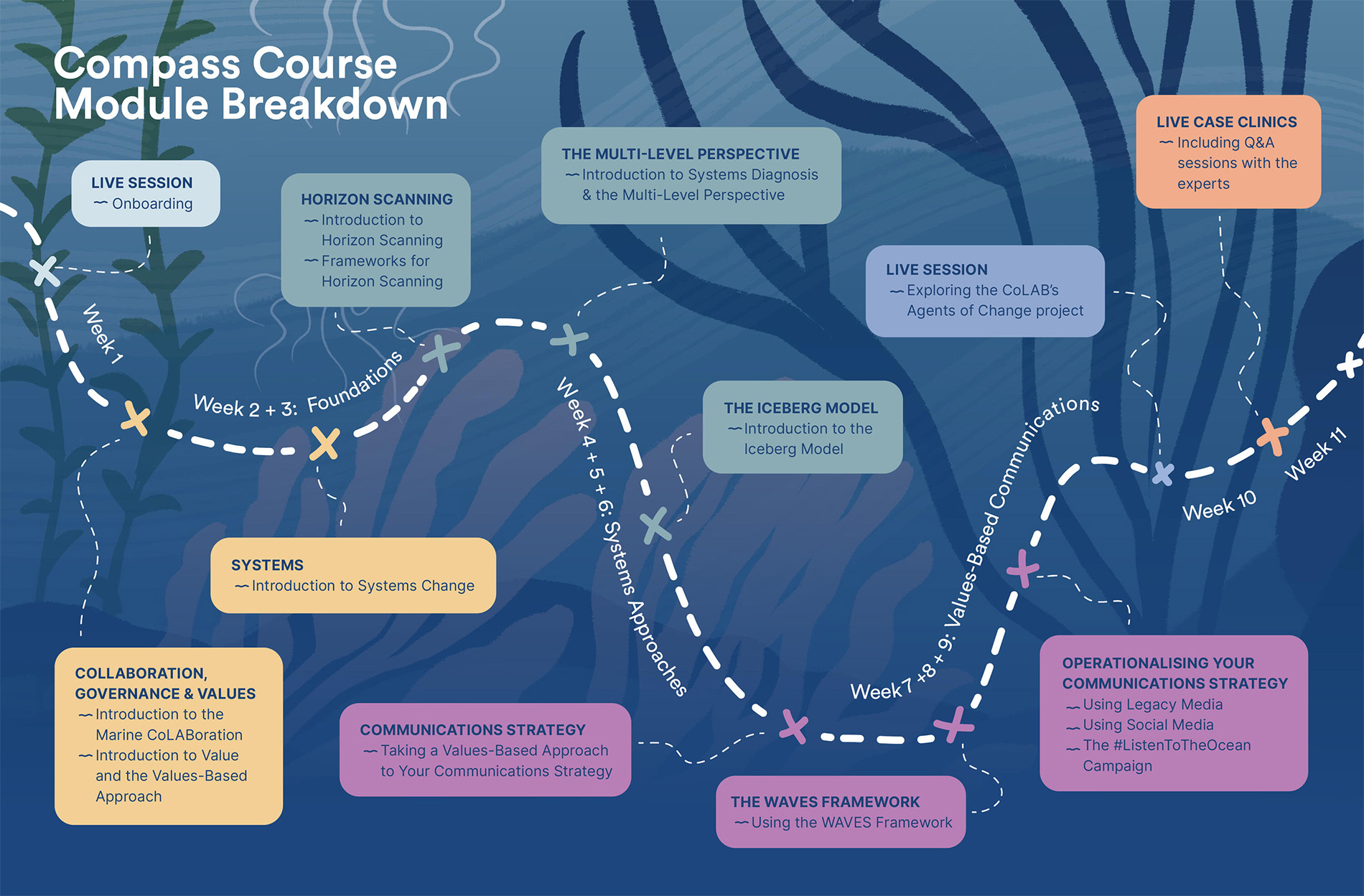 Applications are open for a new cohort of Compass participants, an online learning programme for practitioners working to influence marine and coastal issues.
The course has been designed by the Marine CoLABoration and supported by the Calouste Gulbenkian Foundation (UK Branch). Compass aims to enhance participants' capabilities to communicate the value of the ocean and accelerate whole-system change – essential skillsets as we approach COP27.
Compass has three main modules – Foundations, Systems Approaches and Values-Based Communications – based on approaches developed and tested by the CoLAB. The modules explore topics including collaborative working, 'systems tools' such as horizon scanning, system diagnosis and systems models, as well as ways to devise a communications strategy and use social and legacy media to the greatest effect.
Participants join a community of practitioners working to accelerate ocean action. Compass is a flexible, self-paced course delivered through a mixture of pre-recorded video sessions, exercises and live sessions. The live sessions provide an opportunity to engage with other participants and speak with the CoLAB's systems and communications experts.
Read more about the course, including information on full and partial bursaries. Apply by 29 September.
About the Marine CoLABoration
The Marine CoLABoration is a collaborative community of marine and related NGOs. Over the last six years, the CoLAB has worked together to put value at the heart of shaping solutions for our ocean and explore how to communicate why the ocean matters more effectively. This resulted in successful experiments, including:
The CoLAB is a flagship initiative of the Foundation's Valuing the Ocean programme. We are supporting Compass as a key part of the CoLAB's strategy to share and scale effective approaches to communicating the value of the ocean.
Read more