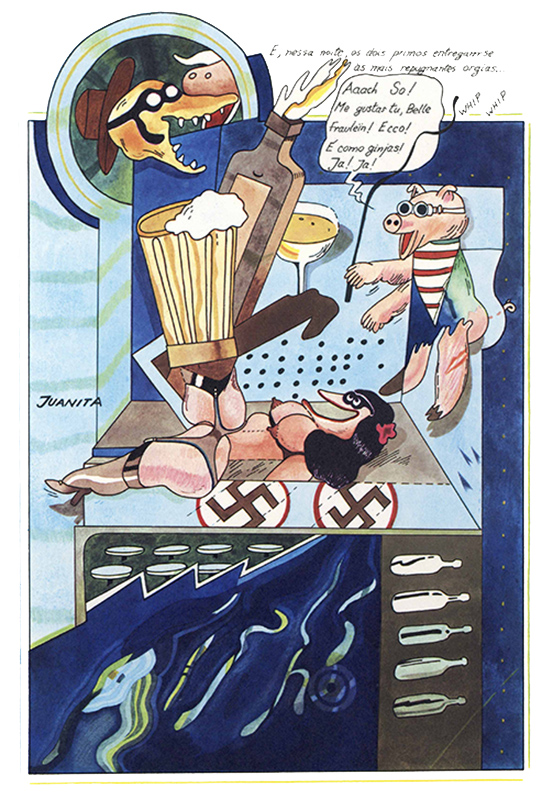 Conversations on Comic Strips
Comic strips and illustration in relation to the visual arts in Portugal during the 1960s/1970s
When
Sat, 26 May 2018
16:00 until 18:00
Tickets
Free admission subject to capacity restrictions.
Starting with what was then regarded as an 'avant-garde comic strip' by Eduardo Batarda,O Peregrino Blindado (the blind penguin), As Aventuras do Dr. Bronstein – Proezas do Unfriendly Kid e Outras [The Armoured Pilgrim (the blind penguin), The Adventures of Dr Bronstein – The Exploits of Unfriendly Kid and Others], published in 1973 by Manuel de Brito's Livraria-Galeria 111, in Lisbon, this session will diverge into the mutual influence between comic strips, illustration and the visual arts in Portugal during the 1960s and the years leading up to and immediately following the revolution of 25 April 1974. Other examples of works presented in the exhibition Post-Pop. Beyond the commonplace, such as the 25 April posters by Vespeira, Artur Rosa and João Abel Manta, or the illustrations of this last artist for the book Dinossauro Excelentíssimo[Most Excellent Dinosaur] by José Cardoso Pires (published in 1972), also serve as a motif for the development of the theme.
This lecture takes place in the context of the exhibition Post-Pop- Beyond the commonplace.
Participants: João Paiva Boléo, António Jorge Gonçalves and Jorge Silva
What's On