Auditions for Supplementary Musicians
The Gulbenkian Orchestra will open auditions for Supplementary Musicians - Violins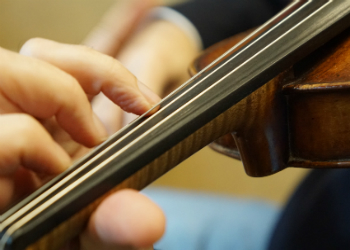 Auditions are organized to establish a list of supplementary musicians who can reinforce and cover the specific needs of various projects at the Gulbenkian Orchestra. The auditions have a prospective/indicative nature and the Calouste Gulbenkian Foundation reserves itself the right not to engage any of the candidates present in the audition, regardless of their classification.
Applications
Please apply by sending an email with your CV to audicoesog@gulbenkian.pt .
The closing date for applications is Sunday, 2nd March 2018, by 24:00.
Dates and Schedule
The auditions will take place at the Calouste Gulbenkian Foundation's Main Building, in Lisbon, Portugal (Avenida de Berna, 45-A, 1067-001 Lisboa), on the 12th March 2018.
The schedule for the auditions day will be the following:
09:00 – Presentation and check-in opening (Gulbenkian Foundation main entrance)
10:00 –Auditions start
Order of the audition
The order of the auditions will be defined by the arrival order at the venue. Every candidate must be accompanied by an identification document.
Jury
The jury for the audition will be composed by Gulbenkian Orchestra members.
Programme
To obtain the auditions programme, please click here.
Costs
The Gulbenkian Orchestra won't support any costs regarding accommodation or traveling for the auditions.