Creative Culture Program in Lebanon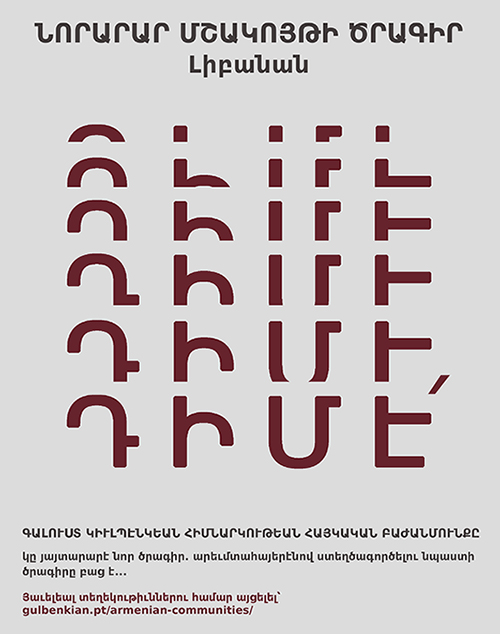 In 2019, the Armenian Communities Department of the Calouste Gulbenkian Foundation (hereinafter CGF) developed and published a new strategy to guide its activities in Lebanon. The strategy for Lebanon outlines the nature of the Department's engagement with Armenian institutions, teachers, students and other individuals in the country, while maintaining its focus on youth and on the Western Armenian language.
The CGF "Creative Culture Program" is one of the five pillars of focus of CGF's strategy concerning the Foundation's engagement in Lebanon. The Program is the main tool through which CGF's focus on youth and creativity would be materialized and supported.
The main objective of this program of support is to give creative minds and cultural practitioners in Lebanon the chance to develop innovative initiatives conceived and undertaken in the Western Armenian language. This Program aims to initiate a culture of creation in Western Armenian, mainly amongst the youth, while also aiming to ensure its continuous practice.
Within the specific objective of reinforcing the use of Western Armenian as a language of creativity and innovation, the priorities of the CGF "Creative Culture Program" in Lebanon are to encourage young people to explore their potential in Western Armenian, to give opportunities to people with innovative approaches to produce new multi-disciplinary or inter-disciplinary cultural works in Western Armenian, and to identify young talented individuals who can be active agents in bringing the language to the forefront of their contemporary reality by making it contemporaneous and relevant to today's world.
Creative Culture Program
Applications
To read the Calouste Gulbenkian Foundation's Lebanon Strategy in full, please consult the following documents in English and Armenian.
Read the announcement in Armenian.