Zarmanazan 2019 New and Familiar Faces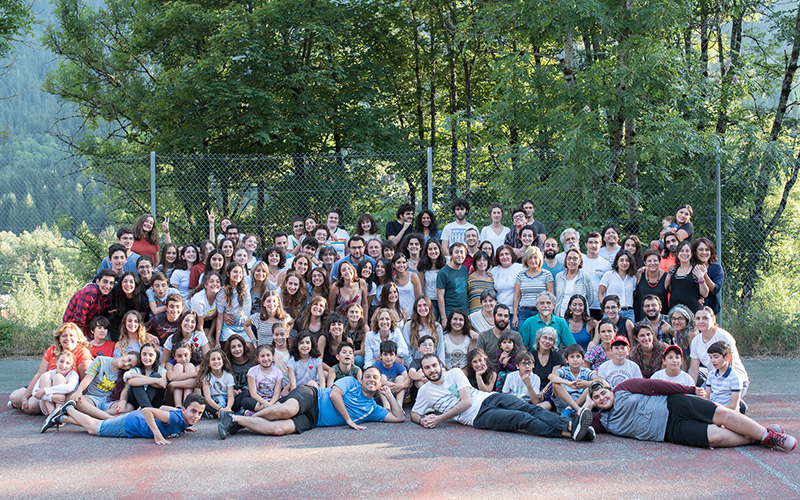 This year the Zarmanazan summer language programme brought together 49 children (ages 10-17), 15 young adults (ages 18-24) and 21 facilitators from 12 different countries to collectively develop their Western Armenian language skills. The camp took place in the mountains of the French-Swiss Alps region of France, from 12 July to 7 August 2019.
"Teaching Western Armenian in Diaspora" teacher (re)training course, offered in partnership with the Institut National des Langues et Civilisations Orientales (INALCO), is also part of Zarmanazan. This year, 15 teachers or teachers-in-training participated, working with innovative pedagogical approaches and taking part in various seminars and workshops. Importantly, part of their practical training was with the children attending Zarmanazan. Based on second language acquisition and critical thinking methodologies, the course continues throughout the year with follow up assignments. Zarmanazan was organised by L'association Mille et un Mondes and INALCO and funded by the Armenian Communities Department of the Calouste Gulbenkian Foundation.  
This year we asked one of the Zarmanazan facilitators, Teni Apelian, Singer in "Zulal Armenian A Cappella Trio," to describe Zarmanazan by sharing with us her impressions:
For the past three years, children, artists and learners have gathered from various countries to join in creating a Western Armenian-fueled world where art and movement reign. The heart of Zarmanazan lies in the approach of the artist's studio, where discipline meets fluidity, learning is creation-based, and the breaking of bread is as important as the stroke of the brush.  
Zarmanazan is based on two simple truths. First, that in order to grow a language, one must be able to create in it and second, that a language is lived, not taught. UNESCO flagged Western Armenian as an endangered language in 2010, but Zarmanazan challenges us to stop thinking about preservation, which is defensive in nature, and to throw ourselves into the active, where words allow us to build, share, express, and even philosophize. Armenian becomes part of the self on a daily basis.
"Circle or "շրջանակ" means one thing on the tongue or on paper, but it takes on a whole new life when you form it in clay, when you dance it, when you weave it, when you paint it. When you roll it in your hand or trace it with the nerve endings of your fingers. When you adorn it. When you form it with fellow friends every time you want to speak, play, dance or sing together. At Zarmanazan we live the language we seek to revive in ourselves and in so doing, the language is folded into our inner selves. Armenian becomes internal rather than carried on top of our heads like a cap that might be blown off in a strong wind. 
As the backdrop for this "studio" called Zarmanazan stand the clean mountains of the Alps, with cool streams that remind me of the Armenian folk songs I sing with a longing that predates me. There, the only din might be the bells of passing cows. By carving out a space with no digital noise, (even the wired facilitators and teachers just stopped checking their social media), children and young adults make space for their own voices. What begins as a murmur ends in an uproar of people who have connected to a new part of themselves and made true friends that span the globe. 
A typical day's pursuits are structured in workshop and fluid "cloud" formats and offerings include: Capoeira (the Brazilian martial art), stop-motion animation using forest findings, baking, folk dance, Zarmanatsayn radio (writing and recording), crafting, painting, philosophy, hiking, building forest dwellings, expressive dance, play-writing, clay and story, journalism, card games (simple and epic), drawing, daydreaming, game making, astrology, sewing, theatre arts, singing, song writing, photography, yoga, Tai Chi, badminton, chess, soccer, green works, casual conversation. All are lived and shared in Western Armenian.
Zarmanazan is a medley of new and familiar faces, different home languages and cultures with an important common key: the willingness to create and the belief that Western Armenian is a language that must continue becoming.
For further information consult the Zarmanzan website or [email protected]