Giancarlo Guerrero appointed new Principal Guest Conductor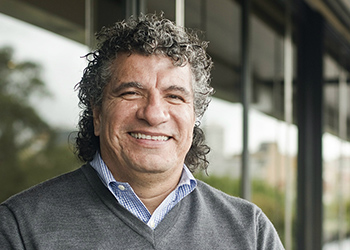 Gulbenkian Orchestra has appointed Giancarlo Guerrero as its new Principal Guest Conductor. Guerrero will begin a three-year term in August 2018 and will conduct up to four weeks with the orchestra each season.
In June 2017, Guerrero was announced as the new Music Director of the NFM Wrocław Philharmonic for an initial term of three seasons. He will conduct four weeks in 2017-18 which will increase to eight weeks in the 2018/19 season plus touring and recording projects. The orchestra is based in the magnificent new hall at the National Forum of Music, Wroclaw.
Guerrero is also the Music Director of the Nashville Symphony, a post he has held since 2009 and to which he is committed through to the 2024/25 season. During his tenure Guerrero and the orchestra have made more than a dozen award winning recordings for Naxos, and have won eight Grammys.
Giancarlo Guerrero has commented on his appointment in Lisbon:
"Gulbenkian was the first orchestra I conducted in Europe so it has a special place in my heart. Returning as Principal Guest Conductor feels a bit like coming home. There was wonderful chemistry with the musicians from the very first concert I performed with them more than a decade ago, and they have been so welcoming every time I have returned. They took a chance on me as a young conductor and I remain grateful for that.
I have also fallen in love with Lisbon and the Gulbenkian Foundation, a cultural cornerstone of the city which is constantly forging connections beyond its own walls and into the community. The same can be said about the virtuosic and deeply committed members of the orchestra who are true ambassadors for the institution."
Risto Nieminen, director of the Music department of the Gulbenkian Foundation, says:
"In Lisbon Giancarlo Guerrero is greatly loved by the orchestra as well as the audience. He transmits musical energy that is contagious and creates extraordinary concerts. At home with a wide variety of repertoire, I am sure Giancarlo will take us on many enlightening musical journeys."
Guerrero's guest conducting engagements takes him to orchestra including the Boston Symphony, Cleveland Orchestra, Seattle Symphony, DSO Berlin, Frankfurter Museums-Gesellschaft, NDR Hannover, Deutsche Radio Philarmonie, Brussels Philharmonic, Bilbao Symphony Orchestra, Sinfónica de Galicia, and the Sydney Symphony.
Regarding the concert in February 2017, Portuguese newspaper Expresso mentioned:  "(…) magnificently performed by the orchestra, galvanised by the lively conducting by Giancarlo Guerrero in this well timed comeback at Gulbenkian…One thing is certain: an unforgettable concert."