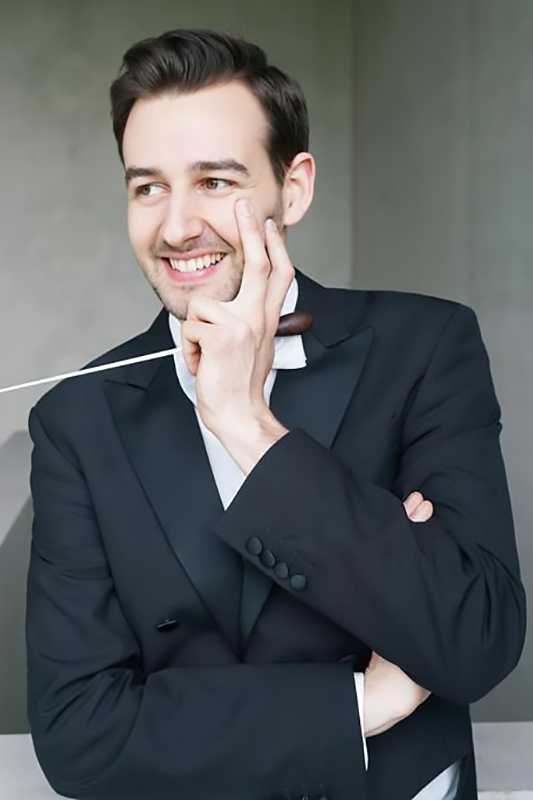 Tobias Wögerer
Conductor
Tobias Wögerer was born in 1991 in Linz and is one of the most promising Austrian conductors. He was appointed Assistant Conductor of the Gustav Mahler Jugendorchester with the beginning of the season 2018/19.
He studied cello at the University "Mozarteum" Salzburg and at the University of Music and Arts in Vienna where he finished his Bachelor's degree on his instrument with distinction. Currently, he is studying orchestral conducting with Prof. Nicolás Pasquet and Prof. Ekhart Wycik at the University of Music Franz Liszt in Weimar.
During the last couple of years, Tobias Wögerer created a lot of orchestral projects, he received invitations by numerous orchestras and was able to build his reputation as a conductor. In 2013, he founded the orchestra "Symphonic Ensemble Aktuell" and became Music Director of the Euregio Youth Orchestra, which he led until 2016. At the age of 23 he followed an invitation to a Mozart Festival in Japan. Moreover, he was a regular guest conductor of the Philharmonie Salzburg and collborated with renowned soloists such as Benjamin Schmid, Olga Scheps or Nikolai Tokarev. He is also a member of the well-respected choir Wiener Singverein where he regularly assists the artistic director Johannes Prinz.
In fall 2016, he led his first opera production, Der Kaiser von Atlantis by Victor Ullmann, at the international Brucknerfest Linz. In March 2017, he had his successful debut with the Bruckner Orchester Linz and shortly after that he conducted a fulminant concert with his own orchestra "Symphonic Ensemble Aktuell" at the Vienna Konzerthaus. In summer 2017, he undertook the musical leadership of the Vienna Philharmonic' Opera Camps at the Salzburg Festival, for which he was invited again to Salzburg in 2018.
Recent engagements in the season 2018/19 include a tour to China with the Philharmonie Salzburg and several concerts in Japan. In the beginning of 2019 he conducted a number of New Year's concerts in Germany with the Göttinger Symphonie Orchester.
In February 2019 Tobias Wögerer makes his debut with the Gustav Mahler Jugendorchester during its Easter Tour 2019 with two concerts in Lisbon.