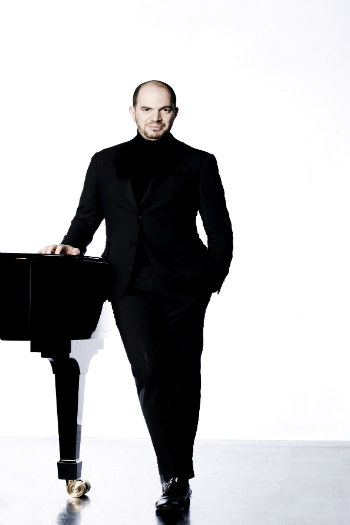 Kirill Gerstein
Piano
Pianist Kirill Gerstein's natural versatility and insatiable curiosity is the motivation behind his dedication to a wide range of repertoire and styles. From Bach to Adès, Gerstein's playing is distinguished by its clarity of expression, discerning intelligence and virtuosity, an energetic and imaginative musical presence that has propelled him to the top of his profession.
Born in the former Soviet Union, Gerstein is an American citizen based in Berlin. His career is equally international, carefully balanced between engagements in the US, Europe and increasingly the Far East and Australasia. This season's highlight is the world première of a new piano concerto, commissioned by the Boston Symphony Orchestra and composed especially for Gerstein by Thomas Adès. The world première in Boston and subsequent New York performance will be conducted by the composer, as will the European première with the Leipzig Gewandhaus. Gerstein and Adès will further collaborate for performances of In Seven Days in London with the London Philharmonic and in Los Angeles with the LA Philharmonic, and for recitals in New York and Boston featuring the New York première of Adès' Concert Paraphrase on Powder her face for two pianos.
In addition to this season's focus on the Adès' music, Gerstein will perform the new urtext edition of Tchaikovsky's Piano Concerto No. 1 that he has championed with Semyon Bychkov and the Czech Philharmonic on tour in the US as well as in Shanghai with the Shanghai Symphony Orchestra under Zhang Guoyong.  In London, he will make his debut with the London Symphony Orchestra under Sir Mark Elder performing Beethoven's Piano Concerto No. 3; a piece he also performs with the Danish Symphony under Alexander Vedernikov. Further repertoire this season includes piano concertos by Schönberg and Gershwin (Helsinki Philharmonic, Orquestra Sinfônica de São Paolo); Rachmaninov's Piano Concerto No. 2 (Atlanta Symphony); Ravel's Piano Concerto in G (Philadelphia Orchestra); Rachmaninov's Piano Concerto No. 3 (Cleveland Orchestra, Cincinnati Symphony); Beethoven's Piano Concerto No. 5 (Rotterdam Philharmonic); Beethoven's Piano Concerto No. 4 (Toronto Symphony); Bernstein's The Age of Anxiety (Orchestre Philharmonique de Paris); Brahms' Piano Concerto No. 2 (Guangzhou Symphony); Tchaikovsky's Piano Concerto No. 2 (Orquesta Sinfónica de Galicia, NDR Hamburg, Czech Philharmonic, Detroit Symphony); Scriabin's Piano Concerto in F sharp minor (St Louis Symphony); Gershwin's Piano Concerto in F (Philharmonie Luxembourg, Sydney Symphony); Tchaikovsky's Piano Concerto No. 2 (Czech Philharmonic), Mozart's Piano Concerto No. 20 (Lapland Chamber Orchestra, Dresden Staatskapelle); Brahms' Piano Concerto No. 1 (Norrköping Symphony); Ravel's Piano Concerto in D for left hand alone and Busoni's Romanza e Scherzoso (Deutsche Radio Philharmonie); and Grieg's Piano Concerto in A minor (Sydney Symphony).
His curiosity does not stop with exploring the concerto repertoire.  Gerstein is both a keen recitalist and chamber musician, and during the season will be giving recitals in London, Stuttgart, Lisbon, Singapore, Melbourne and Copenhagen, as well as joining colleagues Veronika Eberle and Clemens Hagen in Lucerne, and actor Bruno Ganz for recitals in Germany and Austria.
Gerstein's next recording will be available in the autumn when LAWO Classics release the final installment in a series of Scriabin recordings made with the Oslo Philharmonic and their Chief Conductor Vasily Petrenko. September's release features Gerstein performing Prometheus: The Poem of Fire which follows last year's recording of Scriabin's Piano Concerto in F-sharp minor. Future recordings this season include Busoni's Piano Concerto on myrios classics in spring 2019 and Tchaikovsky's Piano Concerto Nos. 1-3 in summer 2019, part of Semyon Bychkov's Tchaikovsky Project recorded for Decca with the Czech Philharmonic at the Rudolfinum in Prague. Previous and recent recordings for myrios classics include The Gershwin Moment, released earlier this year; Liszt's Transcendental Études, picked by The New Yorker as one of 2016's notable recordings; Tchaikovsky's First Piano Concerto in the composer's own final version from 1879; Imaginary Pictures coupling Mussorgsky's Pictures at an Exhibition with Schumann's Carnaval; two discs with Tabea Zimmerman of sonatas for viola and piano by Brahms, Schubert, Franck, Clarke and Vieuxtemps; and a recital disc of works by Schumann, Liszt and Knussen.
Brought up in the former Soviet Union where he studied both classical and jazz piano, Gerstein was 14 when he moved to the US as the youngest student to attend Boston's Berklee College of Music.  As his focus shifted towards the classical repertoire, Gerstein furthered his studies with Solomon Mikowsky in New York, Dmitri Bashkirov in Madrid and Ferenc Rados in Budapest.  Gerstein won the first of a series of prestigious accolades in 2001: First Prize at the 10th Arthur Rubinstein Competition. In 2002, he won a Gilmore Young Artist Award, and in 2010 both an Avery Fisher Career Grant and the Gilmore Artist Award, which enabled him to commission new works from Timothy Andres, Chick Corea, Alexander Goehr, Oliver Knussen and Brad Mehldau.  A great believer in the importance of teaching, until recently Gerstein taught at the Stuttgart Musik Hochschule (2007-2017) and this autumn will join the Kronberg Academy's newly announced Sir András Schiff Performance Programme for Young Artists.