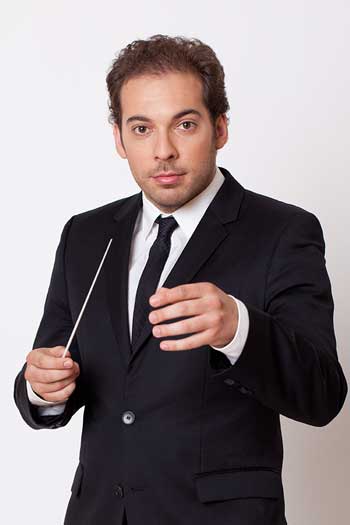 José Eduardo Gomes
Conductor
José Eduardo is principal conductor of the Classical Orchestra of the Center in Portugal, Classical Orchestra of FEUP and Círculo Portuense de Ópera Choir.
Recently, he was distinguished in the national competition "Prémio Jovens Músicos" in orchestral conducting, with the 2nd prize and the special Orchestra Prize.
He began his musical studies with the clarinet in his born town V. N. Famalicão. Later he continued his studies in ARTAVE and ESMAE – Porto, where he graduated in Antonio Saiote's class. He followed studied in Orchestral Conducting at the Haute École de Musique de Genève (Switzerland), with Laurent Gay, and choral conducting with Celso Antunes. He participated in masterclasses of Orchestral Conducting with Jorma Panula, Antonio Saiote, Cesario Costa, Jan Cober, Gianluigi Gelmetti, Jésus López Cobos, Alexander Polishuk, Ernst Schelle, Luiz Gustavo Petri, Douglas Bostock, José Rafael Vilaplana and Peter Rundel.
José Eduardo is founder of the clarinet ensemble "Quarteto Vintage" and still performs regularly in Portugal, Italy, Belgium, Switzerland, Japan and Canada.
Was distinguished in national and international competitions: "RTP Antena 2 Young Musicians Award", Portugal; "Competition Marcos Romão" Portugal and "International Competition Villa de Montroy", Valencia (Spain).
Pursuing a career as an orchestra conductor, José Eduardo has been invited to work with Orquestra Sinfónica do Porto Casa da Musica, Orquestra Sinfónica Portuguesa, Orquestra do Algarve, Orquestra Filarmónica das Beiras, Banda Sinfónica Portuguesa, Remix Ensemble Casa da Música, Orquestra Clássica da Madeira, Orquestra Gulbenkian, Orquestra Clássica do Centro, Orquestra Clássica de Espinho, Orquestra Sinfónica da ESART, Symphony Orchestra Kaposvár, among others.
Between 2008 and 2011 he was principal conductor of the Orchestre Chambre de Carouge, in Switzerland.
In the last years, José Eduardo has had the opportunity of assisting Martin André with the Orchestra Momentum Perpetuum at Casa da Música, and Peter Eötvös with the Orquestra Sinfónica do Porto – Casa da Música, two very important moments of his development as a conductor, and with soloists such as Bruno Giuranna, Atar Arad, Helen Callus, Roger Meyers, Iva Barbosa, Otto Pereira, Joao Sousa, Francisco Luis Vieira, Ana Luísa Pereira, Carolino Carreira, Francisco Pérez, Mario Laginha, André Dias, Joana Seara, Rui Gama, Ana Maria Pinto, Job Tomé, Luisa Tender, Henk van Twillert, Vitorino, Aldo Salvetti, Armando Mota, Ricardo Gaspar, Pedro Lopes, Artur Pizarro, José Corvelo, Tomás Matos, Marina Pacheco, Sofia Escobar, Mario João Alves, Sérgio Pacheco or Natalia Pegarkova.
Another important part of his work is dedicated to youth orchestras such as Orquestra Geração in Portugal, and in music schools like Professional Music School Viana do Castelo Music, ARTAVE, Costa Cabral Music Academy, Jobra, EPABI, Sousa Valley Academy and Castelo de Paiva Academy.