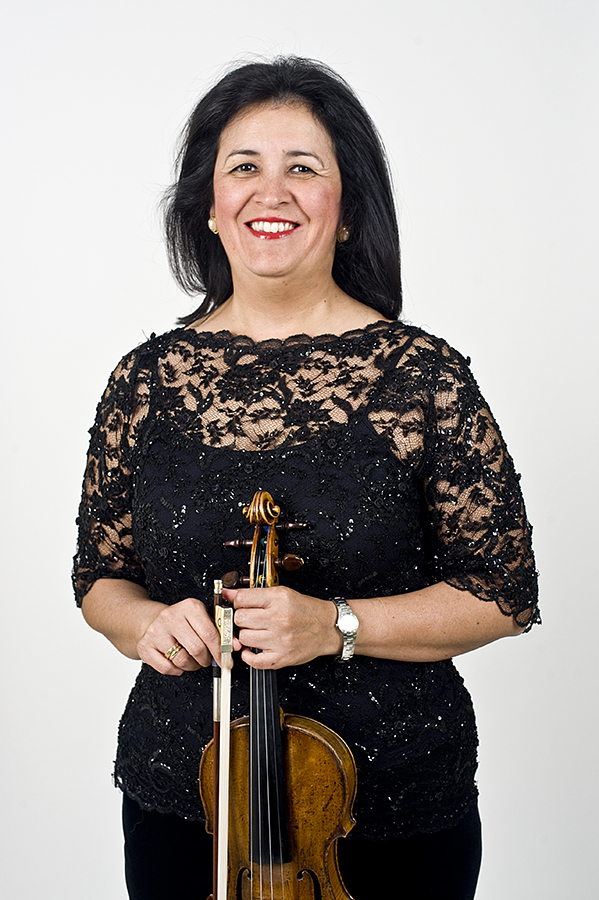 Ana Beatriz Manzanilla
Violin
The Venezuelan violinist Ana Beatriz Manzanilla has been a member of the Gulbenkian Orchestra since 1996. She was born in Barquisimeto and was trained in Venezuela's Youth Orchestra System "El Sistema" with José Francisco del Castillo. She also studied with Ron Rogoff and attended the European Mozart Academy in Krakow (Poland). She has followed a diverse professional career, including performances in recitals and concerts. She has played with the most important orchestras in her own country, such as the Simón Bolívar Symphony Orchestra and the Municipal Orchestra of Caracas, as well as the National Orchestra of Panama, the Munich Youth Orchestra and the Rhodanien Philharmonic Orchestra (in France). In Portugal, she has worked with Gulbenkian Orchestra, Sinfónica Portuguesa, Orquestra do Algarve, Sinfonietta de Lisboa and Orquestra Clássica do Centro. She has performed as a soloist in several countries in Latin America and Europe.
She is the founder and Artistic Director of the Camerata Atlântica and teaches violin at Escola Superior de Música de Lisboa. She has devoted a great deal of her work to young people, particularly within the Projeto Geração. She joined the Orquestra Estágio Gulbenkian in 2013 as a tutor. In 2015, she created the Concurso Nacional de Cordas Vasco Barbosa, of which she is the director. She also works in preparing the string sections of the Orquestra Sinfónica Juvenil and the Nova Ópera de Lisboa.
For several years, she was an assistant concertmaster for the Lara Symphony Orchestra (Venezuela). She was also concertmaster of the Orquestra do Norte. She has recorded two albums with duos for violin and viola, and with the Gulbenkian Orchestra she recorded Mozart's Concerto for Violin in G major, in the year in which the orchestra celebrated its 50th anniversary.
November 2016