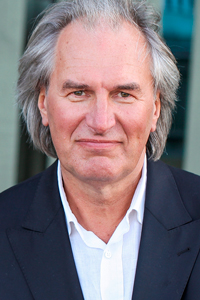 Tõnu Kaljuste
Conductor
Tõnu Kaljuste has established himself as a leading interpreter of music by György Kurtag, Krzysztof Penderecki, Giya Kancheli and Alfred Schnittke, and in particular of Estonian composers such as Arvo Pärt, Erkki-Sven Tüür, Veljo Tormis, Heino Eller and Tõnu Korvits. For the Arvo Pärt album Adam's Lament by ECM Records with the Estonian Philharmonic Chamber Choir, Sinfonietta Riga, Tallinn Chamber Orchestra and Latvian Radio Choir the Estonian conductor was awarded the Grammy Award 2014.
He founded the Estonian Philharmonic Chamber Choir and Tallinn Chamber Orchestra and performed with the choir and orchestra in the major concert venues and festivals around the globe. He previously held the positions of Principal Conductor with both the Swedish Radio Choir and the Netherlands Chamber Choir.
As a staunch ally and committed advocate for the work of Arvo Pärt, Kaljuste lately led numerous concerts with music of the composer. He is a frequent guest conductor of orchestras such as the London Philharmonic, BBC Symphony Orchestra, Swedish Radio Symphony, Orchestra dell'Accademia Nazionale di Santa Cecilia, Budapest Festival Orchestra, Tonkünstlerorchester, Iceland Symphony, Noord Nederlands Orkest, RTE Symphony Orchestra Ireland, Czech Radio Symphony, Mahler Chamber Orchestra, Camerata Salzburg, Akademie für Alte Musik Berlin, Scottish Chamber Orchestra, Orchestre de Chambre de Lausanne, Norwegian Chamber Orchestra and Japan Century Symphony Orchestra. He is regularly working with the RIAS Kammerchor and Latvian Radio Choir.
Future engagements include collaborations with the Gulbenkian Orchestra & Chorus, Norrlands Operan Orchestra, Swedish Radio Choir, Norwegian Academy of Music, Wroclaw Philharmonic, touring with the Estonian Philharmomic Chamber Choir & Tallinn Chamber Orchestra among others.
From 1978 to 1985 Tõnu Kaljuste has been conductor of the Estonian National Opera, conducting Britten's Let's Make an Opera – The Little Sweep, Mozart's Bastian und Bastienne and Der Schauspieldirektor, Der Freischütz and Veljo Tormis' ballet Estonian Ballads. At the Hamburg Opera he was in the pit for Lera Auerbach's ballet The Little Mermaid. At the Nargen festival he led Fidelio and Haydn's Il mondo della luna.
A prolific recording artist, Tõnu Kaljuste has an extensive discography on the ECM, Virgin Classics and Caprice labels, lately the CD Gesualdo featuring music by Brett Dean, Erkki-Sven Tüür and Carlo Gesualdo da Venosa as well as the CD Mirror with works by Tonu Korvits. ECM Records releases the symphonies by Arvo Pärt with the Wroclaw Philharmonic Orchestra in autumn 2017. Many of his recordings have won prizes including the Diapason d'Or, Cannes Classical Award, Edison Prize and Classic BRIT Award.
Tõnu Kaljuste is a member of the Royal Music Academy of Sweden and recipient of the Japanese ABC Music Award and the Robert Edler Prize. Since 2004 he has been Artistic Director of the Nargen Opera Festival presenting music and opera performances on the Estonian coast.
Season 2018/19