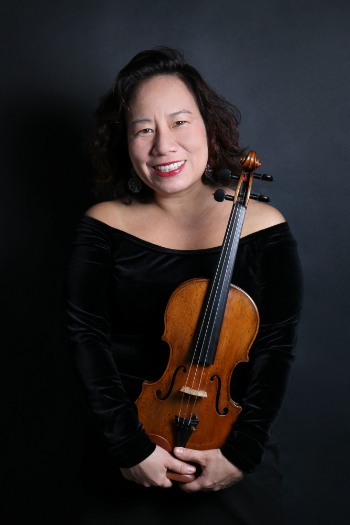 Tera Shimizu
Violin
American violinist, Tera Shimizu was born in Berlin, Germany. She began formative violin lessons with Josef Kovacs in Princeton, New Jersey. She studied at the Juilliard School with the renowned violin pedagogue, Dorothy DeLay, receiving her Bachelor of Music degree in 1993. She continued her studies, in London, at the Trinity College of Music with Richard Gwilt specializing in baroque violin/viola and historical performance practice receiving a Post-Graduate Diploma and the Early Music Award. She has participated in numerous workshops given by the Academia de Musica Antiga de Lisboa and in masterclasses with Anner Bylsma, Jurgen Kussmaul, Simon Standage, Reinhard Goebbel, Jordi Savall, Wilfried Strehle, Thomas Riebel, Donald Weilerstein as well as with members of the Juilliard, Tokyo and Emerson quartets. She has participated in the Waterloo, Pacific Music, Dartington Festivals amongst many others.
An avid chamber musician, she performs with Ensemble Dom Joao V, Os Músicos do Tejo, Ensemble Avondano, Contraverso, Flores da Música, Americantiga, Divino Sospiro, Udite Amante, Concerto Campestre, Ludovice Ensemble.
Tera is artistic director and founding member of Ensemble Alorna. Ensemble Alorna is comprised of members of OG and a chamber ensemble specializing in baroque and classical repertoire played in a historically informed style with attention to period performance practice. Tera is a member of Orquestra Gulbenkian since 1996.
April 2018