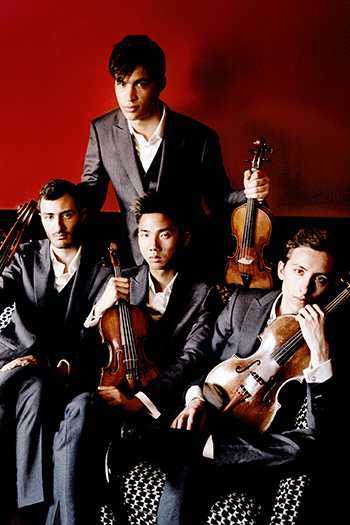 Quatuor Arod
Established in 2013, the Arod Quartet came to the attention on the international stage when they won First Prize at the prestigious ARD International Music Competition in Munich, having already taken First Prize at the Carl  Nielsen  Chamber  Music  Competition  in  Copenhagen  in 2015 and at the FNAPEC European Competition (Paris) in 2014. In 2017, it is appointed "BBC New Generation
Elmau in Germany, the Bozar (Brussels), the Konzerthaus  in Vienna, Amsterdam's Artist" for the 2017 to 2019 seasons, and ECHO Rising Star for the 2018-2019 season.
The 2017-2018 season sees the Arod Quartet perform at the Auditorium of the Louvre, the Philharmonie de Paris and the Théâtre des Bouffes du Nord (Paris), the Arsenal concert halls in Metz, Bordeaux and Montpellier in their native France, London's Wigmore Hall, Salzburg's Mozarteum and the Schloss Concertgebouw, Tonhalle Zurich, the Calouste Gulbenkian Foundation in Lisboa and in Italy, Tokyo, Denmark, Serbia…
The quartet has been invited to perform at several international festivals: Verbier  and Montreux (Switzerland), Aix-en-Provence, Menton, Salon-de-Provence,  Folle  Journée  de Nantes, The Pablo Casals Festival of Prades (France), Heidelberg, Rheingau, Mecklenburg- Vorpommern, Bremen Musikfest, Mozartfest Würzburg, Prague Spring Music  Festival  and more.
In 2017, Quatuor Arod premiere the first string quartet by French composer Benjamin Attahir (commissioned by La Belle Saison, ProQuartet and Quatuor Arod). They are invited to perform alongside artists such as violists Amihai Grosz and Mathieu Herzog, clarinetists Martin Fröst, Romain Guyot and Michel Lethiec, pianist Eric Lesage, and cellists Raphaël  Pidoux,  François Salque, Harriet Krijgh and Bruno Philippe.
The Arod Quartet studies with Mathieu Herzog and Jean Sulem and is currently artist-in- residence at the Queen Elisabeth Music Chapel in Brussels with the Artemis Quartet. They also work with the Ebène Quartet and Diotima Quartet.
In 2017, Quatuor Arod signed an exclusive recording contract with Erato, with a first album of Mendelssohn quartets to be released in Autumn 2017.
The quartet is in residence at the Fondation Singer-Polignac and at ProQuartet – CEMC. Mécénat Musical Société Générale is the quartet's principal sponsor, and the ensemble is the 2016 HSBC Laureate of the Académie du Festival d'Aix-en-Provence.