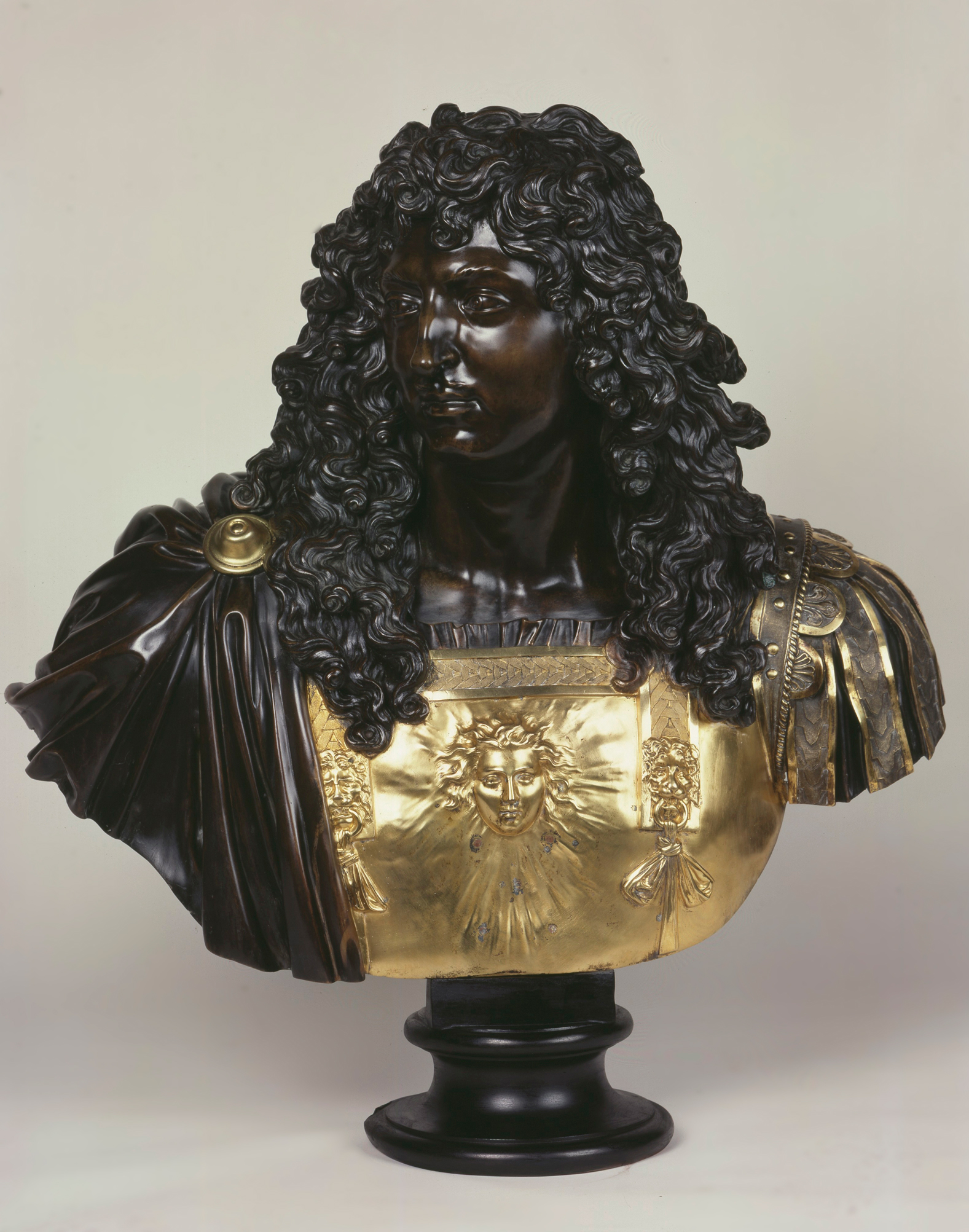 France, 18th century (?)
Bronze
Inv. 286 A
Portrait bust of Louis XIV
Louis XIV, one of the most influential monarchs in French history, responsible for the construction of the Palace of Versailles, compared himself to the celestial body that provides us with warmth and light. This bust, like that of Marshal Turenne, Henri de la Tour d'Auvergne (inv. 286B), was part of the Holford Collection (Dorchester House, England), both works having been attributed to the French artist Antoine Coysevox (1640–1720). Coysevox was the most prolific and representative French sculptor of the late 18th century. He dedicated the most original phase of his career to the production of busts, depicting the monarch repeatedly throughout his life, from his youth to the last days of his life.
Recent studies have shown that these works were not only independent from each other but were also executed by different artists. No conclusion has yet been reached about the creator of this bust of Louis XIV, the iconography of which clearly identifies it as a portrayal of the Sun King.
Holford Collection, Dorchester House, United Kingdom. Acquired by Calouste Gulbenkian, through Duveen, Christie's, London, 14 July 1927 (lot 167).
H. 70 cm; W. 82 cm; D. 43 cm
Lami 1898
Stanislas, Dictionnaire des Sculpteurs de l'Ecole Française du Moyen-Age au Règne de Louis XIV. Paris: 1898 (Nendeln/Liechtenstein: Kraus reprint, 1970).
Holford and Benson 1927
Sir George Lindsay Holford and Robert Benson, The Holford Collection, Dorchester House. London: H. Milford, 1927, vol. II, 181, p. 44, cat. 200.
Benoist 1930
Luc Benoist, Coysevox. Paris: Librairie Plon, 1930.
Mazerolle 1932
F. Mazerolle, Jean Varin, sa vie, sa famille, son œuvre (1596–1672). Paris: E. Bourgey et J. Schemit, 2 vols., 1932.
Mazerolle 1935
F. Mazerolle, «La Maquette de la Statue de Louis XIV par jean Varin», Bulletin de la Société de l'Histoire de l'Art Français. Paris: Librairie Armand Collin, 1935.
Figueiredo 1992
Maria Rosa Figueiredo, French Sculpture. Catalogue of European Sculpture, vol. I. Lisbon: Calouste Gulbenkian Museum, 1992, pp. 48–51.