Armenia's Peaceful Revolution
The view from Yerevan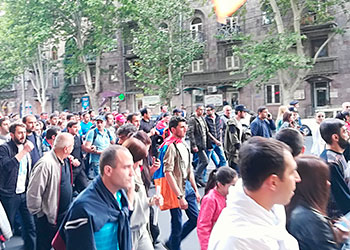 Razmik Panossian visited Armenia in June 2018 to, among other commitments, attend the international conference "Armenia 2018: Realities and Perspectives." He also took the opportunity to ask Hamazasp Danielyan, the Foundation's "Focal Point" in Armenia, for his impressions as an eyewitness to the "April Revolution."
Q: What was the mood in the streets during the movement in April?
Hamazasp Danielyan: Nearly three months have passed since the start of the peaceful movement that resulted in the change of government, but I don't think enough time has passed to truly appreciate what, why and how it happened.
I will share my personal impressions as an observer of and participant in these events. After a peaceful and successful three-week long street movement people mostly remember the nationwide festivities and celebrations. But I will never forget April 13th, the first day of protests in Yerevan, when there were only a few hundred supporters of the movement gathered at Freedom Square. I saw many familiar faces, most were there not with a specific plan or even hope to stop the President from extending his rule as Prime Minister, but  because it was important for them to voice their dissent, even if it would be futile or dangerous.
I will also not forget the moments when many of us felt that bloodshed was inevitable due to provocations coming both from law enforcement bodies and suspicious groups of young people pretending to be protestors. Those moments were reminiscent of 2008 when security forces fired into peaceful protestors, killing 10.  Luckily this time no shots were fired and no lives were lost. We all lived several dramatic weeks, with very quick developments and mood changes.  But I am happy that in the end we all witnessed the solidarity of empowered citizens and tasted the sweet taste of victory. This is going to be our lasting memory regardless of what happens next. 
Q.What was the role of civil society in the movement, and now in the government?
H.D.: Civil society had a critical role in the movement. For example, different representatives of civil society, from several veteran leaders of NGOs to organized groups of students, contributed to ignite the movement initially. Others were engaged in continuous consultations with political leaders regarding the agenda and tactics. In general, the movement was an organic consolidation of efforts of both opposition politicians lead by the visionary Nikol Pashinyan and civil society representatives.
As for the current role of civil society, it has a real and unprecedented opportunity to lead the changes it was striving for. On the one hand, it can – and it should – cooperate with people in power (many of whom do come from civil society), but, on the other, it needs to maintain and even enhance its role as a "counterbalance" to government, a role it has played in the past. It is going to be a challenge to play this dual role; the two elements are often in tension with one another. The lack of a system of institutionalized checks and balances could be compensated, to some degree, by a vibrant civil society that is able to engage constructively and meaningfully with both the public and with decision makers to influence the reform agenda.
Q.What are the current main challenges the new government faces?
H.D.: Expectations from the new government are very high, and many people expect very quick solutions to entrenched and deeply rooted problems. But no quick solution is possible. The willingness and determination of the new government lead by Nikol Pashinyan to solve these problems seems to be genuine. However, the lack of time, coupled with very high public expectations (and sometimes unrealistic demands), as well as the lack of human and financial resources, are considerable constraints.
In addition to these challenges, and intrinsic to them, is a volatile political situation since the governing coalition does not have sufficient support in Parliament to pass some important laws. In my view, free and fair snap parliamentary elections based on reformed electoral rules should be the priority at this point.
Hamazasp Danielyan was appointed in 2016 as Adviser to Programs in Armenia and acts as the Department's "Focal Point." His responsibilities include initiating and following up on projects, developing partnerships and attending various official and working meetings.