2 May 2016
Jazz em Agosto 2017
Jazz on vacation in Spain, Portugal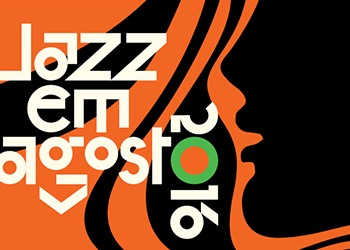 Europe has always held a special place for jazz musicians, and increasingly, the summer circuit of festivals and educational programs has become the most concentrated— and lucrative—part of the year for many artists. For fans, becoming a jazz tourist for a couple of weeks offers the opportunity to combine sightseeing and dining adventures with distinctive shows by some of the world's best musicians. A vacation focusing on three festivals in Spain and Portugal—Festival de Jazz de Vitoria-Gasteiz (July 12–16), San Sebastián's Heineken Jazzaldia (July 20–25) and Lisbon's Jazz em Agosto (Aug. 4–14)—would provide an especially diverse experience.
The best way to travel to this region from North America is to fly into Madrid's spectacular Adolfo Suárez Airport, connect to a convenient one-hour flight north to Bilbao and then take the Bizkaibus local transit south into the foothills to Vitoria-Gasteiz. If you're an art or architecture lover, plan an extra day or two in Bilbao, because Frank Gehry's mind-blowing Guggenheim Museum and the overall resurrection of the former foundry city craves your attention. Bilbao is the über-modernist yin to VitoriaGasteiz's ancient yang.
Founded in 1181, Vitoria-Gasteiz is the seat of government for the Basque region of northern Spain. The compact nature of the medieval Old Quarter—with its abundance of picturesque Gothic buildings—makes it an ideal walking city. One of the best walks of all is the early evening stroll from the central Parque de la Florida along the beautiful Fray Francisco de Vitoria Ibilbidea toward the Mendizorrotza Sports Center, the jazz festival's main venue. As in all Spanish cities, the streets come alive after dusk, reflective of the age-old custom of businesses closing for several hours at midday to accommodate the heat.However, Vitoria-Gasteiz's climate is moderate, and the average daytime temperature in mid-July is 78 degrees Fahrenheit.
The Mendizorrotza Sports Center is not the most comfortable venue for jazz, but it is one of the friendliest. Spaniards love to snack between shows, so take your cue from them and pack an Iberian ham sandwich or two. After shows by the likes of Céclie McLorin Salvant, the Joshua Redman Quartet and Kenny Barron with Dave Holland, you'll have more time to stop off for pintxos (tapas) and red wine or beer at one of the many bars that stay open late.
Just 62 miles northeast of Vitoria-Gasteiz lies the coastal city of San Sebastián (Donostia in the local Basque language). Built around the protected La Concha Bay, San Sebastián has one of the country's best beaches and a rich collection of neoclassical buildings—dating to 1813, when British and Portuguese forces burned the stronghold of Napoleon's forces to the ground.
Founded in 1966, Jazzaldia has 17 primary venues. At its heart are the Plaza de la Trinidad with the 1,800-seat Kursaal Auditorium (designed by Rafael Moneo and opened in 1999) and the 104-year-old Victoria Eugenia Theatre on the opposite bank of the Urumea River.
Miguel Martin, director of Heineken Jazzaldia, believes that the festival's open nature is what sets it apart. "It's mainstream and contemporary at the same time, and about 70 percent of our concerts have free admission," he said. "We try to include the more interesting names of the international, European, Spanish and Basque jazz scenes."
Among this year's 110 Jazzaldia concerts are shows by Diana Krall, Branford Marsalis, Brad Mehldau, Snarky Puppy, Jack DeJohnette, Steve Coleman, John Scofield and Marc Ribot.
For those who wish to complete the jazz trifecta by taking in Lisbon's Jazz em Agosto, there's more than a week to explore various areas— northeast of San Sebastián, across the French border, into the wine-rich region of Bordeaux; southeast to the gastronomic splendor of Barcelona and Spain's Costa Brava; or west to the pilgrim's mecca of Galicia and the UNESCO World Heritage Site at Santiago de Compostela. The possibilities are broad.
Once you've made your way west to Lisbon, a very different approach to a jazz festival awaits at Jazz em Agosto, now in its 33rd year. "We do not have a commercial focus," said Rui Neves, the artistic director for Jazz em Agosto.
"We are interested in new ideas and are very attentive to innovators."
Although the program is not fully set for the 2016 edition, Neves said the fest's 14 concerts would follow his tried-and-true model, which has seen Wadada Leo Smith, Ribot's Ceramic Dog and the RED Trio with saxophonist Jon Butcher headline in recent years.
"We are a relaxed festival," Neves explained, "and our setting in a garden is very peaceful. Everything in Lisbon is very close. There is lots of time to enjoy our splendid Mediterranean food, the contemporary art museum and our climate, which is very much like San Francisco's."
Like all things related to jazz in Portugal and Spain each summer, it's an embarrassment of riches.
James Hale
Downbeat – May 2016