Social Solutions – enabling grass-roots charities to tackle poverty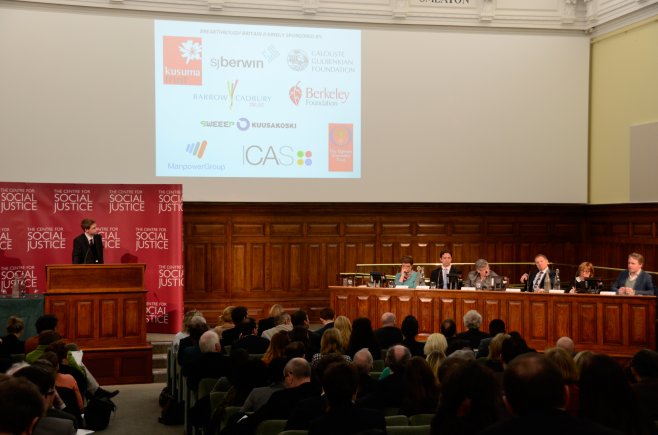 The spectre of anti-politics is haunting Europe and the UK, in particular. This has some roots in attitudes to government, with both people who think it is too big and those who protest at its shrinking finding themselves disenchanted by politics and politicians. In light of this sentiment, could a re-imagined model of public services then contribute to a recovery of faith in the power of politics to do good by focusing on social rather than statutory or commercial solutions?
For the last two years a group of charity leaders and I, convened by the Centre for Social Justice with support from the Calouste Gulbenkian Foundation, have been working to understand the value of the social sector, its current state and its potential future role. Three notable circumstances make this new model timely:
Firstly, the old model of public service delivery is increasingly at odds with providing a flexible, personalised service which empowers its users and enables professional freedom for its workers. In an age of austerity, it is even less able to achieve comprehensive and universal quality.
Secondly, the principal alternative to public monopoly – private oligopoly – is equally problematic. The motives and interests of the people delivering the service are too often out of step with those of the investors and directors who control the plc.
The third reason for a social solution is that a more suitable alternative to the current model is now emerging in the form of an invigorated, diverse, local social sector. It is part of a revolution in social organisation which seems both highly nostalgic and very modern.
There is, I believe, a great subterranean shift going on in our culture. We are turning away from the solely individualistic measure of personal fulfilment in favour of a search for connection, belonging, and a sense of meaning. This yearning is, perhaps paradoxically, fired by the thrilling possibilities of technology. Social media provides a democratisation of power which enables a teenager with a laptop to change the world and, in the space of a few weeks this summer, resulted in two million people nominating each other to pour cold water over their heads for charity and post the video online.
There is a new wind blowing through the world of charities, reinventing what social action looks like and how people can be helped, help themselves and help others. Yet understandably, all the energy and enterprise being channelled into the sector could be perceived as inappropriate in places all over Britain where what's needed is immediate relief from desperate poverty, and where both public and social sectors feel terrifyingly underfunded. My own charity feels both very traditional (supporting people at risk of offending to build a better life, mostly by involving them in a positive community of peers, volunteers and staff) and very innovative (involving our members in the design and delivery of services, and focusing on their potential to make a contribution, rather than on their needs and failings).
In our report: Social Solutions – enabling grass-roots charities to tackle poverty, we make recommendations intended to stimulate and harness the new entrepreneurialism of the social sector, and to protect and promote social action in places where it is threatened or almost absent. We hope that the sector, the public and the Government, will adopt our suggestions and help make a social sector worthy of Britain.
Danny Kruger, Chief Executive, Only Connect
The Calouste Gulbenkian Foundation UK Branch, which is committed to encouraging greater collaboration within and between sectors as a key element in tackling increasingly complex societal problems, is pleased to have supported this Centre for Social Justice report and welcomes its number of recommendations.