Sage Gateshead
This case study is from our Sharing the Stage initiative, which was part of the Foundation's Participatory Performing Arts strand (2014-18)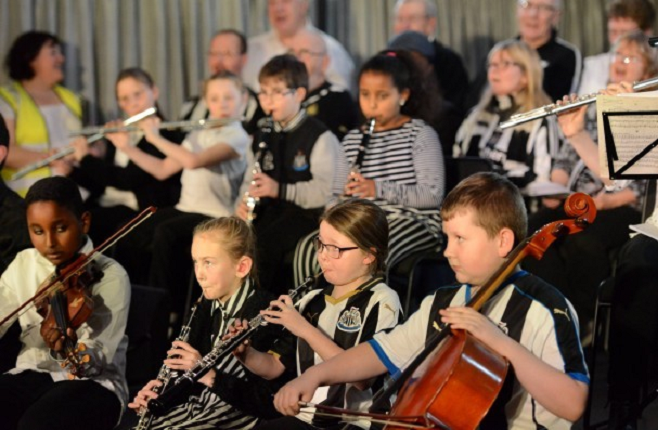 We, the Crowd
"It was great working in partnership with another organisation with the wider community. It brought together a group of young people who have since formed fondness and friendship with each other." Staff member, New Writing North
This case study looks at We, the Crowd. Sage Gateshead worked in the West End of Newcastle to present We, The Crowd, a mass participatory event, bringing non-professional musicians and composers together with theatre and orchestral professionals. Find out more about We, the Crowd by watching the film and reading the project summary below.
The UK Branch of the Calouste Gulbenkian Foundation's Sharing the Stage initiative ran from 2014-2018. It supported arts projects in which vulnerable and under-served groups of people 'share the stage' with professional performers, and projects that are based on partnerships between arts organisations and social partners.
Phase One supported the research and development (R&D) stage of 14 consortia projects. Phase Two ran from 2016-18, supporting 10 consortia projects to full production of the work created through the participatory process. 
Sage Gateshead, is a music organisation, a performance venue with three halls, a world-class chamber orchestra (Royal Northern Sinfonia) and an artistic programme with three parts: classical music; a programme of popular and contemporary music; and creative learning programmes for people of all ages, engaging about 17,000 participants each year. 
Sage Gateshead has been working in the West End of Newcastle since 2012, delivering immersive orchestral music-making every day with the aims of improving educational attainment, resilience and life chances. Sage Gateshead's community engagement had increased significantly with these communities, learning a lot about how to support the musical life of people in West Newcastle. Sharing the Stage offered the opportunity to develop this learning and extend it through finding collaborative ways of working and developing long-term partnerships with key organisations in the city, to further benefit local communities.
In the production phase of Sharing the Stage, Sage Gateshead consolidated its R&D experience with We, the Crowd, a full performance in November 2016, collaborating with Royal Northern Sinfonia, Newcastle United Foundation and Unfolding Theatre.  The culmination of a nine-month long project explored what music and football mean in people's lives in the West End of Newcastle.
"Music and football. It's how we make memories. Like, every day, you just do the same thing, but going to a match, or going to a band, that's what you remember." Workshop participant
Within the overall Sharing the Stage programme, Sage Gateshead and its partners wished to achieve the following:
develop inter-organisational and inter-sectoral working, shifting to embrace a collaborative way of working in future, by developing long-term partnerships between NUFC, the NUF and Unfolding Theatre, for the benefit of local communities
engage the communities of West Newcastle living in socio-economic disadvantage, creating ways to reach the common goal of improving lives through arts, music and sport, and specifically to increase participation in music and sport for these communities of West Newcastle.
develop ways of working that promote participatory democracy and recognise the importance of activism for wellbeing and health, with citizens involved in co-producing well-being and health; collectively as part of a whole of society approach to shaping the conditions in which we live, work and learn, and to specifically increase health and wellbeing, resilience and quality-of-life for participants, through developing the practice of Assembly in Newcastle. This included developing community activists and arts practitioners to support debate in response to local issues and engagement in participatory arts and sport.
explore a place-based approach to supporting children and young people with Royal Northern Sinfonia, as part of its journey to become a "people's orchestra", through increased numbers of players delivering work which achieve social impact, and an increased number of people in underserved communities attending concerts.
We, the Crowd
The project, running from January to November 2016 had three phases: project setup (January to June); community consultation (June to October); project delivery and learning (October to November. Each partner had clearly defined roles. Sage Gateshead took the lead, with NUF supporting introduction to NUF groups, including the Kicks group, National Citizen Service group, the NUF coaching team and Health Bus and Newcastle Arts Team supporting Unfolding Theatre by facilitating access to community groups. Unfolding Theatre worked in collaboration with the partners and community groups in the West End of Newcastle and took the production lead.
Through a series of consultation workshops with community groups across the West End of Newcastle, Unfolding Theatre was able to gather the stories, ideas and perspectives of community members engaging with West End Voices, young people at Excelsior Academy, CHAT Trust, children and parents connected with In Harmony Newcastle Gateshead and young people at NUF's programmes. One of the consultation events was a high-profile Family Fun Day bringing together football and music, with a temporary five-a-side pitch at Sage Gateshead, and coaching all day. The Health Bus also enabled the partners to begin conversations making the link between health and wellbeing and football and music; once again, it was an opportunity for Unfolding Theatre to gather stories and ideas to inform phase 2.
The performance at St James' Park on 23 November 2016 brought together Royal Northern Sinfonia, Backyard Rhythm Section, Gypsy Lipstick, Hawthorn Primary School, West End Voices, Young Writers City (Excelsior Academy), and the communities of Newcastle's West End. All the groups starred as crowds at a football match, singing alongside professional musicians. Actors took the roles of stewards telling the stories of real people they had met and talked to about how music and football impacted on their lives.
"Tonight's performance explores what music and football mean in the lives of people in Newcastle's West End. It brings together performers aged eight to 85, from diverse musical cultures, backgrounds and with different footballing allegiances. However, in all of the groups, people talked about togetherness. Whether they were playing football or music, people talked about how it forged friendships and brought the community together we hope tonight's performance celebrates that." Programme Note, We, the Crowd
Inter-organisational and inter-sectoral collaboration
"We have learned about how a big organisation can work with a smaller one in an equitable partnership." Sage Gateshead
Sage Gateshead and the partners developed systems and processes that it shared as part of We, the Crowd, with particular success between Sage Gateshead and Unfolding Theatre, and feel that it had succeeded in developing new inter-organisational methods of working as a result. Another example of inter-organisational cross-fertilisation was the number of professional artists who had worked for Sage Gateshead and progressed to working for Unfolding Theatre, as part of We, the Crowd, which also provides a legacy of employment opportunities for creative practitioners in their hometown.
"There are new possibilities for Unfolding Theatre." Unfolding Theatre

"I think we've established a fantastic base for a long-term relationship - the collaboration certainly gave two slightly different target audiences the chance to work together and try things they perhaps otherwise wouldn't have." Newcastle United Foundation
Engaging with the communities of West Newcastle
NUF, Sage Gateshead and Unfolding Theatre share the common goal of improving lives through arts, music and sport, as did the other key partners in the project. We, the Crowd provided them with the shared focus of working together to engage communities living in socio-economic disadvantage in West Newcastle. Project partners were identified due to their existing work within communities, recognising their expertise in the long-term nature of their work based within the community as the team were trying to reach. The project setup and consultation periods undoubtedly helped this. The feedback gathered during the project indicates that We, the Crowd did this at many levels:
"The project provided us with an opportunity to expand on the experiences offered by Young Writer's City. It was great working in partnership with another organisation with the wider community. It brought together a group of young people who have since formed fondness and friendship with each other. And they all in one way or another have benefited from the friendship." Staff member, New Writing North

"My dad didn't want me to do things like this; he told me music will get me nowhere. I had to tell him I wanted to stay to do writing, and I think he thought it was something to help my handwriting because I have bad handwriting and he shouts at us about it. So, I just let him think it was that. But then after a while he found out I was song-writing. Then he got interested and was asking to hear it. I did a recording for him of us rehearsing and he couldn't believe I had written it. He did believe me in the end and I think it made him feel proud. I think when he heard about St James' Park, then he felt really proud and he started posting things on Facebook. And then I went for the Royal Northern Rock Talent Award and I won that to do some of my own song-writing and he felt proud of us, and he posted that on Facebook." Participant, Excelsior Academy workshops

"It is something special when given the opportunity to express myself in this accepting, respectful way, helps me to feel part of things." Participant, West End Voices

"The journey of We, the Crowd, it was their music, their decisions. We've noticed a change. They're much more vocal now." Senior Youth Worker, CHAT Trust
Ways of working that promote participatory arts
Through attending the Sharing the Stage learning community events, Sage Gateshead identified the need to develop and learn new ways of co-producing creative learning with people and communities through dialogue about what matters to them. The Family Fun Day, using the Health Bus to initiate conversations, and weekly sessions facilitated by a key/youth worker and a professional artist working collaboratively, were all ways in which Sage Gateshead learned new ways of working with people.  The professional artists all have personal connections with West Newcastle, which supported the relationship-building and allow for the development of a script that was based on the boat and conversations with local people, celebrating the benefits of being part of arts and sports activities:
"Music is always there. It keeps me grounded.

It's a daily meal for me.

Songs can bring you back to places.

When everything is hard, music is easy."
Evidence from participants' workshops suggests that there was a positive distance travelled in terms of wellbeing, where participants provided a variety of narratives to demonstrate positive impact of the project on their lives. However, the short-term nature of the project (relatively speaking) precludes assertions about having demonstrated improved "wellbeing". Participants lives are multifaceted and sometimes complex, and Sage Gateshead was clear about setting the limitations of being able to directly attribute sustainable improved well-being outcomes for a project like We, the Crowd. Nonetheless, the narrative gathered from participants indicates the impacts for individuals:
"I have written a song about my Mam because she has supported me through some really hard times when I was being bullied really badly. When I put pen to paper writing a song in that all the problems out and it took them away. Then it is easier to move forward. And I have actually forgiven them all. Being able to be part of a project like this makes everything more better. When life pulls you down you have to pull yourself back up. And I have actually had a hard time. The song the road is like about that. That we have to pursue our dreams and not give up." Participant, Excelsior Academy sessions

"It is difficult to say how much this means to me. My wife has health issues (MS) which make it hard interact fully with the community. The choir is one place where she is accepted and can join in, with support. These events help to cement a feeling of inclusion and acceptance." Participant, West End Voices

"Now I feel differently about school. It's changed how I feel about school. I used to mess about and now I have stopped messing about." Participant, Excelsior Academy sessions
Exploring a place-based approach
Sage Gateshead's work in West Newcastle is aligned with a place-based approach for supporting children and young people from cradle to career, delivered through multi-partnership collaboration.  They embedded this by working with the local Unfolding Theatre, a demonstrable commitment to developing and embedding a place-based approach, appreciated by participants performing at St James' Park, an iconic venue in Newcastle.  
"It was VERY exciting, because St James' Park is a very, very big place and I don't usually go there. It was my first time to go there and see it. It was very good." Participant, Hawthorn Primary School

"The most notable opportunity provided was to perform at St James' Park. That was both a huge challenge for them and an achievement. And it is a memory they all continue to draw strength and inspiration from." Co-ordinator, New Writing North

"The Sinfonia were playing, and Excelsior Academy. There was a big choir. And does! It was a privilege to do this." Participant, Hawthorn Primary School

"Most exhilarating. It was a lot of fun and just fabulous having Royal Northern Sinfonia playing alongside us. They were so friendly." Participant, West End Voices
Five players from Royal Northern Sinfonia took part in We, the Crowd, which presented opportunities and creative challenges in bringing together professional and nonprofessional artist of the performance. All the participants played some familiar repertoire, and all learned something new:
"Fred's song was brilliant, and it was really well-written for us because it was a challenge, but it wasn't too hard. If it had had harmonies, it would be too hard. But because it didn't it was great." Professional artist
There is no doubt that bringing together different ways of making and presenting music brought opportunities underlining the effectiveness and benefits of collaborating with new groups and artists:
"For RNS musicians, the culmination of We, the Crowd certainly pushed our players out of their comfort zone in terms of how far they, themselves, had to go towards making the musical elements work. This required a certain amount of flexibility that is not usually required of them. I think there was also a general challenge in terms of marrying the culture and conventions of classical music making the high standard (which is what is required of our players day in, day out) with its fairly rigid ways, and the need for them to take a more relaxed approach to this kind of project, didn't always run to plan or on schedule." Classical Music Producer, Sage Gateshead

"The raw energy, I think came from a very well-produced show. It was all on the day, Fred was like, "can you just do that? Can we have this bit? And they (professional musicians) just said, "yeah, that's fine!" - Scribble, scribble, scribble (action of amending their schools). I was worried it would throw them. But they were beautifully, not just professionally, engaged. Royal Northern Sinfonia is such a resource in the community." Professional artist
Extensive learning took place throughout the development and delivery of We, the Crowd, which can be clustered into key themes:
The personal: during project reflection workshops, partners identified the personal and professional collections that were critical to the success of the project. Whilst professional connections played a key role in the partnerships, personal connections to West Newcastle were woven throughout; the team believe this to be significant in the building of relationships, establishing the trust of local people and organisations.
Connectors/connections: partners at an individual and organisational level identified the role and importance of connectors, in this case through the artists employed. As well as being connected to the place, they were also connected to the partner organisations, engendering a feeling of togetherness between participants, staff and organisations. Other connectors included Newcastle Arts Team, which was crucial in linking between Sage Gateshead, Unfolding Theatre and the people of West Newcastle and the organisations in their lives.
"We already had connections through previous pieces of work to CHAT Trust and West End Voices. We have connections to Hawthorn Primary School and New Writing North. Our role is one of brokering and making sure that we make the best collections of key individuals and organisations working in the West End. We hold an overview. We saw Sharing the Stage as an opportunity to further develop work with this organisation but also build a relationship with Sage Gateshead." Newcastle Arts Team
We, the Crowd is part of a broader impact and new direction for Sage Gateshead; trusting Unfolding Theatre with the artistic process increase the potential for Sage Gateshead to change their way of working, including developing equitable partnerships.
"We believe being part of the Sharing the Stage Learning Community has shaped the direction of travel of Sage Gateshead Creative Learning Programme for the next five years."
Unfolding Theatre produced a show as part of summer activity, one performance was a relaxed performance and Sage Gateshead facilitated a conversation with its partner North East Autism Society who advised on changes needed.
In 2019 Sage Gateshead is planning to work in partnership with Children North East to 'poverty proof' the organisation. This will enable all staff to understand what it means to live in poverty and agree what will change at Sage Gateshead to break down barriers and challenges to participation.
The Director of Creative Learning completed a Systems Change training with Forum for the Future School of Systems Change. A systems change approach is being used within Creative Learning and across the organisation.
Sage Gateshead has continued with the Sharing the Stage Action Learning Group, this has been invaluable in continuing to implement the learning from We, the Crowd and continuing organisational learning.
In 2019, Sage Gateshead is setting up a Youth Forum and Young Programmers group to consult with young people on organisational strategy and artistic programme.
Sage Gateshead recommended that Annie Rigby, Director of Unfolding Theatre, join the Well North Steering group, which steers the Well North arts in health multi partnership programme in a ward in West Newcastle, a ward in East Newcastle and two wards in Gateshead.
RNS has increased playing out in community centres and local schools.
Read the other case studies
Read the evaluation report