Reflections from the Sharing the Stage symposium
CGF programme officers Sian Williams and Jessica Loring spent the day at the Royal Court Theatre's symposium celebrating participatory arts practice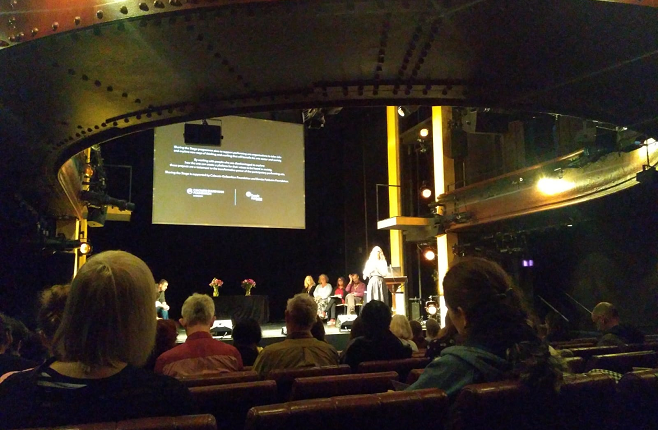 Swapping our desks for seats at the Royal Court Theatre, we arrived for a show like no other: The Sharing the Stage symposium. The event celebrated the achievements of a cohort of organisations that the Foundation supported under our Participatory Performing Arts strand of work.
Sharing the Stage
The goal of Participatory Performing Arts strand was to widen participation in the performing arts to people from all walks of life. Our long-term aim has been to give a platform to voices that are seldom heard, highlight the social benefits of the arts, and enrich artistic works with authentic lived experiences.
Over the past three years, a group of ten leading theatre companies and practitioners have worked together as part of the Sharing the Stage cohort. They have explored new ways of working, interrogated the role of participatory arts practice, and considered how to 'mainstream' this work. The symposium showcased the cohort's boundary-pushing projects, and brought together other practitioners working in this area.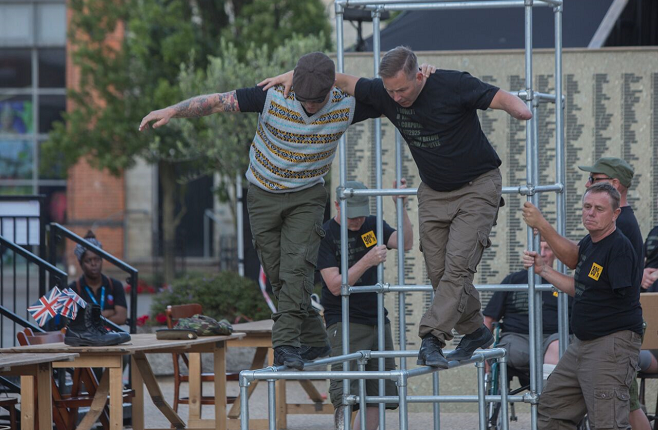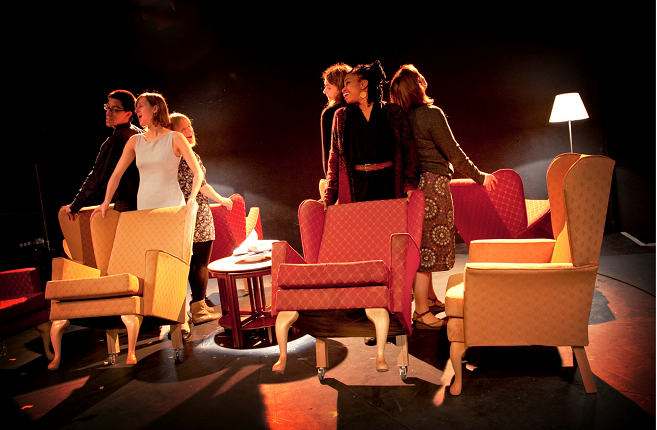 Showcasing the cohort's work                                                                          
The day kicked off with quickfire presentations and short films from the organisations, providing insights into their inspiring projects. We heard about shows made in care homes, favelas, a derelict shipyard site, and even a football stadium. Performers included injured veterans, marginalised young men, adults recovering from substance abuse, and people with physical and learning disabilities.
The cohort described the transformational effects of their practice which had touched the lives of individuals and communities. The projects had brought people together, presented individuals with exciting new challenges, and enabled them to develop skills and grow in confidence.
We were lucky enough to hear from Josh Wilkinson, one of the performers in Contact Theatre's Switch, which was created by Contact with young people from Manchester and the team from Ockham's Razor. He explained how it had brought circus, dance and martial arts training to young people in Manchester, along with newfound confidence and friendships.
Neil Grutchfield spoke about Synergy Theatre's ground-breaking work, providing a platform for prisoners, ex-prisoners and young people at risk of offending to write and create theatre. Neil stressed that participatory practice does not compromise artistic quality, and called for it to be integrated into the wider space of British theatre.
Following the presentations, the director of the UK Branch, Andrew Barnett explained how this work has paved the way for our Inquiry into the Civic Role of Arts Organisations.
Shaping the future of participatory practice
Next, we reflected on ways to shape the future of participatory practice. We were asked to write down challenges faced by the sector and encouraged to draw on our personal experiences. After discussing these in small groups and identifying solutions, our ideas were shared in the plenary session. Common themes included altering funding models, increasing diversity, changing organisational structures and finding new ways of evaluating projects.
Solutions included opening theatres for community use, changing hiring practices to reward 'best potential', and bringing more young voices into the arts. Other ideas were filming evaluations, and appointing trustees with lived experience. It was also felt that the sector needs to take more risks in order to see real change.
The symposium provided a valuable opportunity to have rich discussions and identify opportunities for further learning and collaboration. It was also a chance to celebrate this wonderful work and recognise what can be achieved when non-professional performers share the stage.
With thanks to the Royal Court Theatre and the rest of the Sharing the Stage cohort.
Photographs: (Left) Billy Drinkwater, Kirk Bowett, Mark Brown perform in This is Not For You, Greenwich, photographer: Alison Baskerville, courtesy of Graeae. (Right) courtesy of Geraldine Pilgrim.
The Participatory Performing Arts strand has aimed to widen participation in the performing arts, especially for the most vulnerable and underserved communities. Supported projects include international arts and homelessness movement With One Voice; the Arts Impact Fund, which helps arts and cultural organisations to become more sustainable and resilient; and the London International Festival of Theatre's Tottenham-based work, LIFT Tottenham.