Celebrating children's books in translation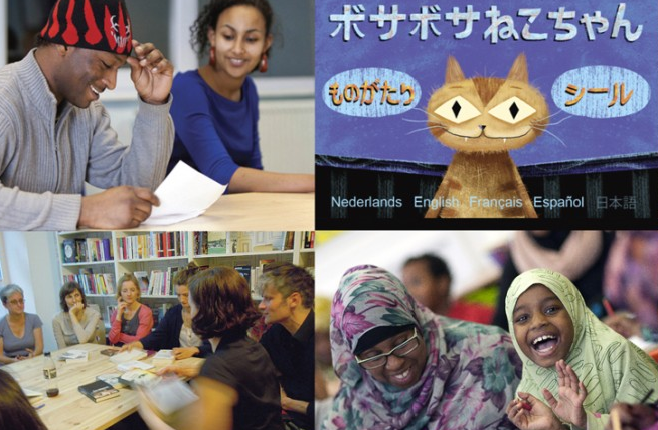 What is OIW?
Outside In World (OIW) is the UK organisation dedicated to promoting, celebrating and exploring books from around the world, particularly children's books in translation. It comprises a small team of freelance experts in children's literature. This flexible and modern approach ensures minimal overheads, office and staff costs, and that all funding is focused directly on the delivery of the organisation's objectives.
OIW became involved in the Calouste Gulbenkian Foundation Literature in Translation and Multilingualism programme in 2012 when we received funding for the redesign and development of our online resource (www.outsideinworld.org.uk). Attracting funding for websites is not always easy so we were delighted with the two years of CGF support that allowed us to develop a whole range of valuable online resources for teachers, librarians, publishers, translators, parents and young people.
The support from CGF not only enabled OIW to raise its profile with more visitors to our website but crucially to attend one of the most important book fairs for children's literature – the International Bologna Children's Book Fair in 2013. As well as allowing us to research books and network with international publishers, it was also instrumental in us developing the idea for our latest project, 'Reading the Way: Inclusive Books from Around the World'. This is invaluable for a small organisation like OIW because everything we do is based on project funding so attending book fairs and events is only ever possible if we are able to raise funds to do so.
In 2014, with funding from Arts Council England and the Unwin Charitable Trust, OIW started work on our research project into 'accessible and inclusive' children's books from around the world. The aim of the project was to discover exceptional international books that stood out specifically in terms of being 'accessible' and/or 'inclusive' (i.e. including disability or disabled characters within the story).
60 books were assessed, originating from 15 countries and through a series of focus groups – comprised of disability experts and organisations, teachers, librarians, publishers, parents and young people – we were able to assess these titles books and to explore their appropriateness, appeal and viability.
Key elements we identified in the 'Reading the Way' research:
A valuable list of international books relevant to disability.
A powerful picture of the way disability is approached around the world.
Several 'gems' in terms of really exciting books and excellent models of good practice.
Important learning points or simple ideas that could work well in books, including the pitfalls to be avoided.
In 2015, OIW were very pleased to receive additional funding from CGF which allowed us not only to continue with further website development work, but also to run two seminars with some of the participants in the project – international publishers and translators – at the Bologna Children's Book Fair and London Book Fair.
Receiving CGF support has made an enormous difference to the development of OIW. By allowing us to engage with a wider audience via our website, to broaden our network by attending book fairs and to disseminate the 'Reading the Way' project through seminars and online, it has enabled us to grow as an organisation.
Deborah Hallford is co-founder of Outside in World. Further details of the 'Reading the Way' report are available here.  
Translating Culture: Highlights from the Literature in Translation and Multilingualism programme is the Foundation's evaluation report and provides an overview of the programme, its impact, and case studies of supported projects.